InsurTech Market for Life Insurance in Japan: Key Research Findings 2018
InsurTech Market for Life Insurance in Japan: Key Research Findings 2018
Yano Research Institute (the President, Takashi Mizukoshi) has conducted a survey on the domestic InsurTech market for life insurance and has found out the current status, the trends by category, and the future outlook.
Figure: Transition and Forecast of Domestic InsurTech Market Size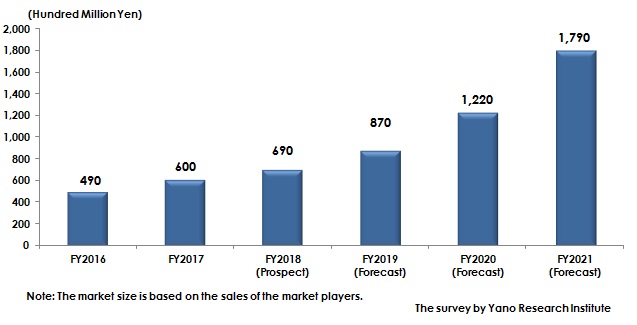 Market Overview
The domestic InsurTech market for FY2018 is likely to achieve 69,000 million yen, based on the sales of the market players of InsurTech. The market has been driven by those solutions that use AI for streamlining and upgrading the business processes. The market has also been invigorated by unconventional health-promotion type insurance and disease control programs, currently in the process of collecting data in order to be provided by life insurance companies.

With regard to rules and regulations, because no revisions are planned in the Insurance Business Act or no new moves detected in the competent authorities, the InsurTech market can be said as it is in the status more limited than the FinTech market. On the other hand, in addition to disclosure of medical data, specified in the Basic Act on the Advancement of Public and Private Sector Data Utilization established in December 2016, the "regulatory sandbox" aims at AI, Blockchains and etc., so that more attempts of demonstrations and testing regarding InsurTech are expected to be conducted primarily by the local governments.

Though some events hosted not only by life insurance companies and system vendors but also by multiple supportive organizations taken place since the latter half of 2017, the support environment is not enough when compared to FinTech. The more vigorously supported environment is expected to be built for expansion.

In order to improve the environment in the technological point of view, further discussion for disclosure of API is expected to be in progress. Since the larger the life insurance company is, the more complicated the IoT environment tends to be, a certain level of time and investment is assumed to be needed to disclose API. When disclosure of API for banks has been accelerated, it is unthinkable for insurance API not to be demanded for disclosure. Because API enables life insurance companies to align with a variety of businesses and enable to expand the opportunities to contact with customers, it is better for them to start consider discussions as soon as possible.

Noteworthy Topics
At the moment, life insurance companies, mainly the large domestic companies, have been in the middle of collecting the medical-check and life-log data for developing the products and services of health-promotion-type insurance. In addition, by providing satisfactory contents of "disease control programs" dealt primarily by foreign-affiliated life insurance companies, they are expected to further accelerate providing of the services including smartphone applications and the program for preventing the diseases from being severe. In addition, the ecosystem (some types of trading area built in cooperation with the peripheral companies) with its axis being partly insurance, has been emerged. This is to be taken noticed.

Also, public data possessed by central and local governments are expected to continue being in progress for disclosure.

※1."Development of health-promotion-type insurance products for each individual" is the insurance product unlike those conventional ones with the insurance premium decided by the actual age of the policyholder, but is the ones with the insurance premium that is based on the health check results, life-log data, and other such health data and that fluctuates according to the health conditions of the policyholders and how he/she tackles for promoting it.

※2."Disease control programs" support the policyholder consistently from awareness building, actual behavior therapy, to appropriate medical access when any abnormalities were found, and to payment of the benefit.

※3.A "regulatory sandbox" is a framework that temporarily lifts the current regulations in order to allow innovative business and services many of which in the financial area to grow up. It requires registration at competent authorities, after which the innovative experiments can be conducted.

※4.A "Blockchain" is a database of recording and authorizing the transactions of transfer of rights by utilizing computers on the P2P network that links the users.

※5."Program to prevent progression of diseases" is the program to prevent the second and more recurrence of such diseases with high recurrence rate like cerebral infarction and cardiac infarction after cured through surgical operation.


Research Outline
1.Research Period: May to July, 2018
2.Research Object: Domestic Life Insurance Companies, Small Amount & Short Term Insurance companies, Siers, and InsurTech Ventures, and etc.
3.Research Methogology: Research methodologies: Face-to-face interviews by the expert researchers, surveys via telephone and email, and literature research
What are InsurTech and InsurTech Market?
InsurTech is a coined word made from insurance and technology. It means life insurance-related services using IT that allow developing new insurance products and services and/or streamlining and upgrading business processes which were unable to provide by the conventional life insurance companies.
InsurTech in this research is categorized into the following 8 categories: 1)Development of health-promotion-type insurance products for each individual, 2)Disease control programs, 3)AI-used or Chat-bot-used consulting services regarding insurance and insurance reconsideration, 4)Automation of underwriting using AI, 5)Tracking services regarding a processes from recommendation of seeking a diagnosis to an actual diagnosis, or a process when informed of abnormality until an actual diagnosis, 6)After sales services for policyholders and their families by means of applications and other methods, 7)Automation of assessment utilizing AI and/or BRMS (Business Rule Management System,) and 8)Utilization of blockchain* as an infrastructure. *A blockchain is a database of recording and authorizing the transactions of transfer of rights by utilizing computers on the P2P network that links the users.
The domestic InsurTech market size is calculated based on the sales of the market players most of whom are the vendors and venture companies that develop new insurance products and services and support streamlining and upgrading of business processes that were unable to provide by the conventional life insurance companies.


Contact Us
©2019 Yano Research Institute Ltd. All Rights Reserved.
The copyright and all other rights pertaining to this report belong to Yano Research Institute.
Please contact our PR team when quoting the report contents for the purpose other than media coverage.
Depending on the purpose of using our report, we may ask you to present your sentences for confirmation beforehand.