Global CAE Market for Machinery: Key Research Findings 2018
Global CAE Market for Machinery: Key Research Findings 2018
Yano Research Institute (the President, Takashi Mizukoshi) has conducted a survey on the global CAE market for machinery which has been stable in 2017 and has clarified the future outlook.
Figure: Transition and Forecast of Global Size of CAE Market for Machinery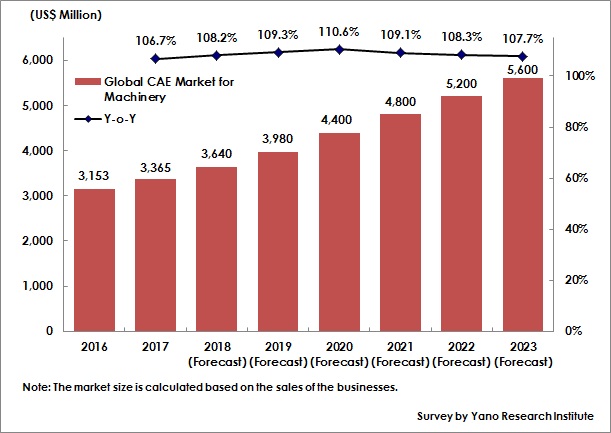 Market Overview
The global market size of CAE for machinery in 2017 has risen by 6.7% from the previous year to achieve US$ 3,365 million, based on the sales at businesses. Manufacturers around the world have continued vigorous investment in facilities and equipment with the backdrop of strong economy.

Noteworthy Topics
Use of open-source software has been in progress in CAE for machinery. CAE makers and vendors are required to shift their mainstream business from licensing to services. Also, they may need to develop new business models as they need to shift to the platform to use cloud computing which leads them to be SaaS-available.


Future Outlook
For the mid-term prospects, CAE for machinery is likely to continue growing stably, with the global CAE market for machinery, based on the sales of the businesses, expected to attain US$4,400 million by 2020. However, since the market of CAE for machinery has already matured, the growth rate of the market is likely to gradually scale down beyond 2020.


Research Outline
1.Research Period: January to May, 2018
2.Research Object: CAE vendors
3.Research Methogology: Face-to-face interviews by the specialized researchers, survey via telephone/email
What is CAE?
CAE (Computer Aided Engineering) in this research indicates a computer system that enables intelligent and efficient use of the computing technologies in the process of product designing and developing. There are CAE for machinery that analyze the characteristics of machinery systems such as strength and fluid resistance, 1D CAE which is the model-based development tool, and other CAE that support numerical calculation, and etc.
The CAE market for machinery in this research indicates the market of CAE for machinery that helps analyze structure, thermal fluid, resin molding, and casting, the market size of which is calculated based on the sales of the businesses.


Contact Us
©2019 Yano Research Institute Ltd. All Rights Reserved.
The copyright and all other rights pertaining to this report belong to Yano Research Institute.
Please contact our PR team when quoting the report contents for the purpose other than media coverage.
Depending on the purpose of using our report, we may ask you to present your sentences for confirmation beforehand.