JOL (Japanese Operating Lease) Market: Key Research Findings 2018
JOL (Japanese Operating Lease) Market: Key Research Findings 2018
Yano Research Institute (the President, Takashi Mizukoshi) has conducted a survey on the JOL (Japanese Operating Lease) market and has clarified the market overview, trends by product category, and the future outlook.
Figure 1: Transition of Size of JOL Market (Total Investment)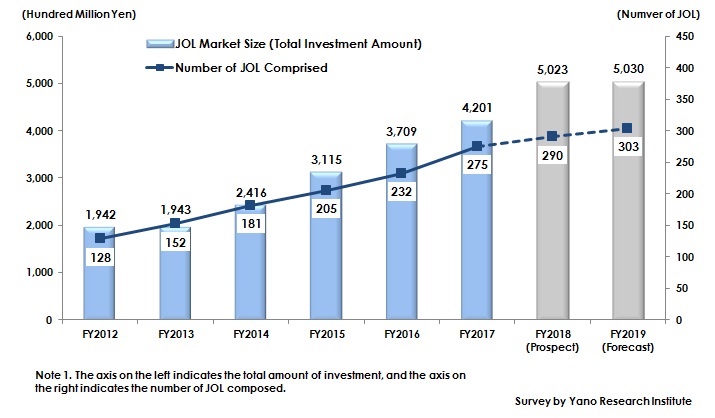 Figure 2: Transition of Market Size by JOL Product Category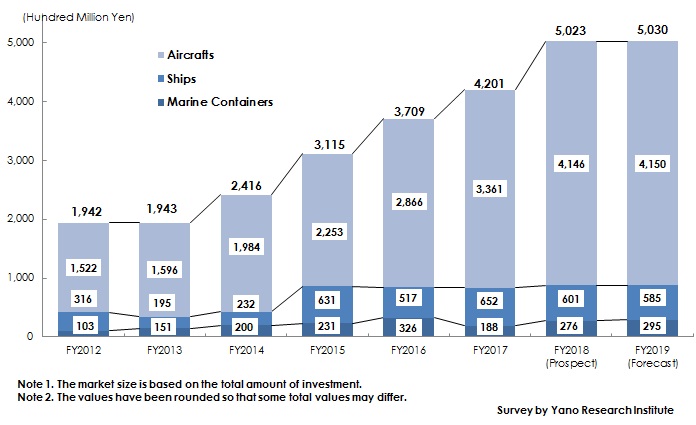 Market Overview
Due to a backdrop of lower interest rates and borrowing rates, fundraising methods have diversified for JOL (Japanese Operating Lease) products to face fiercer competition in FY2017. However, increasing number of JOL products, comprised mainly of aircrafts, were composed by some eager companies. JOL products consist mainly of ships have also sold stably, though the number of those composed is not as many.

On the other hand, the demand to invest in JOL has been stronger than ever before, which raised the market size by 13.3% to attain 420,100 million yen in FY2017, based on the amount invested by investors. Number of JOL Products Composed increased to 275, because of new investor demands including continuous succession of business, and of the replaced investments to JOL from real estates and/or solar panels. The category of aircrafts that comprised JOL has dominated 80%, while the category of ships has expanded to 16%, and containers shrank to 4%.

Supported by the vigorous investor demands primarily in the area of aircrafts, the JOL market is expected to be on the rise, but the environment to compose the products is likely to continue being harsh because of lower interest rates. Therefore, the JOL market size is expected to level off at around 500,000 million yen, based on the amount invested by investors.

Noteworthy Topics
Ever since bankruptcy of Lehman Brothers occurred in autumn of 2008, the domestic JOL market size (based on the amount invested by investors) have expanded because JOL can newly include European airlines, and because the companies specialized in JOL composition have become listed.

In FY2013, the market has expanded in the categories of aircrafts and containers. In addition, a company dealing in JOL has bought a company leasing overseas aircrafts, which encouraged the Japanese banks to compose some products that fund aircrafts, and invigorated aircraft finance. These factors have improved the credit scoring of the market, which contributed to increase the number of new customers and to expansion of the entire market boosted by the category of aircrafts.

The market has been invigorated by those investors who replaced to JOL from stocks or real estates, and those who face business succession. Also, emerge of LCC and new airlines from Mideast and Africa have increased to be included in JOL. In FY2017, the influence of bankruptcy of a leading South Korean shipping company has decreased the percentage of ships and marine containers to comprise JOL. Against the backdrop of both the bankruptcies of European LCC affecting also the category of aircrafts, and lowered borrowing rates, funding methods have diversified to make fierce competition in composition of JOL. This led some enterprises to refrain from eager comprising of JOL, or, instead, to include new airlines primarily in Europe and Middle East together with some in China and North America. Therefore, the attempts of comprising JOL have been polarized.

*Note: The research results intend to provide information only and not to induce any actions including investment or to recommend specific products or companies.


Research Outline
1.Research Period: April, 2018
2.Research Object: Major ten companies dealing in JOL among many companies handling leasing and others
3.Research Methogology: Face-to-face interviews by the specialized researchers
What is JOL (Japanese Operating Lease)?
JOL (Japanese Operating Lease) is generally a leasing contract where aircrafts, ships, or marine containers are bought with investment from investors (through an anonymous partnership agreement) and borrowings from financial organizations to lease them to airline companies and shipping companies. It is a financial product from which investors pursue capital gains at the time of expiration when the leased property is sold in the resale market.


Contact Us
©2019 Yano Research Institute Ltd. All Rights Reserved.
The copyright and all other rights pertaining to this report belong to Yano Research Institute.
Please contact our PR team when quoting the report contents for the purpose other than media coverage.
Depending on the purpose of using our report, we may ask you to present your sentences for confirmation beforehand.