Questionnaire on Digital Printing for Paper Containers in Japan: Key Research Findings 2018
Questionnaire on Digital Printing for Paper Containers in Japan: Key Research Findings 2018
Yano Research Institute (the President, Takashi Mizukoshi) has conducted questionnaire to nationwide paper container businesses regarding the status of digital printing used in paper containers, together with the future perspectives.
Figure: Whether or Not Digital Printing Introduced at Paper Container Businesses, Intention of Introducing Digital Printing in Future For Those Not Yet Introduced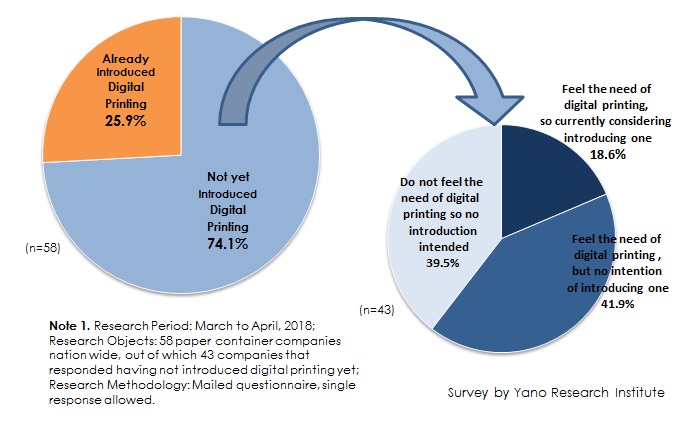 Summary of Research Findings
The survey was conducted from March to April 2018, where valid responses were collected from 58 companies, aiming to find out the interest in digital printing among paper container makers.

When asked to paper container companies about whether or not a digital printing machine was introduced or not, the rate of introduction accounted for 25.9%. This result gives an impression that the rate of digital printing introduced is larger than actual use rate of digital printing machines at the market, but it is because the questionnaire includes those companies that responded to possess only a wide-format inkjet printer that seems to be used for samples and proofreading, or for the purpose other than paper containers.

Such a status has been somewhat proven by the survey responses of the type of digital printing machines most introduced were "wide-format inkjet printers" that occupied almost half of those introduced. With regard to application, the response that occupied 60% was the use "as a production machine, using both for sample and proofreading." The survey results also indicate that the businesses that use digital printing machines only for paper containers accounted only for 20 %.

Noteworthy Topics
Needs of Digital Printing Machines at Paper Container Companies Not Yet Introduced One:
When asked about the future needs of digital printing machines to 43 paper container companies that have not yet introduced the digital printing machines, those responded that "Feel the need of digital printing, so currently considering introducing one" accounted for 18.6%, and those responded that "Feel the need of digital printing, but no intention of introducing one" occupied 41.9%. These show that 60% feel the needs of a digital printing machine. However, those companies considering introducing one only accounts for 20%. It indicates that the obvious needs are still small, but the potential needs for digital printing can be said as high.

Research Outline
1.Research Period: March to April, 2018
2.Research Object: paper container companies, and other related businesses
3.Research Methogology: Face-to-face interviews by the expert researchers, mailed questionnaire
What is the Digital Printing Market for Paper Containers?
The digital printing market for paper containers in this research indicates the market of commercial digital printing machines that are only used for paper containers (mainly paper boxes used for outer packaging.) However, those paper containers printed by such printing machines that use printing plates are not included.


Contact Us
©2019 Yano Research Institute Ltd. All Rights Reserved.
The copyright and all other rights pertaining to this report belong to Yano Research Institute.
Please contact our PR team when quoting the report contents for the purpose other than media coverage.
Depending on the purpose of using our report, we may ask you to present your sentences for confirmation beforehand.