11/07/17
Cosmetic Market in Japan: Key Research Findings 2017
Research Outline
Yano Research Institute has conducted a survey on the domestic cosmetic market with the following conditions:
Research period: From June to September, 2017
Research targets: Cosmetic brand manufacturers; cosmetic contract manufacturers, cosmetic raw material makers/trading firms, and distributors
Research methodologies: Face-to-face interviews by the expert researchers, survey by telephone, and literature research
Summary of Research Findings
Domestic Cosmetics Market in FY2016 Grew to 2,471.5 Billion Yen, 102.9% on Y-o-Y Basis
The domestic cosmetic market in FY2016 attained 2,471.5 billion yen, 102.9% of the size of the previous fiscal year, based on the shipment value at brand manufacturers. Inbound tourism demand from foreign tourists contributed to the stable market just like in FY2015. Also, the increasing demand of cosmetic products against a backdrop of economic recovery and highly functional brands and products that have been newly marketed by some cosmetic makers, both of which have given rise to market expansion.
Favorable Sales of Cosmetic Products for Sensitive Skins, Natural and/or Organic Products within Skin Care Category that Occupies 46.5% of Entire Market in FY2016
The domestic cosmetic market by product category in FY2016 has continued showing all the categories to have exceeded the results of the previous fiscal year. With regard to the skin care category, the largest category to occupy 46.5% of the entire cosmetic market, the cosmetic products for sensitive skins, all-in-one gel, natural and organic cosmetic products have sold well. Also, "cushion foundation," a new form of liquid foundation, and lip colors in the make-up category, shampoo and treatment developed to be natural cosmetic products and business-use hair-coloring treatment in the hair care category have respectively shown strong sales. In the fragrance category, such expensive products as "maison" brands and fashion fragrances have sold well in FY2016, just like in the previous fiscal years. In the men's cosmetic market, odor-caring haircare products have continued the favorable sales, successfully responding to the demand to take care of unpleasant odor.
Figure 1:Transition and Forecast of Domestic Cosmetic Market Size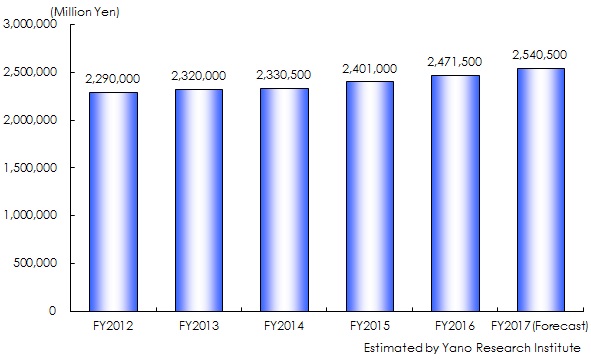 Figure 2: Domestic Cosmetic Market Share by Product Category in FY 2016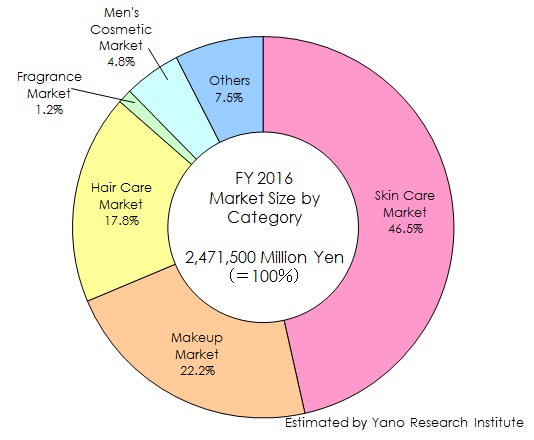 Published Report
*The information provided in the "Research Summary" is what is as of the date of announcement and could be altered or renewed without any prior notice.
Contact Us