07/18/17
Forecast of Number of IoT Sensor Systems: Key Research Findings 2017
Research Outline
Yano Research Institute has conducted a study on the domestic IoT sensor system market with the following conditions:
Research period: From March to June, 2017
Research targets: IT vendors/SIers, telecommunication businesses, device makers, public R&D institutions, user companies, etc.
Research methodologies: Face-to-face interviews by the expert researchers, surveys via telephone/email, and literature research
What are IoT Sensor Systems?
IoT sensor systems in this research indicate those cloud-type sensor network systems, including those retrofitted types with master/slave structure (a transmitter playing the role of a master, and multiple sensor nodes playing the role of slaves,) and those embedded types (embedded in advance within production facilities, heavy machinery, construction machines, vending machines, vehicles, and etc.) Also, those not only wireless, but those using wired communication lines are also included. However, the followings are not included: Standalone types composed of only sensors and data loggers, smart devices including smartphones, and RFID (Radio Frequency Identification) systems.
Summary of Research Findings
IoT Sensor System Market in FY2016 Grew by 6.7% to Achieve 1,096 Thousand Systems on Y-to-Y Basis
The domestic IoT sensor system market, based on the number of the systems installed at end users, has increased to 1,096 thousand systems in FY2016, a rise by 6.7% on year-over-year basis. The market expansion in FY2016 was due in part to favorable number of installations of sensor systems that use M2M as communication lines. In addition, increased business of MVNO has brought about diversification in application of the sensor systems, which have also contributed to the market expansion.
98% of IoT Sensor Systems Installed Occupied by 3 Sectors (Security, Automobiles, and Energy)
When looking at the size of IoT sensor system market by sector in FY2016 (the number of the systems installed by sector), the security sector occupies 46.0%, while the automobile sector accounts for 36.5%, and the energy 16.1%, indicating total 98.6% of IoT sensor systems are installed predominantly at those three sectors.
Promising Sectors for IoT Sensor Systems to Increase Installation are Factories/Manufacturing
In the sector of factories/manufacturing, some sensors have already been installed at production facilities/devices and utilities. Nevertheless, use of the data collected through sensors is limited, for instance just to report in a journal. To overcome this situation, there have been some attempts to introduce IoT at factory sites in recent years aiming to systematize a process flow from data collection, aggregation, to analysis. Utilization of IoT sensor systems is especially prospected in such tasks as energy monitoring, conservation/maintenance, and quality control.
Figure 1: Forecast of Domestic IoT Sensor System Market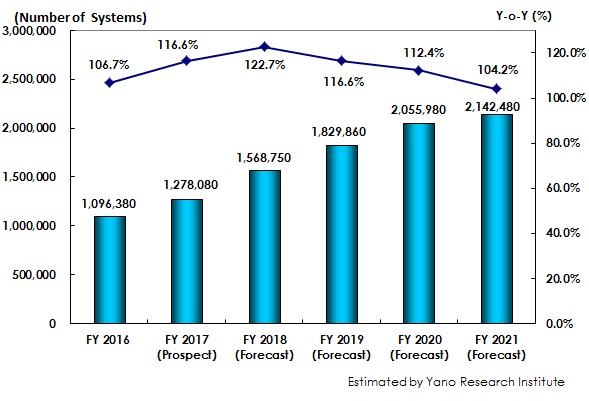 Published Report
*The information provided in the "Research Summary" is what is as of the date of announcement and could be altered or renewed without any prior notice.
Contact Us