01/05/17
Rice Business and Cooked Rice Market: Key Research Findings 2016
Research Outline
Yano Research Institute has conducted a study on the cooked rice business and cooked rice market with the following conditions:
Research period: April to October, 2016
Research target: Companies pertaining to rice, processed rice manufacturers, and relevant industrial organizations
Research methodologies: Face-to-face interviews by the specialized researchers, interviews via telephone/email, and literature research
What is the Cooked Rice Market?
The cooked rice market in this research indicates the domestic market of daily distributed cooked rice (such as lunch boxes with rice, Onigiri (rice balls), takeout Bento, takeout Sushi, takeout Donburi, and other rice dishes,) and processed rice products (such as frozen, retort-pouched, and aseptic-packaged cooked rice, and etc.) The market size is calculated based on the retail value.
What is the Rice Business?
The rice business in this research indicates the business extensively related to rice, ranging from breed improvement, production, processing to logistics, and sales (including exporting of domestically produced rice and producing of short-grain rice at local farms overseas,) and also the business of functional rice development and processing, all of which are taken the initiative by the Japanese enterprises.
Summary of Research Findings
Cooked Rice Market for FY2016 Projected to Attain 2,420.3 Billion Yen, 102.1% on Y-o-Y Basis
The market size of cooked rice for FY2014 attained 2,329.5 billion yen, 102.2% of the size of the previous year, whereas the market size for FY2015 is projected to achieve 2,370.8 billion yen, 101.8% of that of the previous year. The growth is partly caused by the favorable sales of daily distributed cooked rice, including lunch boxes and rice balls, ever since the Great East Japan Earthquake had occurred, triggering increasing number of elderly population to use convenience stores. The demands for processed rice such as cooked rice with aseptic-packaged or those frozen types have been on the rise, because their quality of being useful and convenient has been highly appraised, again, at the time of the aftermath of the Great Earthquake, after which such products have come to be used extensively in daily meals. In addition, the development of compact packaging and of those products differentiated in terms of function and nutritional factors have partly contributed to the cooked rice market size for FY2016, which is likely to achieve 2,420.3 billion yen, 102.1% of the size of the previous fiscal year.
Acquiring of Foreign Demands and Progress in New Rice Business to Develop Highly-Functioned Rice
As domestic consumption of rice has been decreasing, the domestic rice market has become eager to acquire foreign demands by exporting domestic rice and producing short-grained rice at local firms overseas, aiming to increase rice consumption, which, in turn, would invigorate the Japanese agriculture. On the other hand, when looking at the domestic rice business, there has been progressive development of value-added rice, reflected by the recent consumer demands for highly functioned rice with maximum nutrients left as possible from unpolished rice by means of advanced milling and processing technologies. The Japanese rice business model has changed into vertical integration type, which handles the comprehensive business process from upstream agriculture to downstream restaurants and ready-to-eat meal by the enterprises within a group. Also, the domestic rice market is accepting increasing number of companies newly entered from other industries.
Figure 1: Transition of Size of Cooked rice Market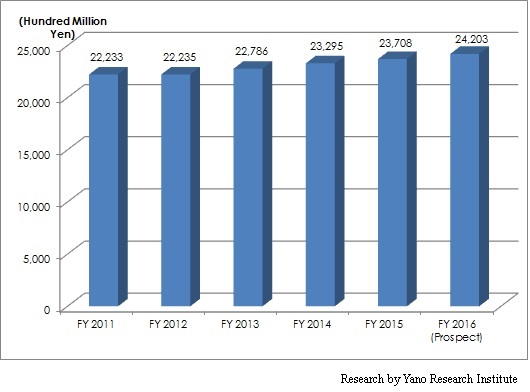 Published Report
*The information provided in the "Research Summary" is what is as of the date of announcement and could be altered or renewed without any prior notice.
Contact Us