08/17/16
Widely-Distributed Confectioneries Market: Key Research Findings 2016
Research Outline
Yano Research Institute has conducted a study on the widely-distributed confectioneries market with the following conditions:
Research period: From May to July, 2016
Research targets: Manufacturers of widely-distributed confectioneries, wholesalers, and related organizations
Research methodologies: Face-to-face interviews by the expert researchers, survey via telephone and email, and literature research
What is Widely-Distributed Confectioneries Market?
Widely distributed confectioneries are the confectioneries sold at retail channels such as mass merchandisers, supermarkets, convenience stores, drugstores, discount shops, and kiosks in the railway/subway stations. This research targets the following nine items: chocolates; biscuits/cookies; rice crackers/snacks; beans snacks; snacks/crisps; chewing gums; candies/caramels/toffees; imported confectioneries; and other confectioneries (tablet confectioneries, confectioneries with toys).
Summary of Research Findings
Widely-Distributed Confectioneries Market in FY2015 Projected to Achieve 1,984.1 Billion Yen, 102.0% on Y-o-Y Basis
The widely-distributed confectioneries market is likely to record two-consecutive-years of growth, with the market in FY2014 attained 1,945.2 billion yen, 104% of the size of the previous fiscal year (based on the shipment value of manufacturers), and the market in FY2015 prospected to achieve 1,984.1 billion yen for FY2015, 102.0% of the preceding year. Consumption tax increase since 2014 was thought to discourage the demands of widely-distributed confectioneries, but the influence was unexpectedly low. Rather, the sales of those confectioneries went through favorably due to such factors as widely-accepted price revision, increasing number of CVS and drugstores, more food dealt by drugstores, and expanding inbound tourism consumption.
All Product Categories Likely to Expand in FY2015 Except for Chewing Gums and Imported Confectioneries
The component ratio of the market size of widely-distributed confectioneries by item based on the shipment value of manufacturers in FY2015 is projected to be as follows: Chocolates occupy 18.6%, snacks/crisps account for 15.2%, rice crackers 13.8%, biscuits/cookies 12.6%, and candies/caramels/toffees 10.4%. Except for chewing gums and imported confectioneries almost all the product categories has been on the rise, particularly notable were biscuits/cookies, widening the growth rate, and chocolates, broadening its largest component ratio.
Acquiring Grown-Ups as Good Customers Likely to be Key for Market Growth
While many of widely-distributed confectioneries are manufactured for children, the confectionery makers have begun focusing more on targeting grownups, when considering social background of decreasing birthrate and aging population. In fact, consumption of those confectioneries by adults in recent years has supported the steadiness of the market. Such a trend can be seen from recent popularity of the so-called premium products, which are made of materials from long-selling products and made using well-thought methods, or from such products viewed from the aspects of health and functionality. The trend shows that people buys those products with good quality and taste in spite of the prices being a little high.
Figure 1. Transition of Widely-Distributed Confectioneries Market Size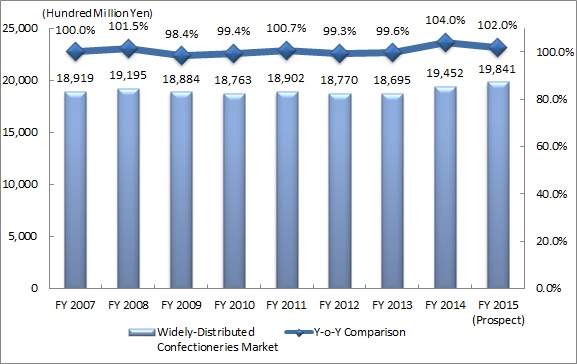 Figure 2 FY2015 Component Ratio of Widely-Distributed Confectioneries Market by Item (Prospects)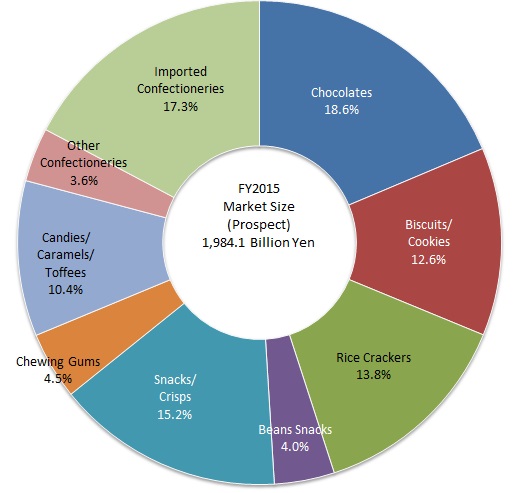 Published Report
*The information provided in the "Research Summary" is what is as of the date of announcement and could be altered or renewed without any prior notice.
Contact Us