2020/06/26
The Changing Corporate Valuation Criteria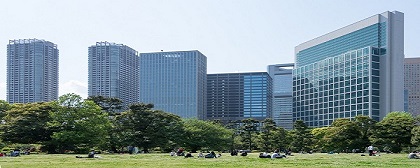 According to Japan Exchange Group (JPX), the peak day to hold an annual shareholders' meeting for listed companies with the fiscal year ending in March is June 26. The adoption rate for holding a shareholders' meeting on the specific peak day reaches 33.2%, a 2.3-point increase over the previous year. Likewise, the rate for the shareholders' meeting to be held during the busiest 4th week of June is 82.4%, a 12.4-point increase. Date of shareholders' meetings is scheduled much later than usual this year. JPX explained the reason for the delayed scheduling from the viewpoint of the business circumstances of the companies, saying, "Taking into account the impacts of the Covid-19 pandemic, every company wants to make time as much as possible for clerical preparation including financial closing and audit procedures." In fact, closing procedures are delayed both in Japan and abroad. Some companies have established a new record date to postpone their shareholders' meetings to July or later while other companies adjourned the meeting. Under the adjournment option, only the proposals that need approval of financial statements are to be settled on a separate schedule (an adjourned meeting.) Also, some other companies opt for holding an extraordinary shareholders' meeting.
Not only the operation of the shareholders' meetings, but the "voting policies" appear to be showing different aspects. Institutional Shareholder Service (ISS), an American proxy-advisory firm, recently announced the suspension of applying the regular ROE policy to approve proposals for the election of executive directors. Also, in case of holding an "adjourned meeting", ISS would recommend an "ABSTAIN" vote for some proposals such as matters for the appropriation of surplus that should normally be judged by financial statements. In short, ISS expressed that voting against the proposal is not recommended.
Besides, a request for a short-term profit return is scarcely presented. Instead, investors pay a keen attention to corporate sustainability. Probability of mid and long-term growth strategy is, by all means, an essential matter. Moreover, codes of corporate governance including the independence level of outside directors and their board composition rate, independence of a listed subsidiary board from the parent company, and the assured diversity of the board (percentage of women board directors) are targeted for assessment. At the same time, the achievement level of non-financial KPI activities such as those associated with ESG and SDGs is focused more significantly than before.
On August 19 last year, "Business Roundtable", an association of chief executive officers of America's leading companies including JP Morgan Chase, Apple and Amazon, announced a new principle of corporate behavior that places emphasize on the benefit of all stakeholders; employees, suppliers, customers, and communities instead of taking the stockholders-first policy. Now that the impact of the unexpected coronavirus "pandemic" is a determinant or even an accelerator of the new policy trend, many investors and corporate managers worldwide will resonantly follow this trend.
On April 20, an interview with Nidec Chairman and CEO Shigenobu Nagamori appeared in a Nikkei Newspaper article. Looking back his strategy, Mr. Nagamori said, "My business methods were wrong" and from now on, "not just chasing profits, but we should think about how to coexist with nature." He also remarked, "Now I want to make the company a worker-friendly one where employees are happy, even if profit temporarily declines."
Meanwhile, Yano Research Institute conducted a large-scale questionnaire in the April-May period to key businesspersons, aiming to forecast the post-COVID-19 business environments. Compared to the response of four years ago, twice as many respondents answered, "Increasing attention to the social contribution activities." (Based on the "Flash Report on Research for Post-COVID-19 Business Environment and Corporate Management")
The pandemic sheds light on the nature of the corporate social value. If so, what the corporate managers need to explain at the general meeting is the assurance of its corporate value and most of all, whether they have ambition as well as ability that can motivate them to keep on strengthening the assurance.
This Week's Focus, June 12
Takashi Mizukoshi, the President