CAE for Mechanical Engineering in Japan: Key Research Findings 2022 Domestic Market of CAE for Mechanical Engineering Attained 84,700 Million Yen in 2021, and is Projected to Recover Further in 2022
Yano Research Institute (the President, Takashi Mizukoshi) has surveyed on the global market of CAE (computer aided engineering) for mechanical engineering, and found out the current situation, the trends of market players, and the future perspectives. This press release announces the analysis of the Japanese market.
Transition and Forecast of Domestic Market of CAE for Mechanical Engineering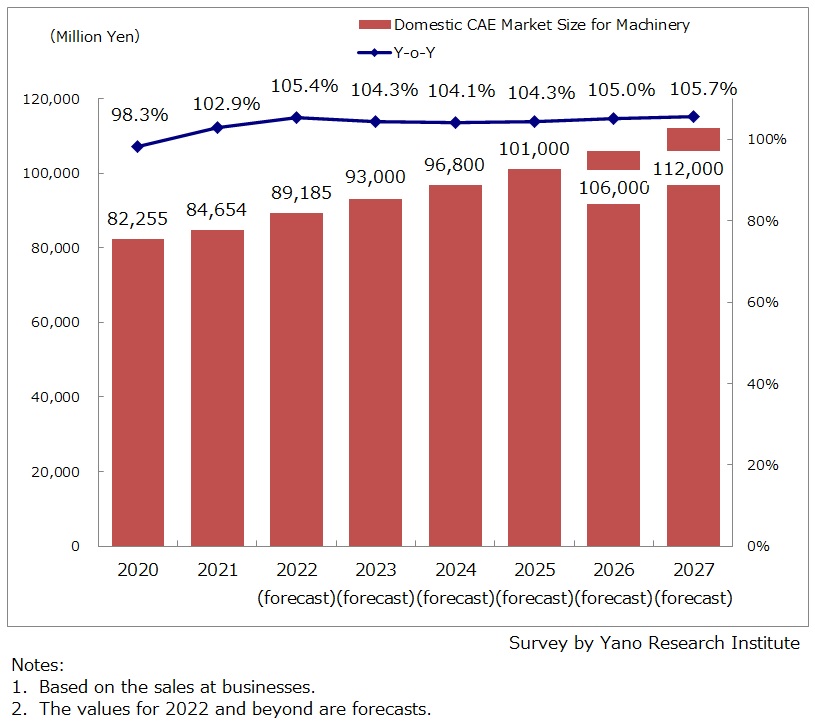 Market Overview
Size of the domestic market of CAE for mechanical engineering in 2020 dropped by 1.7% from the previous year to attain 82,255 million yen (based on the sales at businesses). As seen in the figure for 2021 that indicates year-on-year rise by 2.9% to 84,654 million yen, the market is on track for recovery.

Due to behavioral restrictions to prevent the spread of the novel coronavirus, economic activities declined sharply from 2020 to 2021. Nonetheless, because Japanese manufacturers continue to invest in ICT environment, which includes migration to cloud solutions that became necessary in accordance with the increase of telework, CAE software vendors managed to maintain revenues from software license and support/maintenance services. Despite the economic slowdown, the domestic manufacturers of CAE systems for mechanical engineering managed to keep the sales shrinkage by only around 2%.

Noteworthy Topics
Influence of Soaring Energy Prices
Because of the Russian invasion of Ukraine, Japanese economy is being slammed by the surging energy prices. As the war is raging with no end in sight, the restart of nuclear power plants and the use of renewable energy are taken into consideration as countermeasures to lack of energy.

To resume nuclear power plant operation, the facility must clear the inspection by the Nuclear Regulation Authority (NRA Japan) that checks its conformity to the new regulatory requirements, which requires huge amount of technical documents including analytics of CAE. Therefore, the demand for the analytics regarding product design and development is expected to grow.

Meanwhile, in the field of renewable energy such as solar power and wind power, offshore wind farm is garnering attention globally, particularly in Europe. Development of offshore wind farms has been accelerated in Japan, too, as the "Act of Promoting Utilization of Sea Areas in Development of Power Generation Facilities Using Maritime Renewable Energy Resources" came into effect in 2019. Under the circumstances, big opportunities may be expected for computer aided analytics in design/development of offshore wind power farms hereafter. In addition, rise in demand is also anticipated for designing and developing power generation facilities using ocean wave energy and geothermal energy.

Furthermore, construction of petroleum processing plant and petrochemical plant is actively underway. Designing such plants requires not only thermal fluid analysis and structure analysis, but also 1D CAE and computational chemistry.

Considering all of these situations, it is fair to say that soaring energy prices is presenting a new business opportunity for CAE for mechanical engineering.


Future Outlook
The domestic market size of CAE for mechanical engineering in 2022 is forecasted to grow by 5.4% from the previous year to reach 89,185 million yen. As Japanese yen continues to weaken in 2022, business performance of export-oriented manufacturing industries like automotive and electronics are showing signs of considerable recovery. The situation may give a boost to the sales of CAE for mechanical engineering.

Moreover, due to the penetration of BIM (Building Information Modeling) - a concept of utilizing workflow using one 3D model for research, design, and construction of a structure or building, which can also span into operation and management of buildings – adoption of CAE has been increasing in the construction industry. The demand for CAE for the construction industry is poised to grow significantly in the future.


Research Outline
1.Research Period: January to May 2022
2.Research Object: Manufacturers of CAE for mechanical engineering, etc.
3.Research Methogology: Face-to-face interviews by the specialized researchers (including online interviews), survey via telephone/email, and literature research
What is the Market of CAE for Mechanical Engineering?
CAE (Computer Aided Engineering) refers to the concept of using computer software to aid in engineering tasks involved in product design and development. There are several types of CAE software: CAE for mechanical engineering, which is used to analyze characteristics of mechanical systems like stress intensity and fluid resistance; model-based development tools such as 1D CAE; and other CAE software such as system to support numerical calculation, etc.

In this research, the market of CAE for mechanical engineering targets to the systems for structural analysis, thermos-fluid analysis, simulation of manufacturing processes like resin molding and casting, etc., and the market size is calculated based on the sales at businesses.


<Products and Services in the Market>
CAE for mechanical engineering (structural analysis, thermos-fluid analysis, simulation of resin molding, simulation of casting, etc.)
Contact Us
©2021 Yano Research Institute Ltd. All Rights Reserved.
The copyright and all other rights pertaining to this report belong to Yano Research Institute.
Please contact our PR team when quoting the report contents for the purpose other than media coverage.
Depending on the purpose of using our report, we may ask you to present your sentences for confirmation beforehand.