Industrial Cleaning Market in Japan: Key Research Findings 2022 Industrial Cleaning Market for 2023 Forecasted to Expand to 157,000 Million Yen
Yano Research Institute (the President, Takashi Mizukoshi) has conducted a survey on the domestic market of industrial cleaning (industrial cleaning systems/equipment and cleaning agents), and found out the business trends of market players, the market trends, and future perspectives.
Transition and Forecast of Industrial Cleaning Market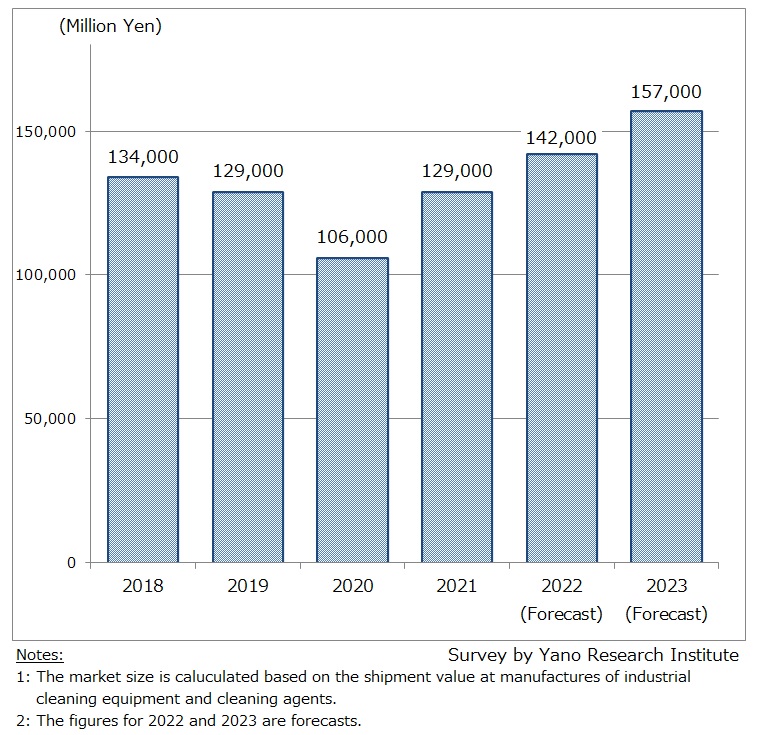 Market Overview
Safety and environmental compliance are required across industries in the last couple of years, and fabrication industries like machining industry and semiconductor industry are no exception. Owing to the increase in the number of precision parts and the diversification of contaminants, challenges to be addressed with industrial cleaning is evolving and deepening. The domestic market of industrial cleaning (cleaning equipment/systems and cleaning agents for industrial use) for 2021 is estimated to rise by 21.7% on year-on-year basis to reach 129,000 million yen (based on the shipment value at manufacturers).

In view of the market transition, although the market of industrial cleaning reached 134,000 million yen in 2018, it slightly fell to 96.3% of the previous year in 2019 partly because of accelerated tension between the US and China. The market experienced a sharper drop in 2020, shrinking to 82.2% of the preceding year, due to the sluggish economic activities during the COVID situation. Although an upward trend was witnessed in 2021, the market did not recover to the 2018 level.

Noteworthy Topics
Industrial Cleaning Equipment Price Trending Upward
Together with the conventional demand for technological improvements, safety and environmental compliance has been rising in the industrial cleaning segment, and its demand level is increasing ever.

Because of the pressing needs for safety and environmental compliance and increasing number of precision parts, the prices of industrial cleaning equipment are slowly rising.


Future Outlook
The industrial cleaning market has bottomed out in 2020 and it has been growing again since then. Although uncertainties remain regarding the COVID-19 crisis and challenges it posed for supply chain, stable growth is expected to continue after 2022. Nevertheless, the market is not growing as fast as it did in 2021, and it does not imply that all manufacturers and sellers of industrial cleaning equipment and cleaning agents are optimistic about the market outlook.

Despite the situation, some market players appear to have confidence in business, for they have order backlogs that extend through the middle of the year.


Research Outline
1.Research Period: November 2021 to April 2022
2.Research Object: Manufacturer/seller of industrial cleaning equipment and cleaning agents, industry association
3.Research Methogology: Face-to-face interviews by the expert researchers (including online) and literature research
Subject of this research is the industrial cleaning market, which is comprised of the market of cleaning systems/equipment for industrial use and the market of cleaner agents for such systems/equipment. Each market size is calculated based on the shipment value at manufacturers.


<Products and Services in the Market>
Cleaning systems/equipment and cleaner agents for industrial use
Contact Us
©2021 Yano Research Institute Ltd. All Rights Reserved.
The copyright and all other rights pertaining to this report belong to Yano Research Institute.
Please contact our PR team when quoting the report contents for the purpose other than media coverage.
Depending on the purpose of using our report, we may ask you to present your sentences for confirmation beforehand.