Global Market of Automotive Power Module: Key Research Findings 2021 Market Penetration of Next-Generation Vehicles Drives Global Market of Automotive Power Module to Reach 1,033,800 Million Yen by 2030
Yano Research Institute (the President, Takashi Mizukoshi) has conducted a survey on the global market of automotive power module, found out the market overview, the trends of adoption, the business strategy of manufacturers, and made projection on the market size up to 2030.
Forecast of Automotive Power Module Global Market Size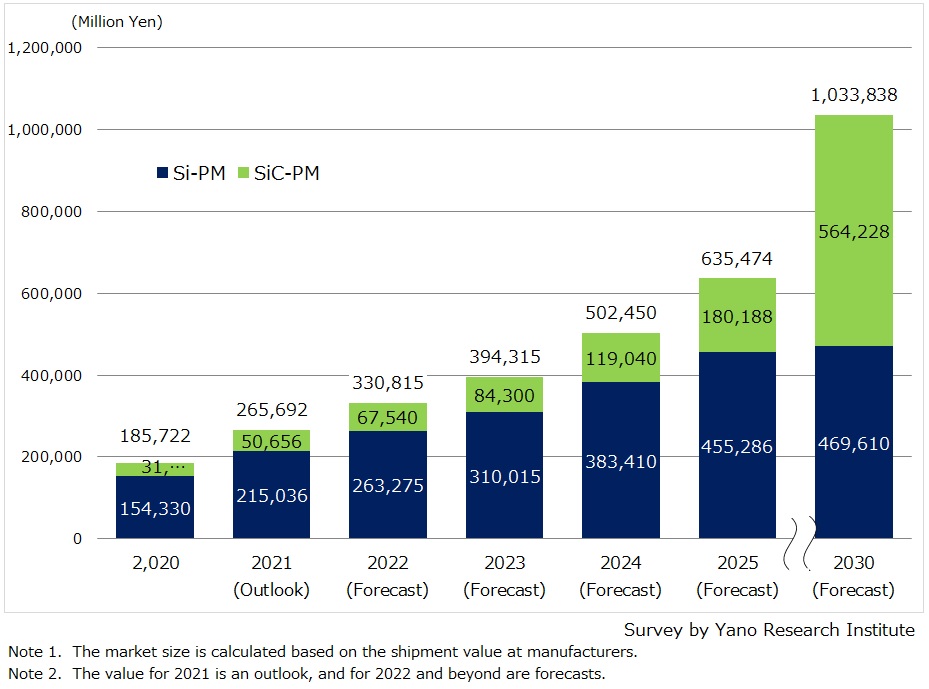 Market Overview
Owing to the global sales expansion of next-generation vehicles (hybrid electric vehicles [HV]/electric vehicles [EV]), the global market of automotive power module (referred to as PM hereafter) for 2021 has expanded by 43.1% from the preceding year to attain 265,692 million yen, based on the shipment value at manufacturers.

In detail, Si-PM with conventional Si power semiconductor rose to 215,036 million yen (up 39.3% YoY). The demand for electric axle (vehicle propulsion system that combines main engine and transmission [gear] in a single unit; referred to as eAxle hereafter) is increasing stably.

Moreover, as Tesla integrated SiC power devices in its Model 3 as a first manufacturer for such attempt, the market of SiC-PM grew to 50,656 million yen (up 61.4% YoY). Since adoption of SiC inverter by European makers (OEM) is expected to multiply from 2022, the Sic-PM market anticipates full-scale expansion.

Noteworthy Topics
Increase of Vehicle Models Using SiC-PM Particularly in Luxury EVs/800V Systems
A major feature of SiC-PM adopted in inverters for next-generation vehicles (HV/EV) is that it surpasses Si-PM in "compactness/thinness" and "low transmission loss". For these advantages, the number of vehicle models utilizing SiC-PM is expected to expand, especially among high-end/large-sized EVs to be released vigorously between 2022 to 2025.


For luxury EVs, automakers expect a high output motor to improve driving performance and downsized eAxle to provide spacious interior. Since both needs can be met by mounting SiC-PM inverters, SiC-PM is becoming increasingly popular for eAxle, which combines main engine and transmission (gear) in a single unit.


Moreover, as luxury EVs deploy large-capacity batteries to extend driving ranges, use of 800V charging architecture is progressing to achieve high efficiency and shorter charging times. As 800V drive system requires implementation of 1,200V SiC power semiconductor, and as the power loss in SiC-PM is lower than in Si-PM, the makers most likely favor SiC-PM inverters for eAxle.


Future Outlook
Due to the rising penetration of the next-generation vehicles, the global market of automotive power module is projected to grow to 1,033,800 million yen by 2030.


Regarding the EVs that anticipates sales increase particularly in Europe and China, i.e., middle-end electric SUVs (Sports Utility Vehicles) and luxury EVs, the market size of PM is expected to expand, because more than two PMs will be needed per vehicle as eAxle will be mounted in front and back of the vehicle. The global market size of automotive PM is forecasted to grow to 635,474 million yen by 2025, and the breakdown is 455,286 million yen for Si-PM and 180,188 million yen for SiC-PM.


The market size of SiC-PM is predicted to exceed that of Si-PM by 2030. Mass production of 6-inch diameter SiC wafers will be in full-scale from 2025, and it promotes mass production technology enhancement at power semiconductor makers. Since it brings SiC manufacturing cost reductions, SiC-PM deployment will be accelerated from high-end EVs to part of middle-end EVs (SUVs). In view of increase in the number of automotive makers considering deployment of SiC-PM for their new EVs to be launched after 2026, rise in demand is promising not only for 800V system but also for 400V system. For these reasons, the automotive SiC-PM market is forecasted to grow significantly from 2026, reaching 564,228 million yen by 2030.


Research Outline
1.Research Period: April to September 2021
2.Research Object: Automotive makers, tier-1 suppliers, power semiconductor makers
3.Research Methogology: Face-to-face interviews by the expert researchers (including online interviews), survey via telephone, and literature research
What is the Automotive Power Module?
Automotive power modules (PM) are components needed to convert electricity for motor vehicles, mainly used as inverters for hybrid vehicles (HV) and electric vehicles (EV). Hybrid vehicles/electric vehicles require inverters that convert the DC current from the electric vehicle battery to AC current for the vehicle propulsion system. Inverter components include automotive power module, various passive components, control board, and cooling device, and the automotive power module is a modularized power semiconductor chip (IGBT: Insulated Gate Bipolar Transistor).
As advances in technology innovation has increased conversion efficiency, along with conventional IGBT of Si (silicon) power semiconductors, automotive power modules using SiC (silicon carbide) semiconductor are garnering attention.


<Products and Services in the Market>
Power Module for next-generation vehicles (Si power module, SiC power module), Si power semiconductor, SiC power semiconductor
Contact Us
©2021 Yano Research Institute Ltd. All Rights Reserved.
The copyright and all other rights pertaining to this report belong to Yano Research Institute.
Please contact our PR team when quoting the report contents for the purpose other than media coverage.
Depending on the purpose of using our report, we may ask you to present your sentences for confirmation beforehand.