Ecommerce OTC (Over-the-Counter) Drugs Market in Japan: Key Research Findings 2021 Ecommerce OTC Drugs Market in 2020 Increased to 56,200 Million Yen, 112.2% of Previous Year
Yano Research Institute (the President, Takashi Mizukoshi) carried out a survey on the domestic online pharmacy dispensing and ecommerce OTC drugs market, and found out the market trend, trend by segment, trend of market players, and future perspectives. This press release discloses the trend of ecommerce OTC drugs market.
Ecommerce (B2C) OTC Drugs (Nonprescription Drugs and Newly Designated Quasi-Drugs) Market Size Transition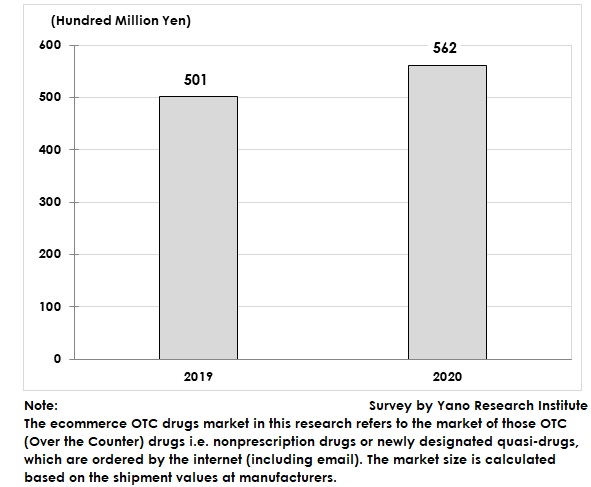 Market Overview
The domestic ecommerce (B2C) OTC drugs (nonprescription drugs and newly designated quasi-drugs) market size in 2020 based on the shipment values at manufacturers was estimated as 56,200 million yen. The reasons of the growth by 12.2 percent from the previous year was the recent expansion of the entire ecommerce market and increasing demand for contactless shopping experiences as well as decreased opportunities for consumers to go outside in the COVID-19 calamity.

The market is expected to continue growing even after 2021. While the entire domestic OTC drugs market is likely to level off or to slightly increase to a little more than 80 million yen, the ecommerce for OTC drugs can be said as a promising sales channel to grow furthermore for the future.

Noteworthy Topics
One-Stop Online Pharmacies as a New Platform
New services have emerged to enable consumers to purchase OTC drugs while consulting a specialist online, or to enable everything from online medical treatment, online drug administration guidance to receiving the prescribed drugs delivered at home. In addition to the above, some companies provide accurate medical information on their web pages, supervised by the specialists.

These services are suggestive of online pharmacy being a new platform that plays both roles of a trading platform of various medicines and of a healthcare platform where people can consult a specialist or obtain necessary information. Not only purchasing of medicines, but online pharmacy also has the function of medical expertise such as enabling people to consult a specialist or letting them acquire reliable professional information, etc. By being a partner in the medical and healthcare field, it has a potential of building a close and long-lasting relationship with customers.


Future Outlook
The domestic ecommerce OTC drugs (nonprescription drugs and newly designated quasi-drugs) market size is projected to grow by approximately 8 percent during the next three years. Because the ecommerce rate of OTC drugs used to be low until recently, the market is expected to expand until the ecommerce sales rate of OTC drugs reaches a certain level, whilst the entire OTC drugs market facing sluggishness.


Research Outline
1.Research Period: July to September 2021
2.Research Object: OTC drug-related companies, etc.
3.Research Methogology: Face-to-face and online interviews by the expert researchers and literature research
The Ecommerce OTC (Over-the-Counter) Drugs Market
The ecommerce OTC drugs market in this research refers to the market of those OTC (Over the Counter) drugs i.e. nonprescription drugs or newly designated quasi-drugs, which are ordered by the internet (including email). The market size is calculated based on the shipment values at manufacturers.


<Products and Services in the Market>
Delivery and other services for OTC drugs and prescription drugs, online drug administration guidance system, digital transformation support services for medical institutions, etc.
Contact Us
©2021 Yano Research Institute Ltd. All Rights Reserved.
The copyright and all other rights pertaining to this report belong to Yano Research Institute.
Please contact our PR team when quoting the report contents for the purpose other than media coverage.
Depending on the purpose of using our report, we may ask you to present your sentences for confirmation beforehand.