Manufacturing Industry in Vietnam: Key Research Findings 2021 Vietnam, Now the Second Largest Exporter in ASEAN Nations
Yano Research Institute (the President, Takashi Mizukoshi) carried out a survey on the manufacturing industry in Vietnam, and found out the investment environment, trading trends, trends of export-oriented manufacturing companies and of foreign companies having entered the markets in Vietnam.
Transition of Products Export Value in Major 6 ASEAN Countries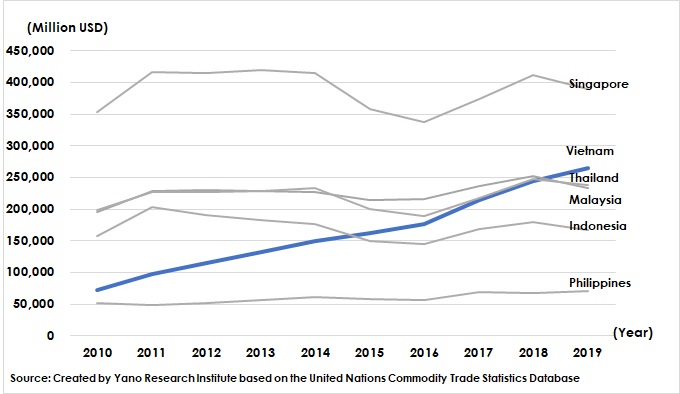 Summary of Research Findings
Vietnam is drawing attention as the most promising country for those companies taking a "China Plus One" strategy, the business strategy to avoid investing only in China and diversify business into other countries. At the same time, Vietnam is proactively attracting foreign companies aiming at encouraging the growth of its own manufacturing industry, which brought about multiple companies from overseas, centered on South Korea, to enter the markets in Vietnam.

As a result of major manufacturers of electronic components such as Intel, Samsung, LG Electronics, Panasonic, etc., placing their production bases in Vietnam, the country became the second largest exporter by products export value in ASEAN companies in 2019, following Singapore.

The reasons why South Korean companies as well as Japanese companies have chosen Vietnam to enter the market are inexpensive labor cost, the nature of Vietnamese people, and high affinity with Confucian cultured companies. In addition, Vietnam has promoted the Free Trade Agreement which is bringing about a favorable business environment for its exporting products. On the other hand, the challenges for the manufacturing industry to enter Vietnam are regarded as low rate of local procurement of components and raw materials, mass hiring by large corporations is making it difficult to secure personnel, shortage of industrial parks, and increased land price and rents. In particular, the northern parts of Vietnam face occupancy rates for rental factories getting tighter due to concentration of South Korean and Chinese companies.

Noteworthy Topics
Investment in Research and Development Institutions by Foreign Companies in Progress
While many foreign affiliated companies perform assembly manufacturing processes of automobiles, smartphones, household electric appliances, copying machines, electronic equipment, etc., at their respective production sites in Vietnam, not enough suppliers of components and raw materials are grown in Vietnam yet. Therefore, the Vietnamese government is offering preferential treatment to encourage investment in research and development facilities in order to promote technological transfer from foreign affiliated companies.

In response to this, Samsung plans to build an R&D center in Hanoi, which will be the largest of its kind in Southeast Asia, and LG Electronics begins building its second R&D center in Da Nang. Because R&D centers require relatively smaller sizes in location area and in number of employees than manufacturing factories, building such a center is considered to be one of effective methods for foreign affiliated companies to succeed in Vietnam where it has become difficult to secure industrial parks as well as human resources.

Research Outline
1.Research Period: June to August 2021
2.Research Object: Manufacturers from overseas that entered Vietnamese industries
3.Research Methogology: Face-to-face and online interviews by the expert researchers, and literature research
Published Report
Contact Us
©2021 Yano Research Institute Ltd. All Rights Reserved.
The copyright and all other rights pertaining to this report belong to Yano Research Institute.
Please contact our PR team when quoting the report contents for the purpose other than media coverage.
Depending on the purpose of using our report, we may ask you to present your sentences for confirmation beforehand.