Hair Salon and Barber Shop Cosmetics Market: Key Research Findings 2020
Hair Salon and Barber Shop Cosmetics Market for FY2020 Declined to 93.8% YOY to Attain 138,900 Million Yen
Yano Research Institute (the President, Takashi Mizukoshi) has conducted a survey on the domestic market of professional use cosmetics for barber shops and hair salons, and found out the market size, trends by prefecture and by product category, trends by market players, and future perspective.
Transition and Forecast of Hair Salon and Barber Shop Cosmetics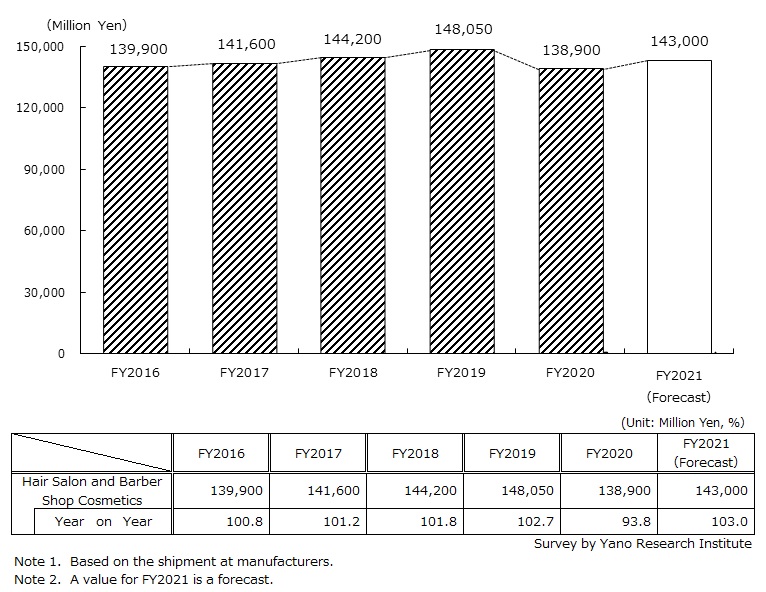 Market Overview
Size of the hair salon and barber shop cosmetics market for FY2020 dropped to 93.8% of the previous fiscal year to attain 138,900 million yen, based on the shipment at manufacturers. The market has been scaling down because prospective customer segment is decreasing due to declining birthrate. The situation got worse in FY2020 with the outbreak of COVID-19 from the beginning of the year; consumers refrained from going out for fear of getting infected, and decrease in frequency of salon visits dropped a total number of salon users. On the other hand, since the COVID-19 pandemic began, people have been spending significantly more time at home, consuming more at home. Rise in demand for home care products, particularly haircare items, resulted in sales of salon exclusive products to stay relatively strong.

Noteworthy Topics
Deployment of E-Commerce System as Preventive Measure against COVID-19 and as Leading Sales Channel
To promote sales of salon exclusive products that normally require face-to-face selling, cosmetic makers and dealers are focusing on building/deploying e-commerce systems to create more engagement with customers. While COVID-19 crisis changed consumer mind to prefer staying home and refrain from visiting salons, digitizing sales channel for commodity sales is increasing importance, and it is assumed that this trend accelerates further in entire industry for years to come.
While makers and dealers of salon cosmetics already had online stores opened in external platforms, with COVID-19 calamity, they turned to deployment of in-house platforms. Though the shift, not only do they provide easy-to-shop environment for customers by saving the trouble of visiting salons, but also promote direct sales by barber shops and hair salons using dedicated apps.


Future Outlook
Despite the unprecedented decline in the number of salon users during the state of emergency declared in April-May 2020, customers are gradually returning to hair salons and barber shops from June. As the upward trend is continuing, the hair salon and barber shop cosmetics market anticipates positive growth for FY2021 compared to the preceding fiscal year.
Although decrease of domestic demand associated with depopulation cannot be avoided after FY2021, it is assumed that consumption activities in the market recover eventually as the COVID-19 pandemic calms down moderately. Nevertheless, the market of hair salon and barber shop cosmetics is projected to continue shrinking, as in the new normal in the society "with-corona" and "post-corona", there is a strong doubt that the industry makes recovery to the level before the pandemic.


Research Outline
1.Research Period: January to March 2021
2.Research Object: Makers and trading companies/dealers of hair salon and barber shop cosmetics, businesses and associations related to the market of hair salon and barber shop cosmetics
3.Research Methogology: Face-to-face interviews by the expert researchers (including online interviews), survey by telephone and email, and literature research
Hair salon and Barber Shop Cosmetics Market
Hair salon and barber shop cosmetics market in this research refers to the market of professional use cosmetics used by domestic barber shops and beauty salons (hair salons) mainly for treatment of hair, and home-care cosmetics sold exclusively at salons for salon users. In principle, professional use cosmetics used at lodging facilities or aesthetic salons is excluded.


<Products and Services in the Market>
Hair coloring products, perm solutions, hair care products, hair styling products, and other related cosmetic products
Contact Us
©2019 Yano Research Institute Ltd. All Rights Reserved.
The copyright and all other rights pertaining to this report belong to Yano Research Institute.
Please contact our PR team when quoting the report contents for the purpose other than media coverage.
Depending on the purpose of using our report, we may ask you to present your sentences for confirmation beforehand.