Waterproofing Material Market in Japan: Key Research Findings 2020
Waterproofing Material Market for FY2020 Projected to Decreased to 79,660,000 Square Meters, 96.2% YOY
Yano Research Institute (the President, Takashi Mizukoshi) has carried out a survey on the domestic market of waterproofing materials, and found out the waterproofing material market overview, the trends at market players, and the future perspectives.
Transition and Forecast of Waterproofing Material Market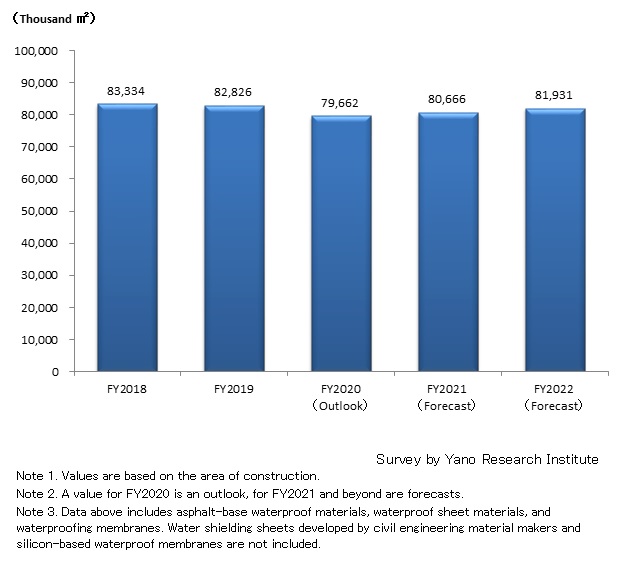 Market Overview
Size of the waterproofing material market (based on the area of construction) for FY2019 is estimated to shrink to 99.4% of the previous fiscal year, attaining 82,826,000 square meters. Although the market expanded in FY2018 against the background of stable demands for new build and increased demands for maintenance/repair and refurbishment after the disaster left by large typhoon, as those were merely special demands, it turned to decline for FY2019.

Noteworthy Topics
Trends of Waterproofing Materials Market Amidst COVID-19 Crisis
Regarding to the trends of waterproofing materials market in FY2020, demand for new build remained, as the materials were needed for those under construction. Despite the influence of 2020 declaration of state emergency which led to temporal suspension and/or delays and changes in schedule, construction works were mostly on schedule.
On the other hand, spread of the COVID-19 infections significantly impacted the demands for waterproofing material used for refurbishment. Since negotiation and construction takes shorter period of time for refurbishment compared to new build, quite a few refurbishment plans had been postponed or cancelled. In particular, number of postponements and cancellations rose among the condominium refurbishments, because decisions could not be made without condo association board meetings or resident representative's board meetings, and because those condominiums with no urgent need for repairs are taking a wait-and-see attitude toward the situation with coronavirus pandemic, refurbishing plans rescheduled or cancelled are increasing. Similarly, refurbishment plans were put off or cancelled for non-residential buildings like office buildings and manufacturing plants, against the backdrop of reduced willingness for capital investments at enterprises.


Future Outlook
Waterproofing materials market (based on the area of construction) is projected to attain 79,662,000 square meters for FY2020, declining to 96.2% of the previous fiscal year.
Future trends for the waterproofing material market exhibit different aspects for new build and for refurbishment.
Before the outbreak of COVID-19, demand for new build was fueled by re-construction projects of metropolitan areas and construction of accommodations for inbounds (foreign tourists visiting Japan). Nonetheless, due to the pandemic, sharp downturn in demand made it difficult for makers to anticipate rise in demand for new build. Moreover, as manufacturer's sentiments declined for capital investments including plant construction, it is assumed that recovery takes time for new build demand.
For refurbishment demand, even if the refurbishing plans are in place, from a short-term perspective it is vulnerable because such plans are subject to postponement or cancellation in the event of unexpected circumstances like COVID-19 calamity. Meanwhile, from a long-term perspective, it should be noted that refurbishment is an "inevitable demand" as all buildings require refurbishment to maintain waterproofing function, at one point or another, and to avoid diminishing property values.
Although FY2020 experienced a drop in demand for refurbishment, it carries a strong sense of 'postponement' rather than demand loss. As a matter of fact, from the latter half of FY2020, business inquiries to waterproofing material makers are multiplying, and it is recovering faster than demand for new build. Therefore, as an entire market, a rise in demand for refurbishment is expected to cover the loss in demand for new build.


Research Outline
1.Research Period: October to December 2020
2.Research Object: Waterproofing material manufacturers, businesses related to waterproofing materials, and industry associations
3.Research Methogology: Face-to-face interviews by the specialized researchers, survey by telephone, and literature survey
What is Waterproofing Material Market?
Waterproof materials in this survey indicate construction methods and building materials as listed below, which are used during construction of buildings to block rainwater and prevent moisture penetration. However, water shielding sheets developed by civil engineering material makers and silicon-based waterproof membranes are excluded.


 Asphalt-base waterproof materials: Asphalt/modified asphalt (hot application method, cool surface application method, torch-down method)


 Waterproof sheet materials: Vulcanized rubber sheet, non-vulcanized rubber sheet, polyvinyl chloride (PVC) sheet, ethylene-vinyl acetate (EVA) sheet, polyethylene sheet, urethane sheet, TPE/TPO sheet


 Waterproofing membranes: Polyurethane, FRP, cementitious membrane (EVA/mixture of acrylic and cement), acrylic, other resins/synthetic rubber, rubber-modified asphalt, exterior wall waterproofing membranes (acrylic rubber, 'one-part' liquid urethane [i.e. not two-part liquid])


<Products and Services in the Market>
Asphalt-base waterproof materials, waterproof sheet materials, waterproofing membranes
Contact Us
©2019 Yano Research Institute Ltd. All Rights Reserved.
The copyright and all other rights pertaining to this report belong to Yano Research Institute.
Please contact our PR team when quoting the report contents for the purpose other than media coverage.
Depending on the purpose of using our report, we may ask you to present your sentences for confirmation beforehand.