Babies' and Children's Clothing Market in Japan: Key Research Findings 2020 2019 Babies' and Children's Clothing Market Expected to Attain 914,100 Million Yen, 99.5% YOY
Yano Research Institute (the President, Takashi Mizukoshi) has conducted a survey on the domestic babies' and children's clothing market, and has found out the market size, the trends by products, and the trends by sales channel.
Market Size Transition and Forecast of Babies' and Children's Clothing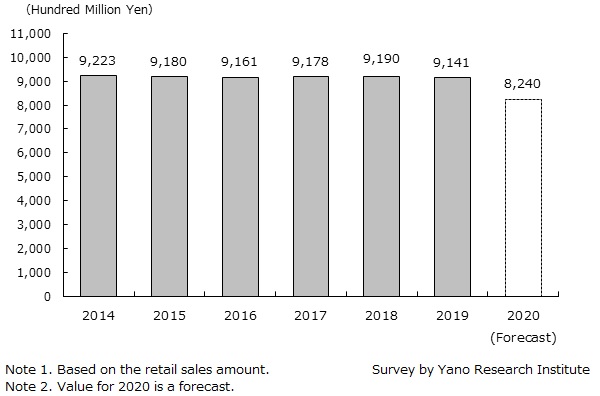 Market Overview
Estimated size of the babies' and children's clothing market in 2019 fell to 99.5% of the previous year, 914,100 million yen. Transition of the market size has been almost flat, fluctuating marginally between slight decrease and slight increase. As a background of the stagnation, tax hike, decline of consumer sentiment due to slumping of a real wages, and low birthrates can be listed.
While the market transition remains flat, companies and brands that improved sales are the ones that focused on e-commerce business, not only through e-commerce marketplace such as Rakuten and ZOZOTOWN but also developing in-house online stores.

Noteworthy Topics
Product Trends, New Brands in Babies' and Children's Clothing
Shimamura released a new babies' and children's clothing brand "manina" in September 2020 at its specialty store "Birthday". The "manina" is a new brand original at Birthday, with a concept of "more freedom and fun for kid's clothing". The brand intends to display new joy of fashion with various mixes of shapes and colors, based on a mode color scheme with edgy silhouette and patterns. The brand provides product line including fashion merchandizes to coordinate a style especially for babies and toddlers.
Meanwhile, Narumiya International launched a new brand "Melteen" at its official online store. Target of the brand is trend and culture conscious girls in fifth and sixth grade of elementary school and above, and the brand offers girly fashion for girls to enjoy 'ryosan-gata-fashion' * or "otaku activities".
Uniqlo will be selling "Warm Cotton Stretch Inner", warm clothing using cotton material developed to reflect the consumer demands for "warm inner garments made out of cotton that is gentle for children's skin".
As seen from the above, development of new brands and products are active for clothing designed and produced for babies and children.
[*Translator's note: "Ryo-san-gata-fashion" (direct translation: "mass-produced fashion") is a Japanese SNS buzzword that refers to a kind of girly fashion, typically a short dress with big collars and ribbons.]





Future Outlook
Size of the domestic retail market for babies' and children's clothing for 2020 is projected to decline to 824,000 million yen, 90.1% of the previous year. In recent years, while the growth remains at approximately the same level, the market is polarizing: The trend at large companies indicate notable revenue increase, while some apparel companies went bankrupt due to "China Risk (soaring personnel expenses in China)", influence of depreciation of Japanese yen, and sluggish sales. Typical examples are Motherways Japan and RONI World, which indicates predicaments that the industry is facing.
A main factor that led the sharp drop in 2020 is the impact of COVID-19 infections. It is assumed that "changes in everyday life" dragged every single industry to decline, including but not limited to babies' and children's clothing. A downturn in consumer confidence worsened by COVID-19 crisis and implementation of new lifestyle in the era of 'With Corona' are influencing the downturn in the market of babies' and children's clothing.


Research Outline
1.Research Period: September to November 2020
2.Research Object: Retailers, wholesalers, manufacturers and other related companies in babies' and children's clothing market
3.Research Methogology: Face-to-face interviews by the expert researchers, questionnaires by mail, and literature research
What is the Babies' and Children's Clothing Market?
The babies' and children's clothing market in this research refers to clothing designed and produced for babies and children, with the sizes classified as "Baby (age 0-1, size 50-80cm)", "Toddler/Kids (age 2-6, kinder, size 80-120)", and "School Junior (age 7-14, child, size120 -160)". The size classification is a most adopted guideline, although it may differ at each company. Clothing refers to garments only, i.e. other fashion merchandises are excluded.


<Products and Services in the Market>
Babies' and Children's Clothing
Contact Us
©2021 Yano Research Institute Ltd. All Rights Reserved.
The copyright and all other rights pertaining to this report belong to Yano Research Institute.
Please contact our PR team when quoting the report contents for the purpose other than media coverage.
Depending on the purpose of using our report, we may ask you to present your sentences for confirmation beforehand.