Location and Geographic Information Service Market in Japan: Key Research Findings 2020 Business Market Size Utilizing Location and Geographic Information Reaches 190 Billion Yen by 2025
Yano Research Institute (the President, Takashi Mizukoshi) carried out a survey on the domestic business using location and geographic information and found out the market trends by item, market size transition and forecast, market share by business, trend of technologies and the future perspectives.
Transition and Forecast of Domestic Location and Geographic Information Service Market Size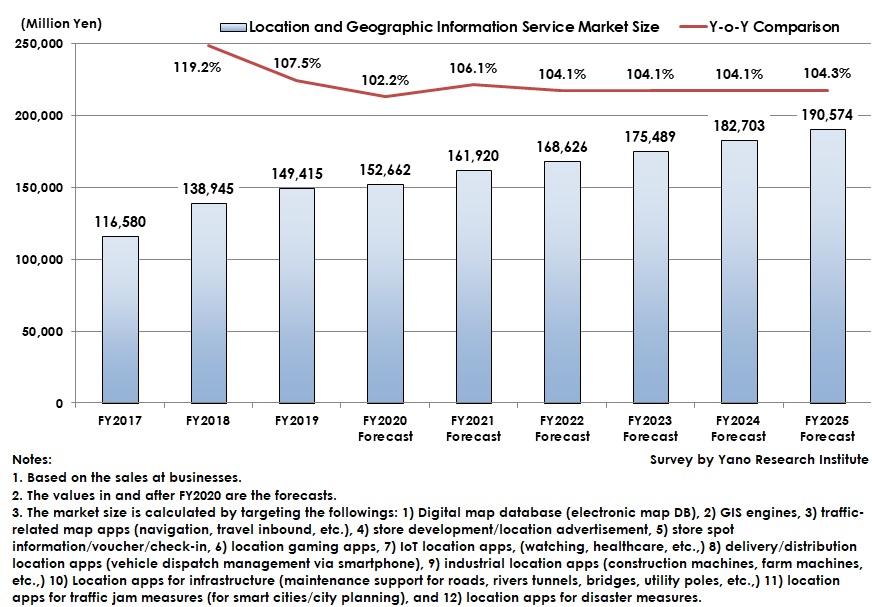 Market Overview
The domestic location and geographic information service market size for FY2020 based on the sales at businesses is projected to be 152,700 million yen, 102.2% of that of the previous fiscal year. Although the growth rate may decline in FY2020, every item included in the market is likely to stand firm, which is expected for the market to recover after FY2021. CAGR of the market from FY2017 to FY2025 is projected to be 6.3%, with the market size reaching 190,600 million yen by 2025.

Noteworthy Topics
Monitoring of Location Information in Progress around the World, as a Measure to Prevent COVID-19 Expansion
As a tool to trace the infected patients of COVID-19 that has spread since the beginning of 2020, each country decided to start introducing surveillance technologies that include face recognition and monitoring of location information.

The Japanese government, too, has launched the project in April 2020 that shows numerical values of the risk-increasing frequency of how people closely contact with an infected person. It aims to quickly grasp the sign of infections being about to expand after gradual restart of economic activities from the real-time data on how people move. Such a detection of the sign is said to be utilized for the governmental decisions to prevent the second and third waves of infections.

As location and geographic data have been globally recognized as effective for a measure to trace infections, especially "who met with whom at which place" has been known to be the critical data. By being able to detect this accurately, it has become clear that people can avoid contact with those infected. Hereafter, location and geographic information is likely to be utilized furthermore around the world as an infection preventive measure. On the other hand, however, how to keep the privacy of an individual is the issue. The domestic businesses currently developing the apps that use location and geographic data to prevent COVID-19 infections are MULTISOUP, NTT DOCOMO, Softbank/Agoop Corp., and KDDI/GIKEN SHOJI INTERNATIONAL, while such businesses overseas include Niantic, Rambit, Apple, and Google.


Future Outlook
In recent years, the influence to the location and geographic information service market in Japan by GAFA especially Google has become stronger. As the performance and functions of smartphones are advanced and the prices becoming affordable, the location and geographic information and various apps provided by Google (Google map) have been progressively used.

Whereas those map DBs for car navigation costing more than 100,000 yen update their map information only once in several years with fees required, the location and geographic information apps in smartphones are provided free of charge, and the latest information is updated on a daily basis. No wonder users are apt to select the latter.

In such a situation, in order for Japanese companies to survive in the location and geographic information service business, the following methods can be considered: 1) To make an app that can go with Google platform, 2) Do some business that Google has abandoned or cannot manage, 3) Make alliance with other companies to provide services with dynamic analysis or other analytic functions enhanced, or 4) Do the business not in the smartphone area that Google is good at but in the areas where Japanese companies excel at such as automobiles, watches, construction equipment, agricultural machinery, etc.)

For Japanese companies, the location and geographic information service market is where they are required to co-exist with GAFA, while being menaced, and to take advantage of Japan's unique strength to prepare for the coming challenges of global competition.


Research Outline
1.Research Period: April to September 2020
2.Research Object: Domestic businesses using location and geographic information, etc.
3.Research Methogology: Face-to-face interviews by the specialized researchers, surveys via telephone/email, survey using our company DB, and literature research
The Location and Geographic Information Service Market
The location and geographic information service market in this research refers to the market of the services using various GIS (Geographic Information System) applications such as 1) digital map database (electronic map DB), and 2) GIS engines. The market size is calculated based on the sales at businesses.


<Products and Services in the Market>
1) Digital map database (electronic map DB), 2) GIS engines, 3) traffic-related map apps (navigation, travel inbound, etc.), 4) store development/location advertisement, 5) store spot information/voucher/check-in, 6) location gaming apps, 7) IoT location apps, (watching, healthcare, etc.,) 8) delivery/distribution location apps (vehicle dispatch management via smartphone), 9) industrial location apps (construction machines, farm machines, etc.,) 10) Location apps for infrastructure (maintenance support for roads, rivers tunnels, bridges, utility poles, etc.,) 11) location apps for traffic jam measures (for smart cities/city planning), and 12) location apps for disaster measures
Contact Us
©2021 Yano Research Institute Ltd. All Rights Reserved.
The copyright and all other rights pertaining to this report belong to Yano Research Institute.
Please contact our PR team when quoting the report contents for the purpose other than media coverage.
Depending on the purpose of using our report, we may ask you to present your sentences for confirmation beforehand.