Underwear Market in Japan: Key Research Findings 2020
Yano Research Institute (the President, Takashi Mizukoshi) has carried out a survey on the domestic market of women's and men's underwear, and found out the trend by product segment, the trends by market players, and the future outlook.
Transition and Forecast of Women's Underwear Market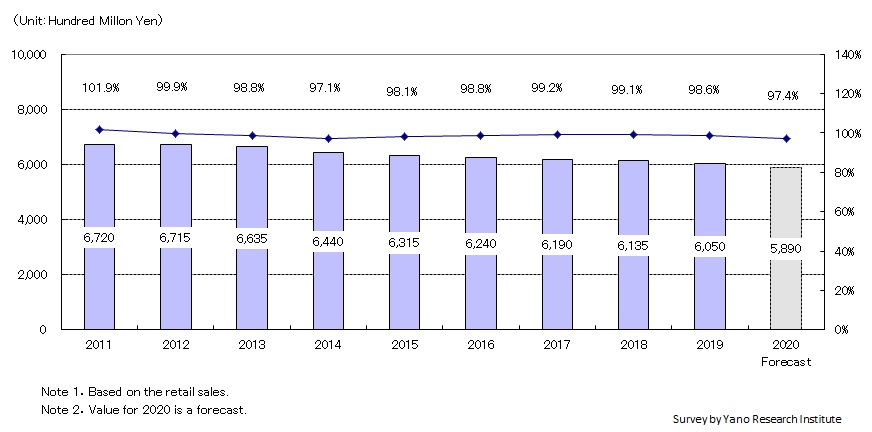 Transition and Forecast of Men's Underwear Market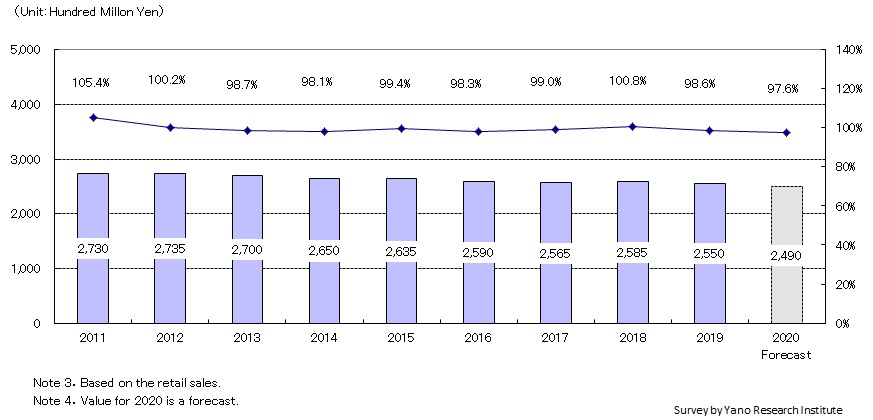 Market Overview
Size of the women's underwear market in 2019 shrunk to 605,000 million yen, 98.6% of the previous year. While the market trend of "comfort" continued, the market had no remarkable hit product in 2019. Under the circumstance, product line was enhanced for comfort products like non-wire bras with loose-fit, comfort, or 'liberation' as selling point, and sales of whole garment underwear expanded.
The retail market of men's underwear declined to 255,000 million yen, 98.6% of the preceding year. As mainstream of men's underwear are functional products, product development involves constant renewals every year. Although products committed to materials or functionalities have been developed in recent years, they didn't sell well.



Noteworthy Topics
Underwear Makers Entering "Mask Market" One After Another
It is notable that all types of industries, including apparel industry, have entered the market of "masks". Underwear industry also joined the "mask market" amid COVID-19 calamity, that both major companies and SMEs reinforced in-house products or OEM products.
Uniqlo's "AIRim" mask had significant impact on the market. It went viral, and on its debut shoppers formed long queues. Moreover, underwear makers are trying to differentiate their "masks" by adding value, creating them as one of the in-house brand products or using same material as their underwear. While no one knows when the COVID-19 calamity ends, demand for masks is likely to remain high, and therefore it is assumed that underwear makers will continue producing masks, considering it as a regular item instead of temporary item.





Future Outlook
The retail market of women's underwear is projected to attain 589,000 million yen for 2020, 97.4% of the previous year. While sales at physical stores are struggling amidst COVID-19 calamity, reinforcement of e-commerce is one of the critical challenges. Key for success lies in how business of physical stores and e-commerce can be merged. Successful products like non-wire bras have potential for activating the market; however, a product which can drive big growth of the market is difficult to develop.
For men's underwear, the retail market generated 249,000 million yen in 2020, 97.6% of the preceding year. As seen in women's underwear market, online sales are expanding. Underwear is compatible with mail orders because unlike other apparel products, they don't necessarily require try on. Underwear makers are focusing on online sales as a new direct sales channel, and retailers are pouring their energy to utilize it as part of their multichannel strategy. Leading mail order companies are also eager to make shift to online.





Research Outline
1.Research Period: July to September 2020
2.Research Object: Manufacturers, wholesalers, retailers and other businesses in underwear and legwear market
3.Research Methogology: Face-to-face interviews by the specialized researchers, survey via questionnaire by mail, and literature research.
Underwear Market
In this research, the women's underwear market indicates shapewears such as bras, girdles, lingerie, panties, and other undergarments. The men's underwear market includes vests, trunks, and briefs. The legwear market consists of socks, tights, and stockings. Size of each market is based on the retail sales.


<Products and Services in the Market>
Women's underwear, men's underwear, legwear
Contact Us
©2019 Yano Research Institute Ltd. All Rights Reserved.
The copyright and all other rights pertaining to this report belong to Yano Research Institute.
Please contact our PR team when quoting the report contents for the purpose other than media coverage.
Depending on the purpose of using our report, we may ask you to present your sentences for confirmation beforehand.