Character Business in Japan: Key Research Findings 2020
Yano Research Institute (the President, Takashi Mizukoshi) has conducted a survey on the character business in Japan, and found out the market size transition by segment, the trend by character, and the future perspectives.
Transition of Character Business Market Size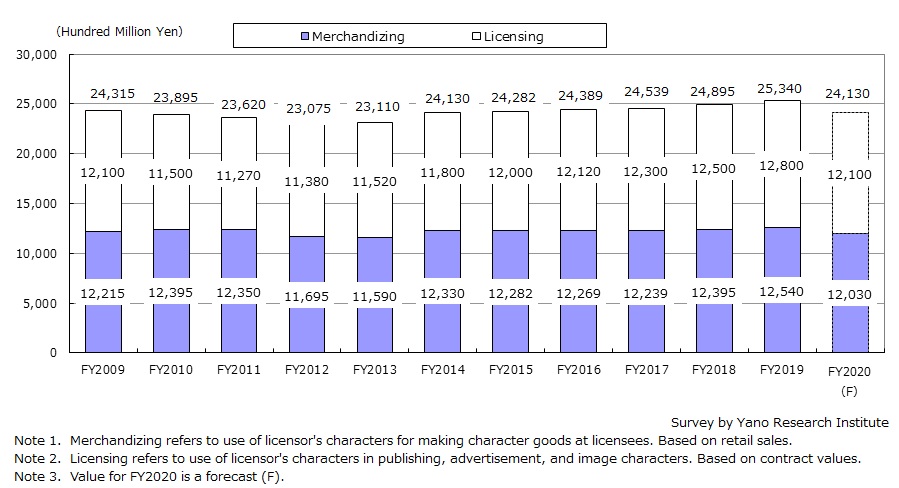 FY2019 Character Business Merchandising Market: Composition Ratio by Segment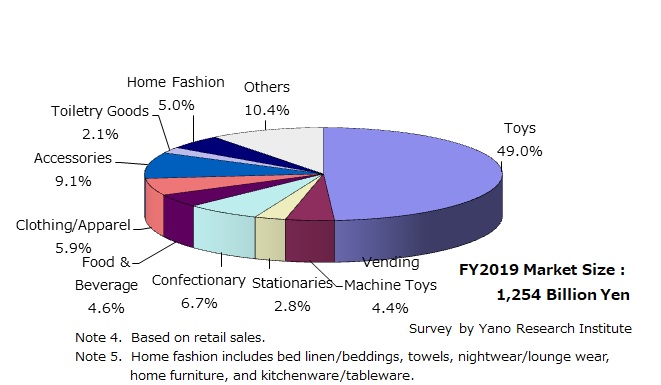 Market Overview
Character business market (merchandizing, licensing) for FY2019 generated 2,534 billion yen, showing 1.8% growth from the preceding fiscal year. As typified by "Kimetsu-no-Yaiba", the first mega-hit comic of the Reiwa Period, animated characters sold well.

Character business market consists of merchandizing and licensing, both of which showing positive growth: Merchandizing market for FY2019 (based on the retail price) attained 101.1% of the previous fiscal year, yielding 1,254 billion yen; licensing market (based on the contract price) reached 102.4% of the preceding fiscal year to generate 1,280 billion yen.

Breaking down by the market, the merchandizing market as a whole achieved positive growth against the backdrop of stable sales in toys, a product category which accounts for 49% of the composition ratio. In recent years, the market has grown due to multimedia strategies mainly at toy manufacturers and gaming companies. For FY2019, rise of new characters which grabbed fan's heart through SNS boosted sales of character goods, such as stuffed toys and sundry goods. In addition, unique characters like "Oshiri Tantei" and "Chiko-chan" went viral, which eventually led to product sales.

On the other hand, in the character licensing market, thanks to popularity of subscription-based video streaming services like Netflix, opportunities increased for animation characters to pervade. As a value of characters rise, usage of characters is expanding for promotion and other purposes. Careful approach to promote media franchising from a long-term perspective, through development of manga, TV animations, movies, games, and other products, is also assumed to be a factor for market expansion.

Noteworthy Topics
Use of Characters for "2.5 Dimensional Musical"
In recent years, the market of musical theatre production based on anime (animations) or manga known as "2.5 dimensional musical" is on the rise. Sales of theater-exclusive goods and creation of works that entice parent and child/families into theatre are leading to profit increase and acquirement of new fans.


Such musicals may increase influence of characters in delivering information qualitatively/quantitatively, avoids characters to become outdated (keeping them 'fresh'), and generate synergies in promotion of young actors/actresses/TV stars.


Future Outlook
The character business market (product merchandizing and licensing) for FY2020 is estimated to attain 2,413 billion yen, 95.2% of the previous fiscal year. Due to the influence of COVID-19, sales of character items decreased at character shops and amusement parks, inbound demand (demand of foreign tourists visiting Japan) which used to drive the market shrunk, and advertising expenses declined.


Further drop of the market size is projected due to loss of business opportunities caused by the outbreak of COVID-19; however, since popular characters continue to sell well and anime viewing is said to have increased by stay-home campaign, current situation may work positively for character business. From mid-to-long term perspectives, the market is expected to show strong growth.


Research Outline
1.Research Period: April to June 2020
2.Research Object: Businesses related to character licensing business (licensors and licensees of characters, retailers/distributors)
3.Research Methogology: Face-to-face interviews by the expert researchers, interviews via telephone/email, questionnaire surveys, and literature research
Character Business in Japan
Character business in this research indicates merchandising business and character licensing business; in merchandising business, licensees are allowed to use licensor's characters for making character goods, for sales promotion, and for movies, television programs, and manga (comics/cartoons).
Nevertheless, it should be noted that characters in this research refers to characters in anime (animations), manga, games and illustrations. It does not include celebrity/entertainer acting as a character (live actions).


<Products and Services in the Market>
Character goods, character licenses
Contact Us
©2019 Yano Research Institute Ltd. All Rights Reserved.
The copyright and all other rights pertaining to this report belong to Yano Research Institute.
Please contact our PR team when quoting the report contents for the purpose other than media coverage.
Depending on the purpose of using our report, we may ask you to present your sentences for confirmation beforehand.