Teleworking Solutions in Japan: Key Research Findings 2020
Yano Research Institute (the President, Takashi Mizukoshi) conducted a survey on the domestic teleworking solutions market, and found out the most recent usage status of IT tools, the trends of telework related solutions market, and the change in work style after the Coronavirus pandemic. Here, the use condition of IT tools for telework during state of emergency and the market trends of video/web conferencing systems are covered.
Use of IT Tools during Teleworking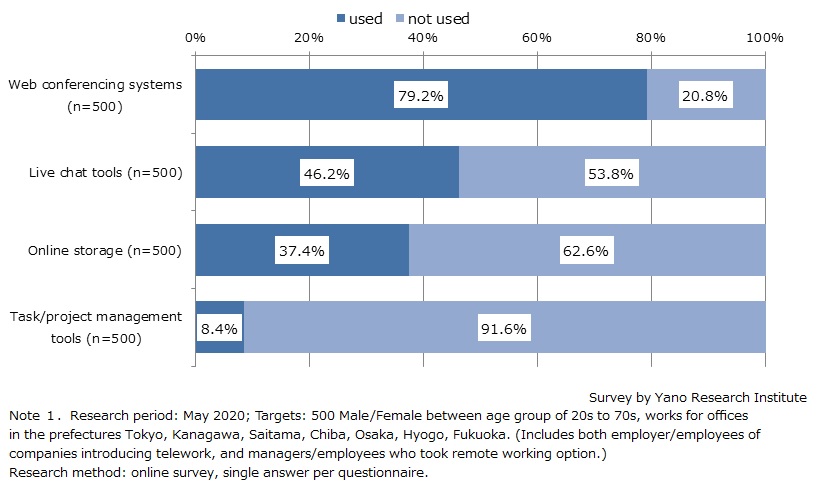 Transition and Forecast on Video/Web Conferencing Systems Market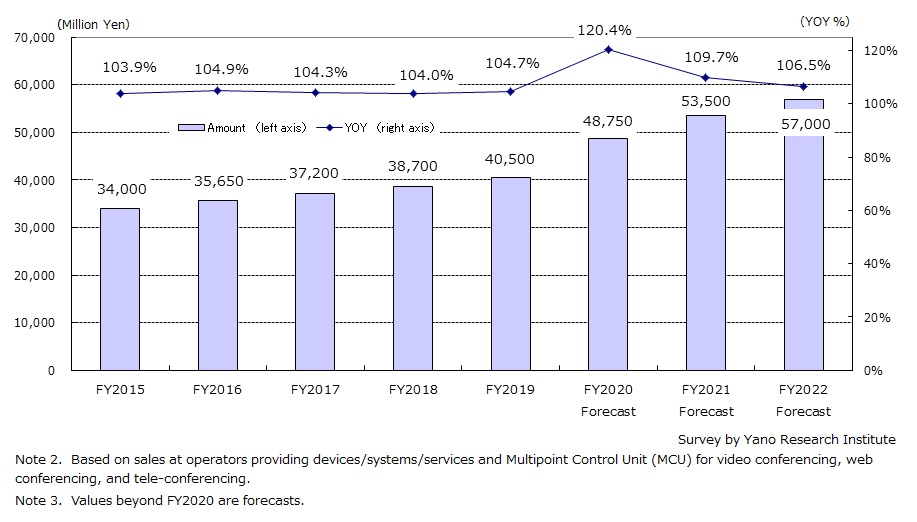 Market Overview
As the state of emergency was lifted in April 2020 over the COVID-19 crisis, many companies and organizations in Japan introduced telework.
In this research, online survey was conducted on 500 male/female workers of offices in 7 prefectures for which the state of emergency was declared on April 7. Of 4 types of online tools (web conferencing systems, live chat tools, online storage, and task/project management tools), use of video conferencing systems scored a highest ratio, almost reaching 80%, followed by live chat at about half (46.2%). On the other hand, task/project management tools was at lowest, 8.4%. The result demonstrates that the use of online tools increased significantly in a very short term, as many users responded that they had never used video conferencing system or live chat until telework was introduced because of the outbreak of COVID-19.

Noteworthy Topics
Domestic Demand for Video/Web Conferencing Systems Market Expected to Grow Significantly in FY2020
According to the survey on the trends among IT vendors on telework related solutions, the video/web conferencing market attained 4.05 million yen for FY2019, increasing by 4.7% from the preceding fiscal year (based on the sales at businesses).
In FY2019, introduction of video/web conferencing system was encouraged by the investments on telework environment in preparation for the opening of the Tokyo Olympic & Paralympic Games scheduled for July 2020, the viewpoint of Business Continuity Plan (BCP) among businesses as countermeasure for natural disasters like typhoons/earthquakes, and the penetration of work-style reform. For FY2020, demand is increasing tremendously especially for video conferencing systems as a response to the Coronavirus outbreak, thus the market is projected to reach 4.875 million yen, 120.4% compared to the previous fiscal year. As the result of the survey showed almost 80% of teleworkers used video conferencing systems, it is assumed to be playing a significant role as facilitator of telework.





Future Outlook
Online tools of teleworking solutions are expected to pervade hereafter, as a great number of workers (management level and general workers) that had no use experience till then discovered its convenience during telework due to COVID-19.
Typically, as web conferencing systems can dramatically streamline with no geographic or time constraints, its use is expected to rise not only as a substitution for face-to-face meetings but also for a wide range of usage, including events like seminars, sales activities, and job interviews. Live chat tools are also projected to increase as handy replacements for emails and telephones. Nevertheless, instead of being two separate tools, live chat tools and web conferencing systems may be combined into a single communication tool.





Research Outline
1.Research Period: May to June 2020
2.Research Object: Online questionnaire on 500 male/female office workers, between age group of 20s to 70s, whose offices are in either of 7 prefectures; Tokyo, Kanagawa, Saitama, Chiba, Osaka, Hyogo, and Fukuoka. IT vendor survey: Domestic telework related solution providers.
3.Research Methogology: Online questionnaire, face-to-face interviews by the specialized researchers, and literature research.
Teleworking Solutions in Japan
Teleworking solutions are IT solutions used for telework. In this research, it specifically refers to 4 types of online tools; web conferencing systems, live chat tools, online storage, and task/project management tools.





<Products and Services in the Market>
Video/Web conferencing systems, live chat tools, online storage, and task/project management tools.
Published Report
Contact Us
©2019 Yano Research Institute Ltd. All Rights Reserved.
The copyright and all other rights pertaining to this report belong to Yano Research Institute.
Please contact our PR team when quoting the report contents for the purpose other than media coverage.
Depending on the purpose of using our report, we may ask you to present your sentences for confirmation beforehand.