Linen Supply Market in Japan: Key Research Findings 2019
Linen Supply Market Increased Slightly for Two Consecutive Years, Attaining 517.8 Billion Yen, 0.3% Increase from Previous Year
While sales of linen supply for hotels drives market growth, slowdown in demand for other occasions and understaffing remain as serious issues.
Yano Research Institute (the President, Takashi Mizukoshi) has conducted a survey on the Linen Supply Market in Japan, and has found out the market overview and business strategies of the market players.
Market Size Transition & Forecast of Linen Supply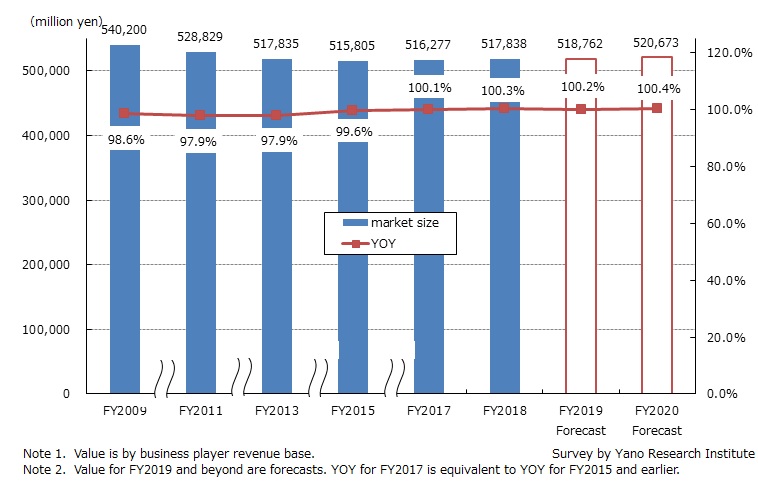 Market Overview
Linen supply service is a rental service that lends linens for hotels, hospitals, restaurants, amusement facilities, companies, and factories. In FY2018, domestic linen supply market size (by business player revenue base) attained 517,838 million yen, increased by 0.3% year on year, of which the growth is almost flat yet still growing for two consecutive years. The downturn in the linen supply market seems to have ceased after FY2017.

Noteworthy Topics
Understaffing Problem Escalating in the Entire Linen Supply Market
For long years, the linen supply industry has been facing a labor shortage. The problem is increasing also in the demands other than hotels, and has been affected by the influence of workstyle reform implemented in April 2019.


In terms of acquiring human resources, in November 2018, under the new system, the occupation in the linen supply services (finishing process of linen supplies) was added to the list of occupations for the "Technical Intern Training II". As the update allows non-Japanese residents to extend their period of stay, their workstyle may improve further in the market. Moreover, the industry is making efforts not only for the non-Japanese workers but also for women workers, providing stronger support by improving their working conditions (shorter workhours, child-rearing support, etc.).


In addition, the key challenge to be addressed will be the development of labor-saving work processes, including capital investments. Just as in the case of other industries shifting to automation, movements for adopting automation is also seen in the linen supply market. Whether by building additional facilities or by building new factories, or by streamlined process with existing equipment, it can be surmised that the survival of each companies depends on the level of their efforts.


Future Outlook
Domestic linen supply market in FY2019 is estimated to attain 518,762 million yen (by business player revenue base), 1.2% increase year-on-year. However, the estimate may fluctuate depending on the level of increase in the linen supply demand for hotels.


The major reason for breaking negative trend and leveling off is the growth driven by the demand in the linen supply for hotels. Demand for hotel linen is booming due to the substantial increase in the number of customers, which is due to the increase in the inbound tourists, to the construction of new hotels anticipating new demand by Tokyo Olympics/Paralympics, and to the increase in the number of companies starting the hotel business.


As 2019 started, there may be an opinion that hotel business has begun stabilized, yet it is apparent that the companies from other industries are entering the market for linen supplies for hotels. Moreover, although the hotel construction is likely to slowdown from 2020, demand for luxury hotels in major metropolitan areas is said to remain for inbound tourists. On the other hand, uncertainty in the demand after Tokyo Olympics/Paralympics is one of the concerns for the industry. The linen supply industry may suffer from the "issue of oversupply of hotels" which may occur after Tokyo Olympics.


Research Outline
1.Research Period: May to July 2019
2.Research Object: Leading domestic linen suppliers, wholesalers and manufacturers of linen supplies /machines for linen supplies
3.Research Methogology: Face-to-face interviews by the expert researchers, survey via questionnaire by mail, and literature research.
Linen Supply Market in Japan
Linen supply in this research refers to the rental service that lends linens for facilities (companies, stores, factories, etc.) with cleaning services. The market size is being estimated by business player revenue base.


Major demand fields are (1) hotels (linens for hotels, inns, and other accommodations), (2) hospitals (clothes for hospitals, clinics, nursing facilities), (3) food (linens and uniforms for restaurants and other eating places), (4) services (towels and uniforms for sauna, esthetic salon, and reflexology), (5)industry linen (uniform for factories/facilities), (6)transportation (seat covers for Shinkansen and other bullet trains, bed clothes for sleeping coach/ships/airplanes, including pillow cases and curtains), (7) diapers (cloth diaper for babies and for adults), (8) rented hand towels (for restaurants and sports facilities [golf driving range, golf course], amusement facilities [karaoke, pachinko, bowling], (9) dust control (rented cleaning equipment such as mop for homes, and rented mats and cabinet towels, etc., for business facilities).


<Products and Services in the Market>
Linen supplies for hotels, hospitals, food services, services, industry, transportation industry, diapers, rented hand towels, dust control
Contact Us
©2019 Yano Research Institute Ltd. All Rights Reserved.
The copyright and all other rights pertaining to this report belong to Yano Research Institute.
Please contact our PR team when quoting the report contents for the purpose other than media coverage.
Depending on the purpose of using our report, we may ask you to present your sentences for confirmation beforehand.