Sports & Wellness Market in Japan: Key Research Findings 2019
Domestic Sports & Wellness Market Size in 2018 to Attain 969,030 Million Yen
Yano Research Institute (the President, Takashi Mizukoshi) has conducted a survey on the domestic sports & wellness market, and has found out the market trends by product and service category, the trends of market players, and the future outlook.
Transition of Domestic Sports & Wellness Market Size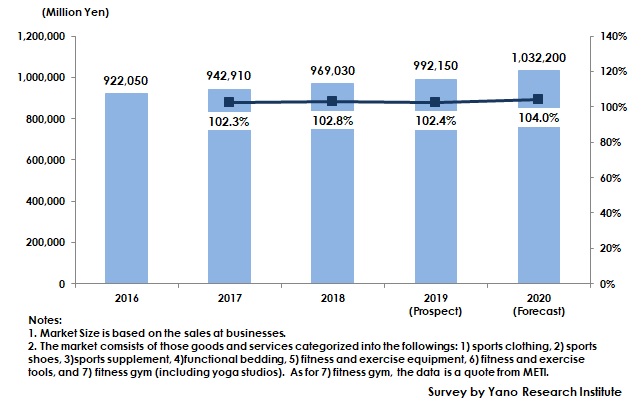 Market Overview
The domestic market size of sports and wellness in 2018 was estimated as 969,030 million yen, 102.8% of the size of the previous year.

The market in 2018 was driven by sports clothing: In the situation where the number of Sports fans have been increasing as the Tokyo Olympic & Paralympic games are approaching and lifestyle clothing provided by some national sports brands has gained popularity among general consumers, the entire sports and wellness market has been boosted by the sales of sports clothing category.

Noteworthy Topics
Fitness and Yoga Studio Market
According to "Vital Statistical Data on Specific Service Industries" by METI, the fitness and yoga studios market has been on the rise, but the market environment seems to differ largely depending on the business form. The market of large-scale comprehensive fitness gyms has already been matured now that the programs and additional services tend to be commoditized and the growth of new membership slowing down. In addition, it has become difficult to establish a large-scale fitness gym due to limited locations nationwide and to the soaring construction costs.


On the other hand, 24-hour sports gyms or small to mid-size fitness and yoga studios have been successfully operated at space-saving locations, by limiting the target audience and providing specific programs. Because launching of such small to mid-size sports gyms and studios have fewer restrictions than large-scale comprehensive fitness gyms, they have been newly and proactively opened, which resulted in favorable sales at some of leading operators. While large fitness gyms are likely to continue being in a predicament, small and mid-size sports gyms are expected to keep the favorable performance.


Future Outlook
The domestic sports & wellness market is projected to increase to 102.4% of the size of the previous year to achieve 992,150 million yen by 2019, and to be 104.0% on Y-o-Y to attain 1,032,200 million yen by 2020.


The sports & wellness market is on the rise, being widely accepted by increasing number of sports fans. Because of various attempts have been made toward health promotions such as "FUN+WALK PROJECT" led by the Japan sports agency, more people are likely to find it easier than previously to start sports in their daily lives. Therefore, sports fans are likely to increase furthermore for the future.


On the other hand, the expansion of the users is likely to lead to fiercer-than-ever competition among enterprises. Especially the competition is likely to be severer between sporting goods companies and those well-known companies mainly developing lifestyle clothing.


Research Outline
1.Research Period: April to June, 2019
2.Research Object: Sports & Wellness Goods and Services Providers (makers, retailers, and facility operators, etc.)
3.Research Methogology: Face-to-face interviews by our researchers, survey via telephone and email, and literature research
The Sports & Wellness Market
The sports & wellness market in this research is the market of goods and services aiming to maintain or improve the physical abilities via sports and exercises, and to maintain and increase health and beauty. Such goods and services are categorized into the following seven: 1) sports clothing, 2) sports shoes, 3)sports supplement, 4)functional bedding, 5) fitness and exercise equipment, 6) fitness and exercise tools, and 7) fitness gym (including yoga studios). As for 7) fitness gym, the data is a quote from METI.


Contact Us
©2019 Yano Research Institute Ltd. All Rights Reserved.
The copyright and all other rights pertaining to this report belong to Yano Research Institute.
Please contact our PR team when quoting the report contents for the purpose other than media coverage.
Depending on the purpose of using our report, we may ask you to present your sentences for confirmation beforehand.