Cosmetic OEM Market in Japan: Key Research Findings 2018
Yano Research Institute (the President, Takashi Mizukoshi) has conducted a survey on the domestic cosmetic contract manufacturing market and has found out the current status, the trends of the market players, and the future outlook.
Figure: Transition and Forecast of Domestic Cosmetic Contract Manufacturing Market Size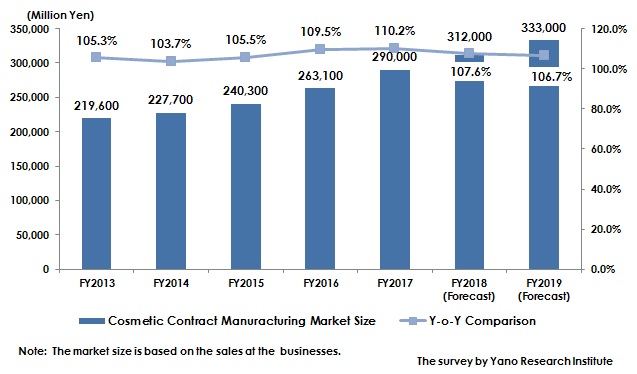 Market Overview
The domestic cosmetic contract manufacturing market in FY2017 largely expanded to 110.2% of the size of the previous year to achieve 290,000 million yen, based on the sales at the businesses. Deregulation caused by the revised Pharmaceutical Affairs Act has led to separation of sales and manufacturing at cosmetic brands, which invited new market entry by the new and existing businesses from diverse industries and encouraged outsourcing of manufacturing processes.

Expansion of inbound tourism demand in the domestic market and of outbound demand (local demand at exported countries) in China and ASEAN countries has contributed to increase production of Japanese cosmetics, invigorating the cosmetic contract manufacturing market.

Noteworthy Topics
In the skincare category, robust demand for the cosmetics for anti-aging and whitening has led those contracted manufacturers to enhance research and development of such cosmetics. The Japanese cosmetics are highly praised because of clear indication of clinical test data proving efficacies and because of safety to the skins, which expanded the local demand for such products in China, ASEAN, and other countries and increased exporting of domestic products.


Research Outline
1.Research Period: From April to June, 2018
2.Research Object: Cosmetic contract manufacturers, manufacturers of cosmetic containers, and raw materials, cosmetic makers, and other related enterprises and organizations.
3.Research Methogology: Face-to-face interviews, survey via telephone, mail-in-questionnaire, and literature research
What is the cosmetic contract manufacturing market?
The cosmetic contract manufacturing market in this research indicates a market where commission manufacturers produce items such as skincare, makeup, hair-care, and other cosmetic products based on the requests from the clients who are cosmetic brand makers and the companies that entered the market from other industries. The market mainly comprises of contract manufacturing, cosmetic containers market (makers and dealers of containers), and cosmetic raw material market (raw material makers and dealers).


Published Report
Contact Us
©2019 Yano Research Institute Ltd. All Rights Reserved.
The copyright and all other rights pertaining to this report belong to Yano Research Institute.
Please contact our PR team when quoting the report contents for the purpose other than media coverage.
Depending on the purpose of using our report, we may ask you to present your sentences for confirmation beforehand.