03/29/16
Mineral Water Market in Japan: Key Research Findings 2015
Research Outline
Yano Research Institute has conducted a study on the domestic mineral water market with the following conditions:
Research period: December 2015 to February 2016
Research target: Beverage manufacturers, water delivery companies, etc
Research methodologies: Face-to-face interviews by the specialized researchers, survey via telephone, and questionnaire
What are Mineral Water and Water Home Delivery Business Markets?
Mineral water in this research indicates water originated from ground water bottled in plastic or glass bottles and sold commercially. The water delivery business is a packaged business of delivering water and lending a water server. Such water delivery business without lending a server, or /and home delivery of plastic-bottled water are not included in this research.
Summary of Research Findings
Mineral Water Market in FY2014 Attained 266.8 Billion Yen, 101.8% on Y-o-Y Basis, Projected to Achieve 286.0 Billion Yen for FY2015, 107.2% on Y-o-Y Basis
The domestic mineral water market in FY2014 attained 266.8 billion yen, 101.8% of the size in the previous fiscal year, and is expected to achieve 286.0 billion yen in FY2015, 107.2% of the size in the preceding fiscal year, based on the shipment value at manufacturers.
In addition to mineral water becoming daily used after outbreak of the Great East Japan Earthquake, increased health consciousness among consumers has been one of the reasons that the market is expanding, as mineral water is widely considered to be natural and healthy. In recent years, growth of flavored water has been contributing to the prosperity of the market.
Water Delivery Business in FY2014 Attained 108.6 Billion Yen, 105.3% on Y-o-Y Basis, FY2015 Business Projected to Achieve 113.5 Billion Yen, 104.5% on Y-o-Y Basis
The water delivery business in FY2014 based on end-user sales achieved 108.6 billion yen, 105.3 % of the size in the previous fiscal year, and is expected for continuous growth to attain 113.5 billion yen in FY2015, 104.5% of the size in the preceding fiscal year. On the other hand, however, the growth rate has been shrinking, indicating the momentum at a certain time has died down. It is because those families in the urban areas, the customer base most interested in using water delivery services and easiest to buy them, have already been using them, so that it has been getting difficult to acquire new customers. Also, the unstable weathers in the summertime have reduced the number of bottles bought per customer.
Figure 1: Transition of Mineral Water Market Size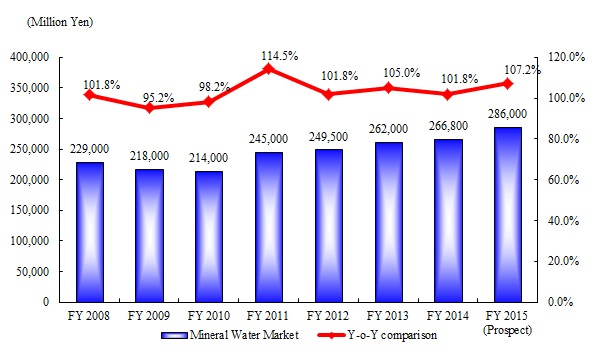 Figure 2: Transition of Estimated Size of Water Delivery Business Market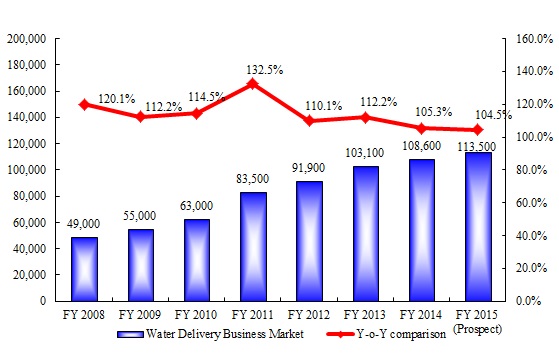 Published Report
*The information provided in the "Research Summary" is what is as of the date of announcement and could be altered or renewed without any prior notice.
Contact Us