02/04/16
Commercial Auto Supplies Market in Japan: Key Research Findings 2015
Research Outline
Yano Research Institute has conducted a study on the commercial auto supplies market with the following conditions:
Research period: October to December, 2015
Research target: Companies and organizations in the business of car supplies, including manufacturers, importers, wholesalers, and retailers
Research methodologies: Face-to-face/telephone interviews by the expert researchers, surveys via telephone/mail-in and questionnaires to enterprises associated
<What is the Commercial Auto Supplies Market?>
The commercial auto supplies in this research indicate those that are not genuine auto supplies and those that users use and purchase for the purpose of decoration or upgrading. The market is consisted of the following 10 items: Passenger car tires, Aluminum wheels, Car audio & navigation systems, In-vehicle accessories, Oil/chemical supplies, Expendables, Functional items, Decorative items, Tune-up items, and Others.
Summary of Research Findings
Commercial Auto Supplies Market in 2014 Attained 1,126.3 Billion Yen, 97.7 % on Y-o-Y Basis
The domestic commercial auto supplies market in 2014 attained 1,126.3 billion yen, 97.7% of the size in the previous year, based on the domestic shipment values. In an economic environment where users apt to restrain their expenditure on car supplies, the market size continues to be on the decline, which demonstrates what has been said that young people no longer drive his/her car nor even own their cars.
2014 saw reduction of demands caused by the aftereffect from last-minute surge in demand just before the tax increase, especially in the category of audio/car navigation systems, which is partly because improved rate of new cars already equipped with genuine car navigation systems.
The Market Continues Scaledown in 2015, and Recovers Slightly in 2016 Due to Last Minute Demand Before Consumption Tax Increase for 2017
Since no substantial increase is expected for the number of new car sales and number of vehicles owned, the domestic commercial auto supplies market is regarded to shrink continuously. The market size in 2015 is likely to attain 1,117.3 billion yen, 99.2% of the size in the previous year, based on the shipment values at the manufacturers.
Although the commercial auto supply market size in 2016 may recover to 1,120.2 billion yen, 100.3% of the size in the preceding year due to the last minute demand influx being expected just before consumption tax increase of 2017, the market still seems to have to go through severe conditions.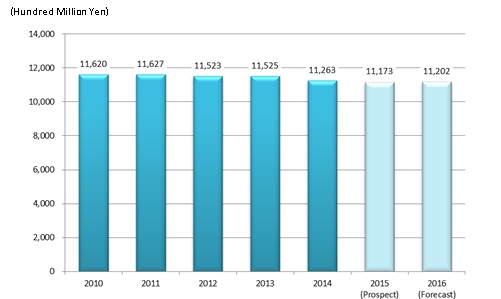 Published Report
*The information provided in the "Research Summary" is what is as of the date of announcement and could be altered or renewed without any prior notice.
Contact Us