Gift Market for 2022 Projected to Grow to 104.1% of Previous Year to 10,534 Billion Yen
Yano Research Institute (the President, Takashi Mizukoshi) has conducted a survey on domestic gift market, and found out the trends by occasion, the trends by channel, the trends by item, the trends at market players, and future perspectives.
Transition and Forecast of Gift Market Size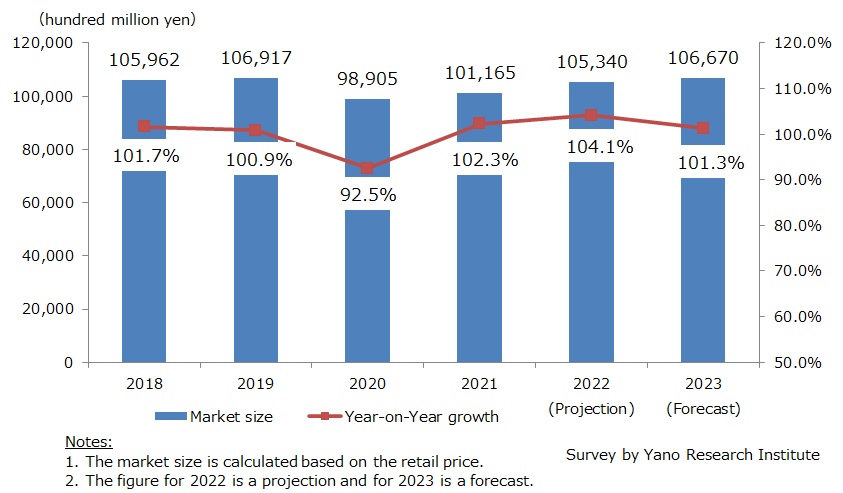 Transition and Forecast of Mid-year Presents and Year-end Presents Market Size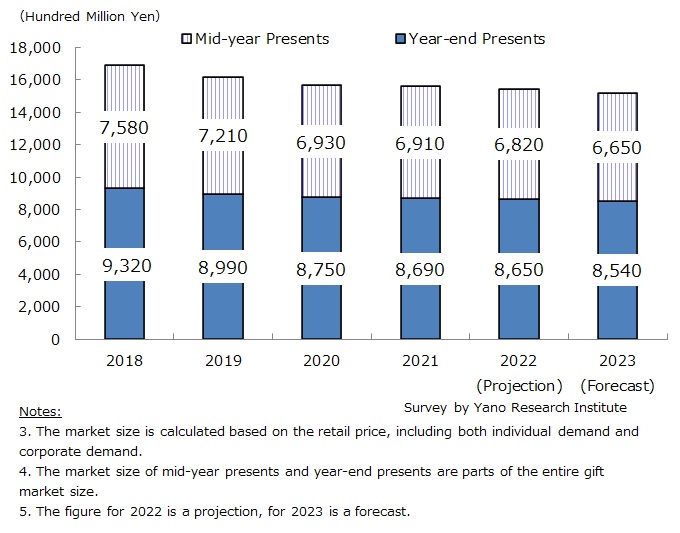 Market Overview
The domestic gift market is valued at 10,116.5 billion yen for 2021, 102.3% of the previous year, and it is projected to grow to 10,534 billion yen for 2022, 104.1% on year-on-year basis.

While the demand for gifts to express courtesy is have been on the decline with current trends, due to change in lifestyle and attitudes toward a way of social life, the communication method of giving a "gift" has been passed down in a way that is more relevant to modern society. It has increased its importance in relationships that are more personal and intimate. Due to the spread of the novel coronavirus, occasions for formal gifts have decreased from 2020. Nevertheless, there were other occasions that have increased opportunities for giving gifts, especially casual gifts, and thus the overall market has shown positive growth.

Noteworthy Topics
"Sending Gifts for Not Being Able to See In-person" Gains a Foothold as New Tradition
As the spread of COVID-19 decreased casual get-together occasions, people have embraced the act of sending gifts as a way of communication to convey their feelings. It was assumed that the demand for "sending gifts for not being able to see in-person" will diminish as the movement restrictions are lifted. Nonetheless, with the end of pandemic restrictions, the demand for gifts for "Mother's Day" in 2022 grew considerably compared to past years. As seen in the growth in demand alike for "Father's Day", "Respect for Elderly Day", "Christmas", "birthday", and "wedding anniversary", it is speculated that sending gifts to a person they care on special occasion has taken root domestically.





Future Outlook
Size of the domestic gift market for 2023 is forecasted to grow marginally to 10,667 billion yen, 101.3% of that of the preceding year.

Even in today's society where relationships with local communities and people are said to have become diluted, "giving a gift" plays a major role as a way to express gratitude, favor, respect, or affection for person they care, such as parent, child, and friends. It is a tool to facilitates communication.

While the pandemic averted people from seeing their family and friends in-person or returning to hometown, the presence of "gifts" increased to express their feelings instead of meeting in-person. The value of giving gifts as a communication method has been reevaluated.

In addition, as movement restrictions are eased and thus increased their activities, the demand for gift presented in-person, which had declined sharply during the pandemic, has been showing signs of recovery from 2022. Although there is a significant gap between sales result of gifts compared by gift occasion, the overall gift market is expected to recover to the pre-pandemic level in 2023.





Research Outline
1.Research Period: October to December 2022
2.Research Object: Wholesalers and makers of gifts, and retailers (department stores, GMS, specialty stores, mail orders)
3.Research Methogology: Face-to-face interviews by our expert researchers (including online interviews), surveys by telephone, mailed questionnaire, and literature research.
What is the Gift Market?
In this research, the gift market refers to personal and corporate gifts/presents, including demands for mid-year presents and year-end presents.


<Products and Services in the Market>
The gifts here include items given with an intention, such as to celebrate, to show gratitude, to greet, or to express an apology. Givers of the gifts include not only individuals but also corporate entities. Corporate gifts include products given to customers as novelty or campaign giveaway, as well as gifts given by employers to employees as anniversary gifts, company benefit gifts, or incentives.
Contact Us
©2021 Yano Research Institute Ltd. All Rights Reserved.
The copyright and all other rights pertaining to this report belong to Yano Research Institute.
Please contact our PR team when quoting the report contents for the purpose other than media coverage.
Depending on the purpose of using our report, we may ask you to present your sentences for confirmation beforehand.