Global Polarizers and Component Films Market: Key Research Findings (Latter Half of 2022) Global Production Volume of Polarizers for TFT LCD & AMOLED in 2022 Forecasted to Decline to 489.2 Million m2, 79.4% of Previous Year
Yano Research Institute (the President, Takashi Mizukoshi) carried out a survey on the global market of polarizers and their component films for the latter half of 2022, and found out trends by product type and future perspectives.
Global Polarizer Production Volume Transitions and Forecast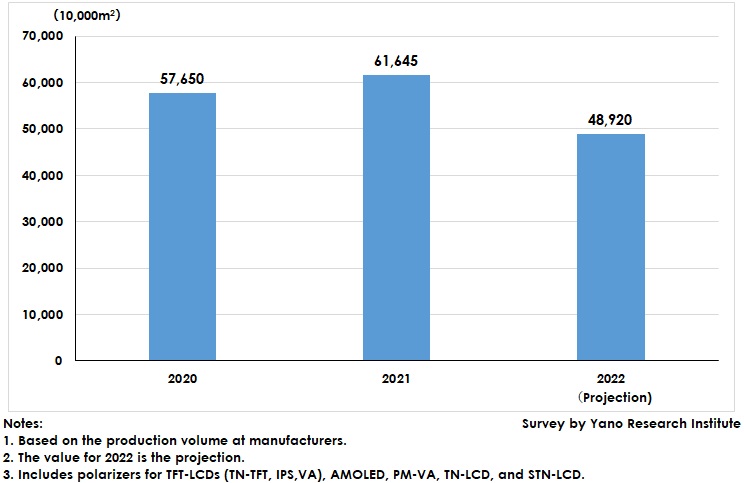 Market Overview
The global production volume of polarizers in 2022 is expected to be 489.20 million square meters, 79.4% of that of previous year.

Various external factors such as the Ukraine situation, inflation, and deteriorating economy, etc., have globally depressed the sales of electronic appliances including TVs and monitors, which downturned the global polarizer market to negative growth in 2022. This made the recent special demand for displays that had been generated from at-home spending during the corona crisis not only to vanish but also to force the global polarizer and component film market to decline significantly.

Supply for the components for large high-quality displays with 55 inches or larger geared for Samsung Electronics and other manufacturers have decreased considerably, and the sales of polarizers for 65-or-larger-inch TVs that lead the market in production volume have been sluggish. With stagnant sales of components for IT screens (monitors, laptop PCs, and tablet PCs), the shipment volume of polarizers for monitors and laptop PCs have rapidly decreased from May, keeping no sign of recovery. The shipment volume of polarizers for small to mid-size displays and smartphones have been retained for some of high-end brands, but smartphone demand as a whole has declined significantly. The demand for polarizers and component films in 2022 is likely to decrease in all applications (i.e. large displays, small-to-medium sized displays, and IT screens).

Noteworthy Topics
Chinese Polarizer Manufacturers Operating New Lines Expanded Production, Price War in the Recession Started
Because of decreased demand for overall displays, the operation rate at each of polarizer manufacturers declined from around April 2022, and hit the bottom in July. Each manufacturer started the price war in this depression, aiming to secure some parts of supplies in the market.

The global polarizer market was affected by expanded production at Chinese polarizers in which new lines were in operation. A Chinese manufacturer, Shanjin Optoelectronics, that had maintained the operation rate until July 2022 updated the largest-ever production volume per month in the first half of the fiscal year, and expanded its share in the latter half by obtaining the shares of other manufacturers through aggressive price cut. South Korean manufacturers followed suit to reduce prices, involving Taiwanese manufacturers including BMC and CMMT, which led the average price reduction rate to be 10% or more in the fourth quarter of 2022.

While the operation rate at each polarizer manufacturer showed an upward trend due to the demand generated earlier than expected in November 2022, ahead of the Chinese New Year holidays, little recovery was observed for the electronic appliance demand such as TVs and monitors in the fourth quarter of 2022. Only the polarizers for small TVs with 32 to 43 inches such as TCL Technology and Hisense were in demand. Nevertheless, the price cutting battle has just started, and Chinese polarizer manufacturers that still have some room are seriously trying to eliminate competitors.


Future Outlook
For the global polarizer market, temporary increase in operation rate and shipment volume is expected during the first half of 2023, but cannot be said as full-scale recovery, while the recovery speed is projected to accelerate during the latter half of 2023.

Being swayed by various external factors that are still continuing in 2023 such as inflation, worsened economy, etc., consumption of electronic appliances including TVs and monitors is not likely to revive, which is projected to affect the production and shipment system in the third quarter i.e. the busy season for polarizer demand, and can fall below the 2022 level. As the operation of new production lines at major polarizer manufacturers must also be taken into account, the global market of polarizers and component films in 2023 is projected to fiercely fluctuate due to various internal and external factors.


Research Outline
1.Research Period: September to November 2022
2.Research Object: Manufacturers of polarizers, retardation films, PVA protection films, and surface processed films
3.Research Methogology: Face-to-face interviews (including online) by our expert researchers, and literature research
About Polarizer Market
A polarizer is an optical filter that passes light that are polarized to specific direction and blocks waves of other polarization. Because polarizers are the major component used in every display, polarizer market is very likely to expand together with rising display market.

Polarizers in this research refer to those polarizers for TFT (Thin Film Transistor)-LCD, AMOLED (Active-Matrix Organic Light-Emitting Diode) and for PM-VA (Passive Matrix Vertical Alignment) monitors, in addition to those for TN (Twisted Nematic)-LCD, and STN (Super Twisted Nematic)-LCD. The polarizer market size is calculated based on the production volume at manufacturers in 10,000 square meters.


<Products and Services in the Market>
Polarizer, major component films (retardation films, PVA (polyvinyl alcohol) protective films, surface-processed films, etc.)
Published Report
Contact Us
©2021 Yano Research Institute Ltd. All Rights Reserved.
The copyright and all other rights pertaining to this report belong to Yano Research Institute.
Please contact our PR team when quoting the report contents for the purpose other than media coverage.
Depending on the purpose of using our report, we may ask you to present your sentences for confirmation beforehand.