Bioplastics Market in Japan: Key Research Findings 2022 Domestic Bioplastics Market in 2021 Showed Remarkable Growth with Shipment Volume 88,530 Tons
Yano Research Institute (the President, Takashi Mizukoshi) carried out a survey on the domestic bioplastics market, and found out the market trends and future outlook.
Domestic Bioplastic Market Size Transition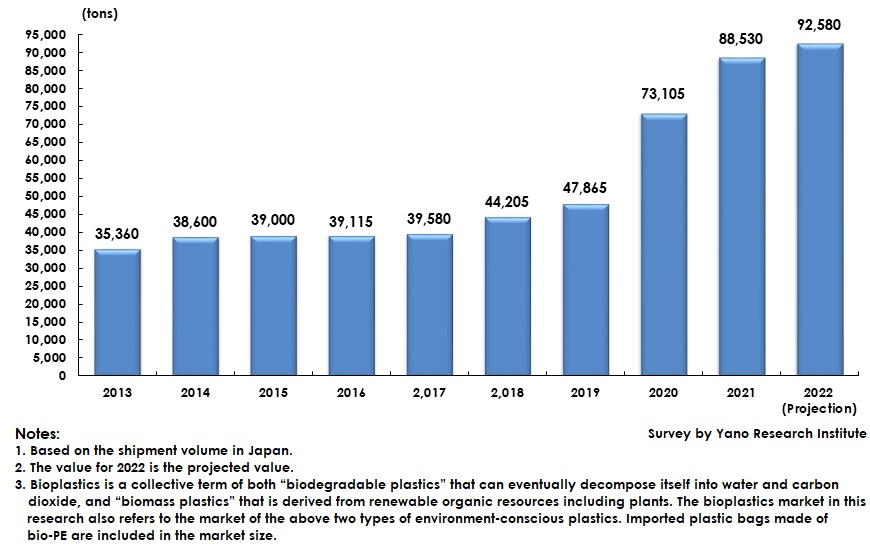 Market Overview
The bioplastics market, including imported plastic bags made of bio-PE (polyethylene), in 2021 grew by 21.1% from the previous year to 88,530 tons, based on the domestic shipment volume. While the market growth was gradual until 2019, it suddenly expanded in 2020 (to 73,105 tons, up by 52.7% on YoY) and in 2021, two years in a row.

The major factors were: 1) Rapid demand increase for bio-PE, stemming from paid plastic bags at shops since July 2020, 2) Sudden demand increase for bio-based PET (polyethylene terephthalate) triggered by full-scale adoption for beverage bottles at major beverage companies, 3) "Roadmap for Bioplastics Introduction (*1)" that is sustainable bioplastic introduction policy shown by the government to businesses, and "Act on Promotion of Recycling of Plastic Resources (*2)" to promote recycling of plastic resources, having urged brand owners from various industries, who were in wait-and-see attitudes, to proactively use bioplastics.

The challenge is expanded demand for bioplastics worldwide has kept short supply of PLA and bio-PE. Insufficient supply of PLA and bio-PE, which account for nearly 40% of the total Japanese market, could be a short-term impediment to market growth. While material manufacturers plan to reinforce the production facilities, no spare capacity for production is likely to continue until then.

*1) "Roadmap for Bioplastics Introduction" was jointly formulated by MoE, METI, MAFF, and MEXT.
*2) "Act on Promotion of Recycling of Plastic Resources" by MoE and METI (effective in April 2022) .

Noteworthy Topics
Advent of Biomass Plastics Using a Mass Balance Approach
Biomass plastics using a mass balance approach refers to among those plastics produced by mixing biomass-derived raw materials with petrochemical-derived raw materials at the first stage of manufacturing chemical products, and those with the ratio of biomass-derived raw materials used not determined based on the final product alone, but rather on the entire supply chain from raw materials, manufacturing, to commercialization, and are supplied by a mass balance approach that assigns them to any product. They are produced without physically segregating between petrochemical-derived and biomass-derived materials, and even if the raw materials procured by the customer do not actually contain the contracted percentage of renewable raw materials, they can be regarded as included. By doing so, biomass plastics can be developed and supplied without compromising the quality and can reduce CO2 emissions.

The characteristics of biomass plastics using mass balance approach are in principle they are derived from non-edible materials, i.e. edible oil waste, tall oil, etc., and capital investment can be minimum, for they can be produced from existing fossil fuel plants. As they have the advantages that no conventional biomass plastics produced from the physical segregation approach have, which are gathering worldwide attention as the second-generation new biomass plastics.

Currently, those that have started being sold in Japan are mainly the following three kinds: Bio-PP (polypropylene), bio-PE (polyethylene), and bio-PS (phosphatidylserine). Because of high price and delay in obtaining the approval of ISCC PLUS (*3), the adoptions have still been limited, but as global major manufacturers are addressing the issue, the mass balance approach is expected to contribute to increase biomass plastics, with the trend drawing attention.

*3) ISCC (International Sustainability & Carbon Certification), a sustainability-certification program for producing and adopting bio-based feedstocks and renewables viewing from supply-chain wide approach, in order to make the efforts sustainable.


Future Outlook
The bioplastics market for 2022 is expected to generate 92,580 tons, up by 4.6% from the previous year, which may be smaller growth than used to be. Although the market is projected to temporarily slow down, due to the market as a whole having grown larger, major beverage manufacturers likely to temporarily suspend adopting bio-PET, and short supply of bio-PE and PLA, but the whole wave of market expansion is expected to continue.

The skyrocketing raw-material prices stemming from overseas situations and weaker yen, increasing price consciousness by users toward costs can be negative factors, still, increasing numbers of companies have started considering the adoption of bioplastics as a sustainable material to contribute in the recycling-based society under company policies that focus on SDGs management, which, as a whole, have the superior momentum than the negative factors.

That said however, despite the growth, the market size has not reached 100,000 tons a year. This is 20 times behind the goal to expand the biomass plastic market size to 2 million tons per year by 2030, described in the "Roadmap for Bioplastics Introduction (*1)". The public and private sectors are needed to work together to shrink the gap.


Research Outline
1.Research Period: April to September 2022
2.Research Object: Bioplastics material manufacturers, other related manufacturers, and end-user companies
3.Research Methogology: Face-to-face interviews (including online) by expert researchers, surveys via telephone, and mailed questionnaire
About Bioplastics Market
Bioplastics is a collective term of both "biodegradable plastics" that can eventually decompose itself into water and carbon dioxide, and "biomass plastics" that is derived from renewable organic resources including plants. The bioplastics market in this research also refers to the market of the above two types of environment-conscious plastics. Imported plastic bags made of Bio PE (polyethylene) are included in the market size.


<Products and Services in the Market>
Polylactic acid, bio-based PE (polyethylene), bio-based PET (polyethylene terephthalate), bio-based PC (phosphatidylcholine), bio-polyamides (PA), biopolyurethane, bio-based PBS (polybutylene succinate)
Contact Us
©2021 Yano Research Institute Ltd. All Rights Reserved.
The copyright and all other rights pertaining to this report belong to Yano Research Institute.
Please contact our PR team when quoting the report contents for the purpose other than media coverage.
Depending on the purpose of using our report, we may ask you to present your sentences for confirmation beforehand.