Crowdfunding Market in Japan: Key Research Findings 2022 Domestic Crowdfunding Market Size for FY2021 Shrank by 11.1% on YoY to 164.2 Billion Yen
Yano Research Institute (the President, Takashi Mizukoshi) carried out a survey on the domestic crowdfunding market for FY2021 and found out the market size (the amount for supporting new projects), number of new projects to fund, number of supporters/investors, trends by funding type, trends of market players, and future outlook.
Transition of Annual Sum of Domestic Crowdfunding Collected to Support New Projects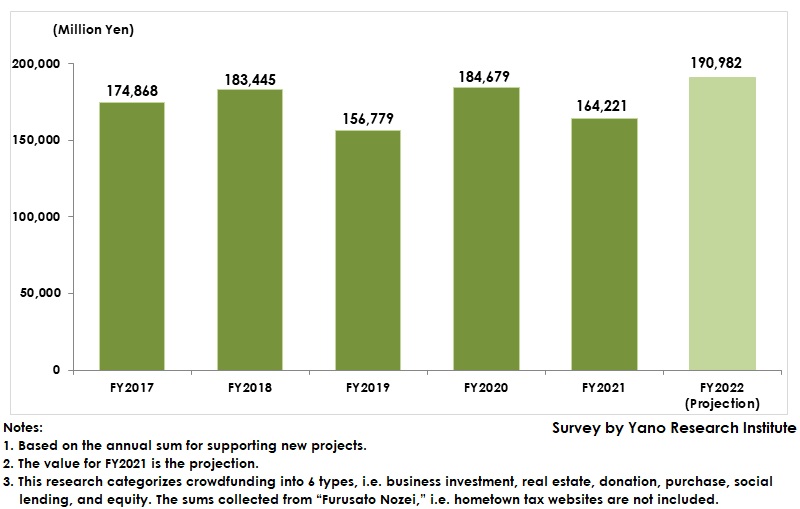 Market Overview
The domestic crowdfunding market size for FY2021 was estimated to have decreased by 11.1% on a YoY basis to 164,210 million yen, based on the annual amount collected for new crowdfunding projects.

When observing the FY2021 market by 6 types, business investment, real estate, and equity showed steady growth. For business investment, a number of projects such as those related to ESG (Environmental, Social, and Governance) investing were launched, gathering attention. For the types of real estate and equity, newly entered companies were on the rise, boosted by legislation, making the future market expected to expand.

On the other hand, donation, purchase, and social lending showed a decline. This decline in donation as well as purchase was a downturn from steep rise in supports for COVID-19 related projects in the previous fiscal year. Social lending, occupying the majority of the total amount for support, has been sluggish ever since it shrank sharply after a series of administrative dispositions to several social-lending management companies during around 2017 and 2018.

Noteworthy Topics
The Market Shrinkage in FY2021 Likely to be Temporary
In April 2022, some real-estate type crowdfunding management companies became listed. There still were some problems to be solved for the industry to grow, but demand for crowdfunding increased due to quantitative increase in project planners, nationwide expansion, and supporting conditions for supporters and investors, so that the marketability seemed to be high.

Because of rapid increase in the number of contracts successfully agreed for coronavirus-related projects, the market size (based on the amount for supporting new projects) had temporarily soared in FY2020, which led to a reactionary fall in the market size for FY2021. Still, the market was able to attract many project planners, supporters, and investors, indicating high demand for crowdfunding.


Future Outlook
The crowdfunding market in FY2022 is expected to grow stably, as real estate and equity are projected to continue expanding, with the former due to enlarged projects while the latter due to partial deregulation being in progress. Business investment, donation, and purchase are also likely to grow stably. Social lending, that has been on a decline, is likely to recover, because of restoration and optimization of the industry being underway, and because of the effects from new entries. The crowdfunding market size for FY2022 is expected to rise by 16.3% to 190,982 million yen.


Research Outline
1.Research Period: April to June 2022
2.Research Object: Crowdfunding management companies, user companies, etc.
3.Research Methogology: Face-to-face interviews (including online) by the expert researchers and surveys via email
About Crowdfunding Market
Crowdfunding in this research refers to a method to fund a project by raising financial contributions, usually small amount of money per person from a large number of people through internet. This research categorizes crowdfunding into 6 types, i.e. business investment, real estate, donation, purchase, social lending, and equity. The market size is based on the annual sum of financial supports for new projects through crowdfunding, but does not include the sums collected from "Furusato Nozei," i.e. hometown tax websites.

*Please note that this press release is only aiming to provide information and that it does not intend to encourage investment, support, or any other activities to the specific enterprises.


<Products and Services in the Market>
Social contribution, art, event, revival, rural revitalization, new technology/development, support for manufacturing/sales, loans for businesses, real estate investment, unlisted stock investment
Contact Us
©2021 Yano Research Institute Ltd. All Rights Reserved.
The copyright and all other rights pertaining to this report belong to Yano Research Institute.
Please contact our PR team when quoting the report contents for the purpose other than media coverage.
Depending on the purpose of using our report, we may ask you to present your sentences for confirmation beforehand.