Kimono Market in Japan: Key Research Findings 2022 The Kimono Retail Market Size in 2021 Attained 211 billion yen, 109.6% of the Previous Year; Turned Positive in 2021 with a 9.6% YoY Increase from a Significant Decline of -26.1% YoY in 2020
Yano Research Institute (the President, Takashi Mizukoshi) conducted a survey on the domestic kimono market, and found out the current situation, the trends by market players, and the future perspectives.
Market Size Transition of Kimono Retail Market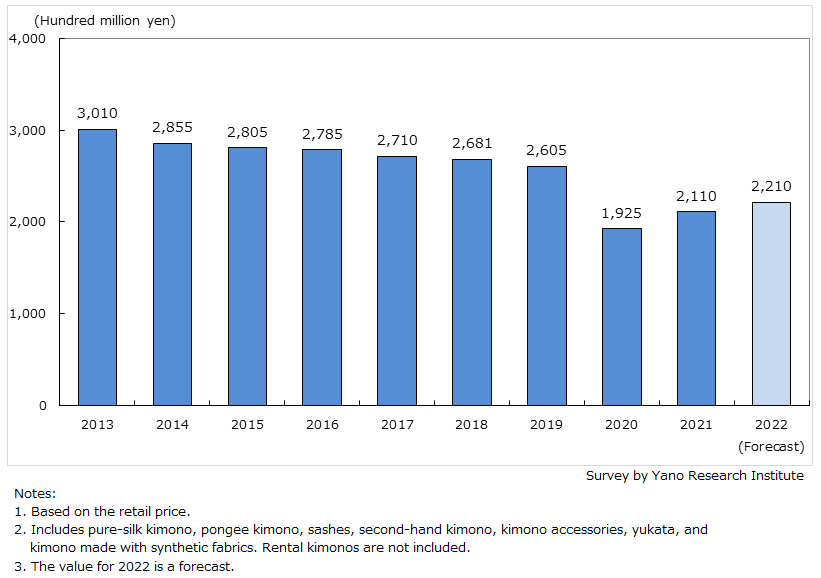 Composition Ratio of Kimono Retail Market by Channel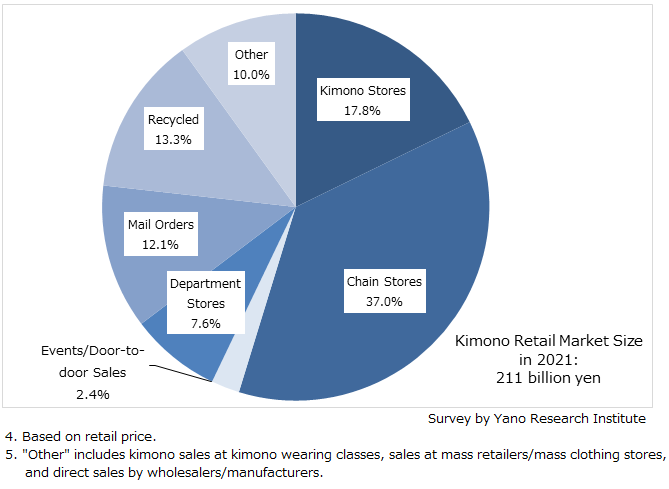 Market Overview
The kimono retail market in 2021 was estimated to be 211 billion yen, 109.6% of the previous year. In 2020, it was 192.5 billion yen, a significant decrease of 73.9% from the previous year. However, in 2021, it turned positive with a 9.6% increase over the previous year.

In 2020, the kimono market was in a difficult situation as opportunities for people to wear kimonos were limited to an unprecedented extent due to the self-restraint on events that could be turning points in people's life such as entrance and graduation ceremonies of schools, weddings, and coming-of-age ceremonies, under the condition that socioeconomic activities were generally stagnant due to the spread of the new coronavirus infection.

In addition, while the kimono market has been in a downtrend for many years, major retailers and other companies in the industry have developed their own services in addition to the regular activities for kimono sales. For example, they hold events to retain customers and suggested wearing kimono more casually so that kimonos can be worn on a daily basis. However, in 2020, opportunities to make such corporate efforts were not provided a lot.

Demand for kimonos gradually recovered in 2021, partly due to the fact that more people got vaccinated against COVID-19, which eased the maximum number of visitors acceptable to events that had been mostly canceled or postponed in 2020.

Noteworthy Topics
Shift from Paper to Digital (Electronic) Sales Promotion
The kimono industry has been mainly doing paper-based sales promotion activities such as sending direct mail (DM) to customers, but with the implementation of the Amended Act on the Protection of Personal Information in April 2022, which will further protect the rights of individuals, such paper-based promotion activities could be more or less restricted.


In addition, with the trend of introduction of IT, the sales promotion activities in the kimono industry are expected to shift from paper-based media to social networking services and other Internet-based sales promotions, and the shift to digitalization (electronization) is expected to continue. Under these circumstances, it will be important for companies to respond flexibly to changes to the digitalization of their business, and it is possible that they will differentiate themselves from competitors in this respect.


Future Outlook
The kimono retail market size in 2022 is forecasted to be 221 billion yen, 104.7% of the previous year.


Although the kimono retail market in 2022 is not expected to decline as sharply as it did in 2020, it is quite possible that the degree of recovery could change depending on the situation of the new coronavirus infection. Although the kimono market is expected to remain tough due to the COVID-19 pandemic, opportunities to wear kimonos are expected to increase as more events are held. The market size will approach the level of the market in 2019 over the next few years, although it is currently not close to the level of the market in 2019.


Research Outline
1.Research Period: December 2021 to March 2022
2.Research Object: Kimono/Kimono-related manufacturers, kimono wholesalers, and kimono retailers
3.Research Methogology: Face-to-face interviews by the expert researchers (including online interviews), questionnaires sent via mail, and literature research.
Kimono Market in Japan
In this research, kimono market includes pure-silk kimono, pongee kimono, sashes, second-hand kimono, kimono accessories, yukata (light cotton kimono), and kimono made with synthetic fabrics. Market size is based on retail price, and it does not include rental services of kimonos.


<Products and Services in the Market>
Pure-silk kimono, pongee kimono, sashes, second-hand kimono, kimono accessories, yukata, kimono made with synthetic fabrics, etc.
Contact Us
©2021 Yano Research Institute Ltd. All Rights Reserved.
The copyright and all other rights pertaining to this report belong to Yano Research Institute.
Please contact our PR team when quoting the report contents for the purpose other than media coverage.
Depending on the purpose of using our report, we may ask you to present your sentences for confirmation beforehand.