Global Market of Industrial Robot Sensors: Key Research Findings 2021 Estimated Global Industrial Robot Sensors Market Size Generated 88,000 Million Yen in 2020
Yano Research Institute (the President, Takashi Mizukoshi) carried out a survey on the global industrial robot sensor market and found out the trends by type, the trends of market players, and the future outlook.
Forecast of Global Industrial Robot Sensor Market Size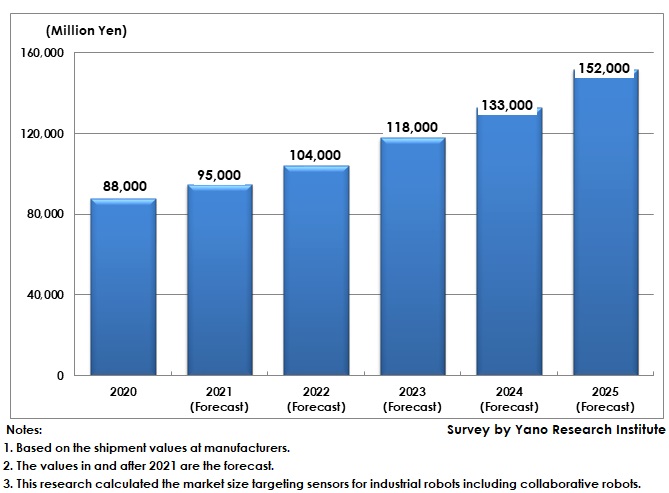 Market Overview
In recent years, the industrial robots market has been varying dramatically and drawing attention. The global market of industrial robots is in high growth period affected by the fourth revolutions based on the "Industry 4.0" concepts that is making factories smart, introducing production facilities for 5G smartphones or 5G devices, and capital investments in new automation facilities to prepare for prevalence of EVs and ADAS in the automobile industry. However, there have been some extraordinary matters, such as trade frictions between the U.S. and China and the COVID-19 pandemic, which is affecting the market.

Meanwhile, with new movements observed in collaborative robots, a type of industrial robots that can work in collaboration with humans, on which industrial robot manufacturers are intensifying their focus, there has been higher possibility in further acceleration of market expansion. The growth of collaborative robots have been outperforming other normal industrial robots since several years ago, but the shipment volume temporarily decreased in the COVID-19 calamity. That said, however, this calamity has resulted to increase the demand for automation done by collaborative robots.

While internal sensors used within a robot body and external sensors used outside or surroundings of the robot body are the objects of this research, various sensors are used as internal and external sensors. Though number of sensors installed in industrial robots differs by robot type, in many cases, 20 to 25 sensors are used per robot.

The estimated global market size of industrial robot sensors in 2020, based on the shipment value at manufacturers, was 88,000 million yen. The market shares of internal and external sensors were 53.4% and 46.6%, respectively.

Noteworthy Topics
Trend of End Effectors (Grippers)
An end effector is attached to a wrist of an industrial robot or a collaborative robot, enabling such a robot to do its finger tasks. Also called as "robot hands", there are so many kinds of end effectors.

Among end effectors, a gripper holds or grips a target object with its two or three fingers (or claws). By closing and opening them, the gripper can grip and release objects. It is a basic device for pick & place operations, and those with two fingers arranged in parallel are frequently used, and they are used also for precision work.

There are mainly 1) pneumatic, 2) electric, and 3) hydraulic methods to drive the device, and the pneumatic method is the most popular, occupying more than 70% of all grippers of various kinds. While pneumatic grippers have advantages of having various sizes and large power, and being easy to control with low cost, they also have disadvantages of being difficult to fine tune, and not able to use at manufacturing sites with clean rooms, because they may cause air pollution.


Future Outlook
The global industrial robot sensor market is basically associated with the number of industrial robots shipped. The global market of industrial robots including cobots is currently affected strongly by unwanted matters such as trade frictions between the U.S. and China, and the COVID-19 pandemic, but it is regarded to recover although some uncertain factors remain in the vast Chinese market.

As the global industrial robot market is likely to expand once again, the global market of industrial robot sensors to expand in association with it. In addition, with further growth expected in the market of cobots that require more sensors than normal industrial robots by more than 30 to 40%, it is sure to drive forth the global industrial robot sensor market. Therefore, CAGR of the market from 2020 to 2025 is projected to attain 11.6%, with the market size to achieve 152,000 million yen by 2025.


Research Outline
1.Research Period: November 2020 to September 2021
2.Research Object: R&D institutions and companies manufacturing, selling, or distributing industrial sensors for industrial robots
3.Research Methogology: Face-to-face interviews (online included) by our expert researchers and literature research
< Sensors for Industrial Robots>
Industrial robot sensors in this research refers to the market of those sensors for industrial robots including cobots (collaborative robots).


<Products and Services in the Market>
Internal sensors for industrial robots: Rotational displacement sensors (rotary encoder, etc.,) inertial sensors (accelerometer, etc.,) force/torque sensors, current/voltage sensors, etc. External sensors for industrial robots: Vision sensor, optical sensors (laser sensor, infrared sensor, photoelectric sensor), force/torque sensors, tactile sensor, proximity sensor, distance sensor, etc.
Contact Us
©2021 Yano Research Institute Ltd. All Rights Reserved.
The copyright and all other rights pertaining to this report belong to Yano Research Institute.
Please contact our PR team when quoting the report contents for the purpose other than media coverage.
Depending on the purpose of using our report, we may ask you to present your sentences for confirmation beforehand.