Global Surveillance Camera Systems Market: Key Research Findings 2021 Global Surveillance Camera Systems Market Size in 2021 Rises by 13.1% on YoY to 3,360,000 Million Yen
Yano Research Institute (the President, Takashi Mizukoshi) carried out a survey on the global market of surveillance/monitoring camera systems and found out the trends by item, trends of leading market players, market share by company, and future market perspectives.
Transition and Forecast of Global Surveillance Camera Systems Market Size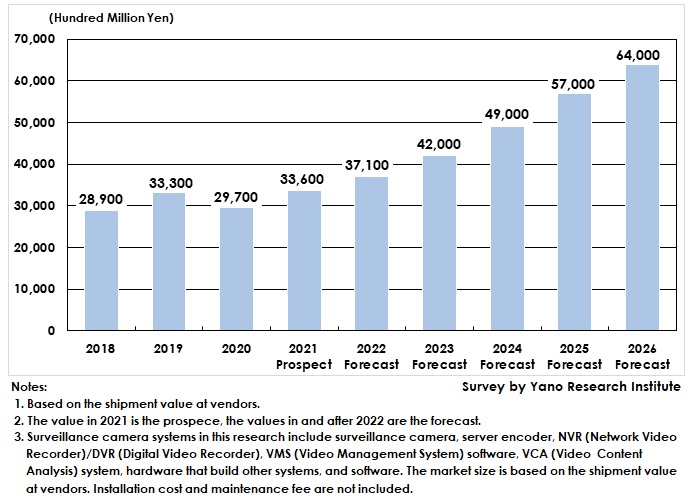 Market Overview
The global market size of surveillance cameras systems in 2020, based on the shipment value at vendors, was 2,970,000 million yen, 89.2 percent of that of the previous year. Because the lockdowns stemming from the COVID-19 pandemic temporarily stopped the economic activities, new installations and replacements of surveillance cameras were suspended, and investment by user companies were postponed or suspended, which led to the market shrinkage.

In 2021, as behavioral restrictions were eased, in addition to the resuming business from temporary postponement, the deployment of IP (network) cameras utilizing AI solutions aiming for city surveillance and for contribution in the marketing area have begun in Europe, the U.S. and China, which drove the market on the way to recovery. Also, IP cameras started being invested for contactless body-temperature detection and for understanding of congestion, in the hope to live in the era of "With" or "After" corona.

Noteworthy Topics
Remote Surveillance Using Cloud-Based Cameras On the Rise
In the COVID-19 calamity, use of cloud-based camera systems (except for those live-type cameras that have no recording functions) has increased, aiming to manage stores and facilities in the contactless or non-face-to-face manner.

In stores where area managers used to patrol the stores, the system can reduce the workload of area managers. Furthermore, it enables to check the normal state of the store without being conscious of patrollers. These advantages have encouraged investment to cloud-based cameras, which is driving on-site digital transformation not only for contactless or non-face-to-face operation in the COVID-19 calamity but also for saving labor and improving service quality.


Future Outlook
After 2021, the global surveillance camera systems market is projected to recover. The market size is likely to attain 3,360,000 million yen in 2021, and expand to 6,400,000 million yen by 2026. In addition to reinvigoration in stagnant investment in 2020, deployment of video analysis solutions employing AI is projected to be underway in each market of Europe, the U.S., Japan and China, and use of cameras are likely to accelerate for saving labor or for making the workload unmanned.

The price of single unit IP cameras has been on the decline, making it difficult for each vendor to develop business with single-unit devices. Therefore, the vendors focus on providing services of image analysis and IoT solutions. Surveillance cameras are increasingly being offered as a component of those solutions. Hereafter, surveillance cameras are likely to be used for data in video monitoring and VCA image analysis, and as video devices in IoT solutions.


Research Outline
1.Research Period: June to September 2021
2.Research Object: Surveillance camera system vendors
3.Research Methogology: Face-to-face and online interviews by the specialized researchers, surveys via email, and literature search
The Surveillance Cameras Systems Market
Surveillance camera systems in this research include surveillance camera, server encoder, NVR (Network Video Recorder)/DVR (Digital Video Recorder), VMS (Video Management System) software, VCA (Video Content Analysis) system, hardware that build other systems, and software. The market size is based on the shipment value at vendors. Installation cost and maintenance fee are not included.

Surveillance cameras in this research are categorized into two types: IP cameras and analog cameras. IP cameras, a.k.a. network cameras, have IP address to connect solely to the internet, making them utilized for business. Analog cameras, on the other hand, must be physically connected to monitors and recording devices using coaxial cables. Generally speaking, analog cameras are more reasonable in price than IP cameras.


<Products and Services in the Market>
IP cameras a.k.a. network cameras, analog cameras, camera server encoder, NVR, DVR, VMS, cloud camera service, image analysis system, (face recognition, headcount planning, behavior detection), etc.
Published Report
Contact Us
©2021 Yano Research Institute Ltd. All Rights Reserved.
The copyright and all other rights pertaining to this report belong to Yano Research Institute.
Please contact our PR team when quoting the report contents for the purpose other than media coverage.
Depending on the purpose of using our report, we may ask you to present your sentences for confirmation beforehand.