Affiliate Marketing in Japan: Key Research Findings 2020
Domestic Affiliate Marketing Market for FY2020 Prospected to rise by 5.2% from Previous Fiscal Year to attain 325,800 Million Yen
Yano Research Institute (the President, Takashi Mizukoshi) carried out a survey on the domestic affiliate marketing market and found out the market outline and trends of affiliate service providers.
Transition and Forecast of Domestic Affiliate Marketing Market Size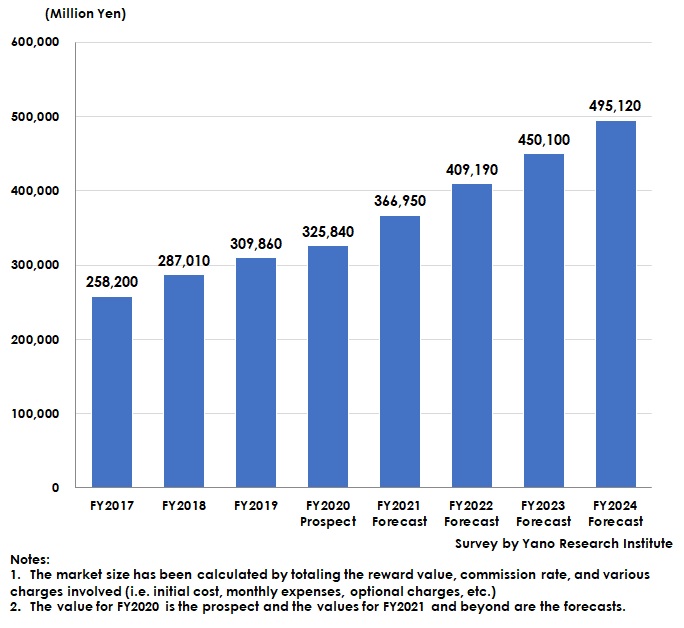 Market Overview
Many leading ASPs (affiliate service providers) show continuous sales expansion, but the COVID-19 pandemic is projected to influence the external environment to slowdown the market growth for FY2020. The sales performance of ASPs is likely to differ according to the categories (industries) that the providers mainly deal with. Therefore, some ASPs have improved the sales performance and some deteriorated, although the entire market size has successfully increased. In such a situation, the domestic affiliate marketing market size in FY2019 has gone as far as to 309,900 million yen, 108.0% on a YoY basis, and to 325,800 million yen or 105.2% on a YoY basis in 2020.

Such market expansion seems to have stemmed from budget shift by advertisers to affiliate marketing, and expansion of ecommerce due to increased sales of products and services via smartphones.

Noteworthy Topics
Changes in External Environment such as Limited Cookies via ITP, Update in Ranking Algorithm at Google
Modification of regulations by the external environment, such as limited cookies via ITP (Intelligent Tracking Prevention), search ranking algorithm update at Google, and stricter ad placement at affiliate sites due to sterner regulations at Yahoo, is considered as negative factors for affiliate marketing.

In addition, regulation of ad placement even at SNS, including Twitter, is to be stricter, which is negatively affecting the affiliate publishers.

In fact, however, the stricter regulations to existing platformers may have brought about a serious impact to some affiliate partners and media agencies that have not observed regulations such as the Act against Unjustifiable Premium and Misleading Presentation or PMD Act, but hardly ever to those good affiliate publishers. From middle to long-term perspective, such tighter regulations may not be the negative factor.


Future Outlook
The affiliate marketing market is projected to expand further for the future, reaching 495,100 million yen by FY2024.

The market growth factors are expected to be as follows:

- Increased budget for affiliate marketing at major advertisers
- Increase of subscription business models
- Increased use of customer attraction channels at SNS and movie platforms
- Increase of categories adopting cashless payment
- Expansion of businesses adopting ecommerce
- Increased utilization of internet in the COVID-19 calamity
- Possibility of more companies entering the affiliate marketing market

First of all, major advertisers that own their in-house brand products have increased the use of online advertisement. This tendency is highly likely to encourage more companies to use direct response advertisement or ad placement at e-commerce sites, which is sure to favorably affect the affiliate marketing market. In addition, as the promotions via affiliate marketing have begun proving the obvious effect, affiliate publishers have started being highly appraised, driving the market expansion.

Secondly, prevalence of ecommerce and lower hesitancy of introducing online payment for ecommerce have also boosted the market. Also what contributed is expansion of subscription services such as those for movie streaming from VOD (Video on Demand) platforms. With 5G gaining power, movie distribution platforms have been increasingly used, which is highly likely to generate more markets suitable for subscriptions.

There are some other factors for the market expansion: Wider acceptance of cashless payment having led affiliate marketing to expand in the financial industry, COVID-19 pandemic increased the users and traders of ecommerce, increase in internet users and in new entry to the affiliate marketing market.


Research Outline
1.Research Period: November 2020 to January 2021
2.Research Object: Leading affiliate marketing service providers (ASPs), intellectuals in the industry
3.Research Methogology: Face-to-face interviews by the expert researchers, and questionnaire survey
What is Affiliate Marketing?
Affiliate marketing is a type of performance-based marketing where a merchandiser (advertiser) that wants to advertise its offering places a link of its own company website within some media such as blogs, websites, and mail magazines, and gives rewards to the owners of such media (publishers) when a visitor or a customer registers membership or purchases the offering of the advertiser via that link.

Affiliate marketing in this research indicates the following four types: 1) ASP (Affiliate Service Provider) style, where ASPs act as agents that go between businesses (advertisers) and publishers, while the former selling some products (offerings) and the latter publishing advertisement by mentioning about that products (offerings). ASPs earn advertisement and commission fees from the businesses while provide rewards to the publishers; 2) Shopping mall style, where virtual shopping mall operators offer shop owners a place to promote the products (offerings) at the mall in exchange earn advertisement and commission fees; 3) Stand-alone type, where e-commerce owners themselves pay the publishers for mentioning and writing about their products (offerings); and 4) Platform type where platform owners provide ASPs and advertisers the platform equipped with tracking systems and analysis tools needed for affiliate marketing.

Affiliate marketing market size has been calculated by totaling the reward value, commission rate, and various charges involved (i.e. initial cost, monthly expenses, optional charges, etc.)


<Products and Services in the Market>
Affiliate marketing services
Contact Us
©2019 Yano Research Institute Ltd. All Rights Reserved.
The copyright and all other rights pertaining to this report belong to Yano Research Institute.
Please contact our PR team when quoting the report contents for the purpose other than media coverage.
Depending on the purpose of using our report, we may ask you to present your sentences for confirmation beforehand.