QR Code Payment Market in Japan: Key Research Findings 2020
Yano Research Institute (the President, Takashi Mizukoshi) has carried out a survey on the domestic market of QR code payment, and found out the current status, the trends at market players, and the future perspectives.
Transition of QR Code Payment Market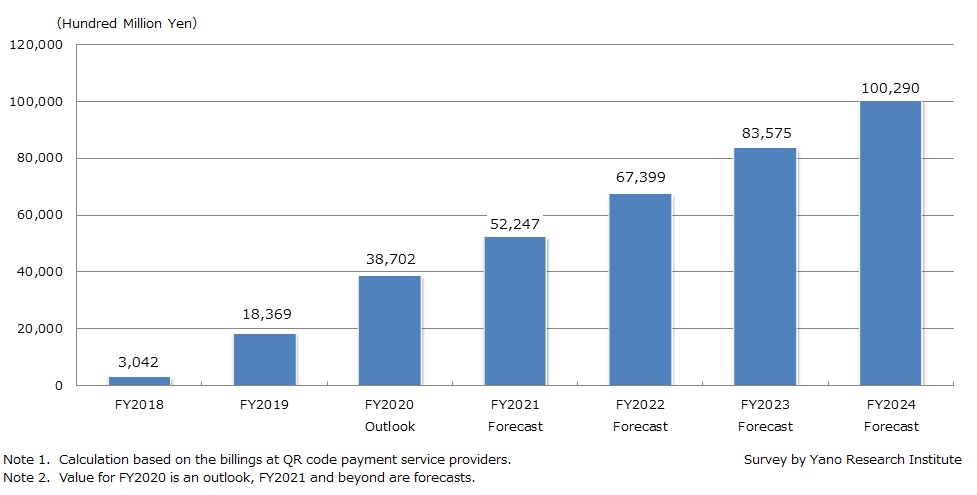 Market Overview
Introduction of the QR code payment* at merchants has been promoted in Japan to harness users of Alipay and WeChatPay which pervaded China. Providers of QR code payment services has been appealing its low introduction cost and running cost to increase the number of user companies.
In FY2019, use of QR code payment was promoted further by offering free charge for merchants, especially for small stores, and by rewarding incentives to customers through major marketing campaigns. Moreover, in the background of cashless campaign and point reward system started by the government, the QR code payment market grew rapidly. For FY2019, size of the domestic QR code payment market is estimated to have reached 1,836,900 million yen, based on the billings at service providers.
* "QR code" is a registered trademark of DENSO WAVE INCORPORATED.

Noteworthy Topics
Number of QR Code Payment Users Expands among Merchants and Customers
QR code payment service providers aim to multiply the number of member stores by offering their service for free, particularly for small businesses. Use of cashless payment service has an advantage for merchants as it enhances sales through expansion of customer base, while reducing complexity and workload of cashier. Moves to distribute discount coupons via QR code payment apps is also seen to support sales growth at member stores. Furthermore, service providers focus on expanding number of member stores by increasing sales locations and standardizing QR codes among multiple service providers.
Moreover, due to the outbreak of COVID-19, there is a growing need for cashless payment like QR code payment for preventing infection.
Meanwhile, viewing from customer advantage, user benefit increased through large campaigns led by QR code payment service providers yielding points or distributing coupons that can be used at member stores, and it boosted the number of customers using the services. Service providers intend to improve convenience of the service also by increasing the number of stores at which QR code payment can be used.
In addition, a trend of providers aiming to become a super app by providing other functions to their apps is also observed, such as adding restaurant pre-order taking app and taxi ordering app as miniapps*. There is a greater potential for development of QR code payment if more services can be offered through apps and therefore touchpoints between customers and apps are enhanced.
*Miniapps indicate applications which can be used in smartphone apps without going through downloading process. A software platform that hosts and supports miniapps is called a super app.


Future Outlook
Size of the QR code payment service is forecasted to grow to 10,029,000 million yen by FY2024.
Against the backdrop of rising need for cashless payment due to the COVID-19, the market is expected to expand until FY2021. While the number of member stores increases, billings at service providers is projected to grow further as distribution of coupons drives members (customers) to visit member stores. In addition, if miniapps for QR code payment services is enhanced, it may leverage the market growth further by increasing customer opportunity to use the apps.


Research Outline
1.Research Period: August to November 2020
2.Research Object: Service providers of QR code payment
3.Research Methogology: Face-to-face interviews by the expert researchers, interviews by telephone/email, and literature research
What is QR Code Payment Market?
QR code payment is a service which completes transaction by member stores (merchants) scanning customer's code via device or customers scanning the merchant's code using smartphones.
In this research, the market size of QR code payment is calculated based on the billings at QR code payment service providers.


<Products and Services in the Market>
QR code payment services (including barcode payment)
Contact Us
©2019 Yano Research Institute Ltd. All Rights Reserved.
The copyright and all other rights pertaining to this report belong to Yano Research Institute.
Please contact our PR team when quoting the report contents for the purpose other than media coverage.
Depending on the purpose of using our report, we may ask you to present your sentences for confirmation beforehand.