Offshore Wind Power Generation Market in Japan: Key Research Findings 2020
Yano Research Institute (the President, Takashi Mizukoshi) has conducted a survey on the current status and directions of the offshore wind power generation market in Japan, and made the projection on the market size and the future outlook.
Market Size Forecast of Offshore Wind Power Genration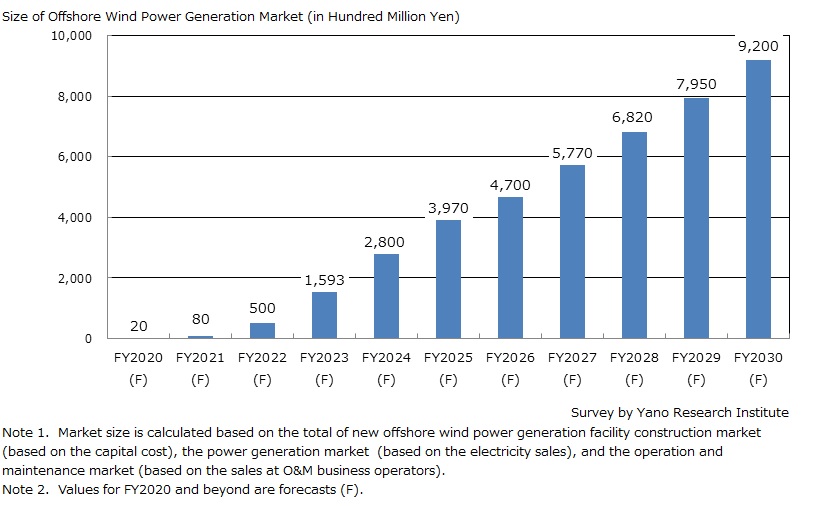 Market Overview
Compared to onshore wind power generation in Japan which finds difficulty finding appropriate location to build wind farms, offshore wind power generation has tremendous potential. Backed by recent establishment of legislation for development and construction of offshore facilities, the offshore wind power generation market is expected to grow in full-scale toward 2030. Expectations are rising for offshore wind power generation plant as large sustainable power plant, considering capacity of each facility which can generate energy equivalent to one nuclear power plant.

Noteworthy Topics
Centralized Method will be the Key
Current offshore power generation planning requires business operators not only to coordinate with fishing industry but also to be ready for all kinds of preparations such as environmental impact evaluation and feasibility study, while there are many hardships for private sectors to conduct these in terms of finance, effort, and time. As the hurdles are too high, if all procedures for sustainable energy development to prevent global warming is entrusted on private sectors, commercialization may not be accomplished. Therefore, in today's discussion, introduction of a "centralized method" is required, i.e. government promotes preparations for all kinds of research and coordination ahead of time, so that private sectors can start from power plant construction. At overseas, the Netherlands has already adopted the centralized method.


Future Outlook
The offshore wind power generation market is forecasted to start from 2 billion yen, as operations for new construction of offshore power generation plants such as construction are expected to began in FY2020. From FY2021, new plant construction is assumed to expand, and power generation at those farms is anticipated to start from FY2023.


With continuous increase of electrical capacitance at newly constructed power plants, the offshore wind power generation market is projected to attain 397 billion yen by FY2025, and to reach 920 billion yen by FY2030.


Research Outline
1.Research Period: June to August 2020
2.Research Object: Electric utility/electric power houses, engineering companies, and suppliers
3.Research Methogology: Face-to-face interviews by the expert researchers, survey via telephone and email, and literature research
Offshore Wind Power Generation Market
Size of the offshore wind power generation market in this research is calculated based on the total of the new offshore wind power generation facility construction market (based on the capital cost), the power generation market (based on the electricity sales), and the operation and maintenance market (based on the sales at O&M business operators).


<Products and Services in the Market>
Offshore wind power generation facility equipment, electric generation (electricity sales), operation and maintenance (O&M)
Contact Us
©2019 Yano Research Institute Ltd. All Rights Reserved.
The copyright and all other rights pertaining to this report belong to Yano Research Institute.
Please contact our PR team when quoting the report contents for the purpose other than media coverage.
Depending on the purpose of using our report, we may ask you to present your sentences for confirmation beforehand.