Uniform Rental Market in Japan: Key Research Findings 2018
Uniform Rental Market Continues Leveling Off
Yano Research Institute (the President, Takashi Mizukoshi) has conducted a survey on the domestic uniform rental market and has found out the trend analysis on market players, forecast of the future perspectives.
Transition and Forecast of Uniform Rental Market Size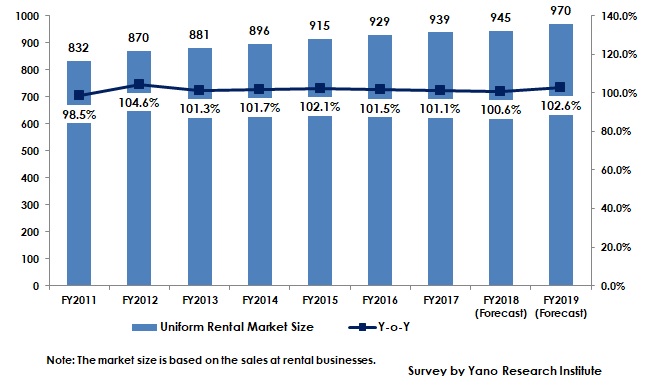 Market Overview
The uniform rental market size for FY2017 rose by 1.1% from the previous fiscal year to attain 93,900 Million yen. Generally speaking, as more consumers have become aware of food safety and security, the uniforms for food factories have become used not only at large plants but also at small or mid-size factories. In recent years, as workers with shortened working hours have increased, the employment has diversified into various forms in order to secure workforce. Many factories and plants have increased the total number of employees working per day. Enhancement in hygiene management and diversification in the forms of employment led stable growth in uniform rental demands.



Noteworthy Topics
In recent years, soaring distribution fee together with rapid increase of personnel expenses have become the issue. The uniform rental businesses that provide not simply uniform lending services but also do some logistics and distribution suffer from increasing distribution costs. All such businesses have been made efforts not to reflect in the service prices, but some businesses have become unable to keep the cost from reflecting into prices.





Future Outlook
Food related enterprises are considered to be more conscious in hygiene management as HACCP (hazard analysis and critical control points), the international standards in food safety, may become an obligation by 2020. In addition, HACCP can be used for attracting attention of foreign tourists how food is safe in Japan toward Tokyo Olympics and Paralympics to be held in 2020.


In such an increasing awareness of food safety and against the backdrop of HACCP becoming required at food related businesses, uniform rental services especially for small and mid-size factories are likely to be needed furthermore. This is projected to expand the market stably primarily in the category of food factory uniforms. On the other hand, the demand of uniforms except for those for food factories has slowed down, so that the businesses need to explore new demands.





Research Outline
1.Research Period: May to June, 2019
2.Research Object: Uniform rental service providers, uniform makers
3.Research Methogology: Face-to-face interviews by our expert researchers, surveys via telephone & email, and literature research
Rental Uniform Market
The uniform rental market in this research indicates the services to lend uniforms that meet the needs of user companies, and to manage such uniforms by delivering, collecting, cleaning and repairing (free-of-charge repairing). There are following categories in uniforms: office uniforms, medical uniforms, those used at long-term care facilities and welfare facilities, working uniforms, those used at manufacturing plants (for food, confectionery, machinery, and steel), for the services regarding food and beverages, for retailers, accommodation facilities, and amusement.





Contact Us
©2019 Yano Research Institute Ltd. All Rights Reserved.
The copyright and all other rights pertaining to this report belong to Yano Research Institute.
Please contact our PR team when quoting the report contents for the purpose other than media coverage.
Depending on the purpose of using our report, we may ask you to present your sentences for confirmation beforehand.