Sports Nutrition Supplement Market in Japan: Key Research Findings 2018
Yano Research Institute (the President, Takashi Mizukoshi) has conducted a survey on the domestic sports nutrition supplement market and has found out the current status, the trends of market players, and the future outlook.
Figure 1. Transition of Sports Nutrition Supplement Market Size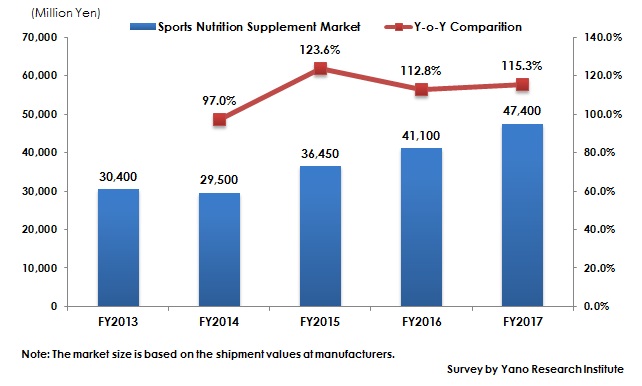 Figure 2. Component Ratio of Sports Nutrition Supplement Market by Nutrient (FY2017)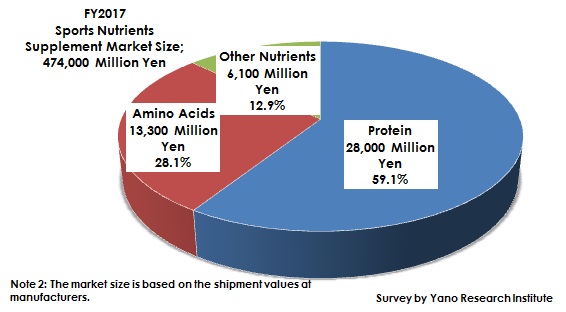 Market Overview
Size of the sports nutrition supplement market for FY2017, based on the shipment values at manufacturers, rose by 15.3% from the previous year to attain 47,400 million yen. The market has achieved double-digit growth annually since FY2015. When looking at the market by nutrient, 60% of the entire market is occupied by protein which is expanding year by year, while amino acids also are basically on the rise.

Noteworthy Topics
When looking at the sports nutrition supplement market by nutrient, protein occupies 59.1%, almost 60% at 28 billion yen, followed by amino acids that account for 28.1% to reach 13.3billion yen. Therefore, almost 90% of the entire market is dominated by protein and amino acids. In many cases such sports nutrition supplements are used for maintaining and increasing muscular strength in order to aiming for performance maintenance and improvement, also used for attaining toned body, fatigue alleviation and recovery from fatigue, which is why the entire market is occupied by protein and amino acid.


Research Outline
1.Research Period: March to May, 2018
2.Research Object: Domestic manufacturers of sports nutrition supplements, food, health food, medicine, and etc.
3.Research Methogology: Face-to-face interviews by the specialized researchers, surveys via telephone, and literature research
What is the Sports Nutrition Supplement Market?
The sports nutrition supplement market in this research indicates the market of supplements in the form of tablets, capsules, powder, and etc., used by athletes and sports players in order for them to maintain or improve their physical activity level and athletic performance.


Published Report
Contact Us
©2019 Yano Research Institute Ltd. All Rights Reserved.
The copyright and all other rights pertaining to this report belong to Yano Research Institute.
Please contact our PR team when quoting the report contents for the purpose other than media coverage.
Depending on the purpose of using our report, we may ask you to present your sentences for confirmation beforehand.