Existing Home Inspection Market in Japan: Key Research Findings 2018
Yano Research Institute (the President, Takashi Mizukoshi) has conducted a survey on the domestic existing home inspection market and has clarified the market overview, the trend of market players, and the future outlook.
Forecast of Market Size of Existing Home Inspection Market Size (Home Diagnosis/Inspections)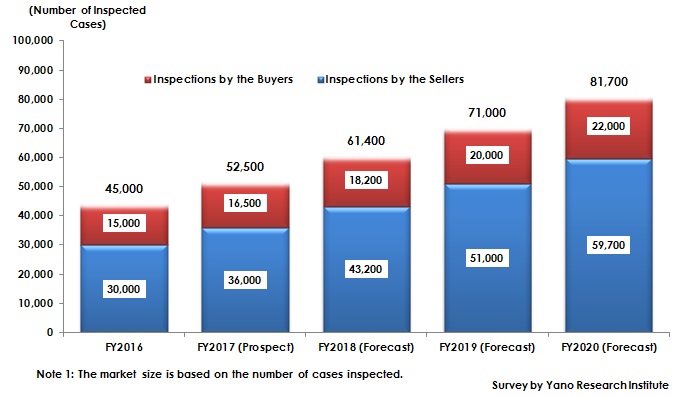 Market Overview
The domestic existing home inspection (home diagnosis/inspections) market in FY2016 reached 45,000 based on the number of inspected cases, or 2,180 million yen based on the cost amount.

Existing home inspection can be conducted either by sellers or buyers of a property. Home inspections by sellers are conducted before the transaction of the property, whereas those by buyers are for the buyer to decide buying the property or to plan renovating it.

Out of the entire existing home inspection (home diagnosis/inspections) market in FY2016, the number of seller inspection was 30,000 cases or 1,350 million yen in cost amount, whereas the number of buyer inspection was 15,000 cases or 830 million yen.

Noteworthy Topics
Notifying and Intermediating Home Inspections Becoming Obligations for Real Estate Brokers
A bill to partly revise the Real Estate Brokerage Act was passed in 2016, obligating real estate brokers to notify and to intermediate home inspections. Namely, brokers are obliged to do the followings: 1) To deliver written document in the intermediary agreement about being an intermediary when conducting home inspections; 2) To explain the results of home inspections to the buyers and etc. as an important item; and 3) To deliver written document that confirms the current status of the property between the both parties at the conclusion of purchase agreement of the property.

The revision of the Act has encouraged the government to train and educate more specialists who can diagnose second-hand residences. Ministry of Land, Infrastructure and Transport has established a national qualification of licensed home inspector specializing in the survey of existing property conditions, and also a system for qualified architects to take a course to learn skills of inspecting the conditions of existing homes by February 2017, where increasing number of human resources has been trained to inspect existing homes.

Since the revised Real Estate Brokerage Act mentioned above has been in effect in April 2018 to oblige the brokers to inform and to act as an intermediary of inspecting buildings, the awareness together with the demand that go with it is expected to improve. As a result, domestic existing home inspection (home diagnosis/inspections) market is likely to expand further.


Research Outline
1.Research Period: From March to April, 2018
2.Research Object: Home inspection companies, and related organizations
3.Research Methogology: Face-to-face interviews, survey via telephone, and literature search.
What is the existing home inspection market?
The existing home inspection market in this survey indicates the market of nondestructive inspections conducted to existing homes primarily by sight, in order to understand whether or not any defects that may interfere with structural safety or disturb one's daily life exist in the property. Such inspections include: Survey of existing conditions of a property; Survey to insure defects in the existing property; Inspection to prove that the property is applicable to "Flat35" i.e. a home mortgage loan provided with a long-term fixed low-interest rate; Diagnosis of the building before purchasing the property; Proof test of household appliance; Field survey before renovations, and etc.


Contact Us
©2019 Yano Research Institute Ltd. All Rights Reserved.
The copyright and all other rights pertaining to this report belong to Yano Research Institute.
Please contact our PR team when quoting the report contents for the purpose other than media coverage.
Depending on the purpose of using our report, we may ask you to present your sentences for confirmation beforehand.