11/16/17
Home Fashion Market in Japan: Key Research Findings 2017
Research Outline
Yano Research Institute has conducted a study on the domestic home fashion market with the following conditions:
Research period: August to October, 2017
Research target: Manufacturers, wholesalers and retailers involved in the business of home fashion industry
Research methodologies: Face-to-face/telephone interviews by the expert researchers, interviews via telephone, and literature research
<What is the Home Fashion Market?>
The home fashion market in this research consists of the following seven categories: Bed linen/beddings; Towel goods; Nightwear/home wear; Home-use furniture; Interior fabrics; Home-use lighting fixtures; and Kitchenware/tableware. These categories are generally used for households, but some home-use furniture and kitchenware/tableware include demands from companies.
Summary of Research Findings
Size of Home Fashion Retail Market in 2016 Declined to 3,426.4 Billion Yen, 97.7% on Y-o-Y Basis
The home fashion retail market in 2016 declined to 3,426.4 billion yen, 97.7% of the size of the previous year. The category of towel goods have grown due to successful long-term branding strategies in the places of production such as Imabari and Senshu, but product sales in other categories as a whole have recorded negative growth because of the downturn from the rise in the previous year.
On the other hand, a large furniture retail chain has succeeded in developing a strategy to shift the locations for opening stores from suburbs to the urban areas and also to open small stores rather than large ones, which have driven the entire home fashion market.
Size of Home Fashion Retail Market in 2017 Projected to Attain 3,461.0 Billion Yen, 101.0% on Y-o-Y Basis, New Demand Explored by Pursuing Improvement in Buying Experience, Convenience, and Services
The home fashion retail market in 2017 is projected to attain 3,461.0 billion yen, 101.0% of the size of the previous year. At some online sales service providers, new demands have been developed by providing product description through moving images and other attempts to improve buying experience of consumers, i.e., to make them feel easy to buy and convenient. At some real stores, especially those furniture and other products with high unit price which are difficult to sell unless grasping the taste and preference of customers, some efforts have been made to expand sales opportunities such as to provide highly important information and to wait on the customers respectfully. The home fashion market as a whole is projected to stay stable by such attempts and efforts.
Figure & Table 1: Transition of Size of Home Fashion Retail Market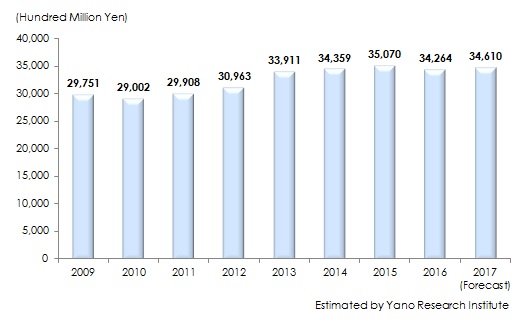 Published Report
*The information provided in the "Research Summary" is what is as of the date of announcement and could be altered or renewed without any prior notice.
Contact Us