Jeans and Casual Wear Market in Japan:Key Research Findings 2011
Research Outline
Yano Research Institute has conducted a study on domestic market of jeans and casual wear with the following conditions:
1.
Research period: From May to June, 2011
2. Research targets: Domestic jeans and casual wear-related companies (including specialty stores, manufacturers, and denim-product companies
)
3. Research methodologies: Face-to-face interviews, survey via email, telephone, mail-in and FAX, in combination with literature research
What is casual wear market?
Except for those clothing defined as formal wear, casual wear includes all men's wear, women's wear and children's wear sold through all retail channel. The market size is calculated based on the retail amount.
Jeans casual is a part of casual wear that is sold at jeans casual specialty floors/stores. The market size is calculated based on the retail amount and excludes clothing for babies and children.
Summary of Research Findings
n
Retail market for casual wear in 2010 has shrunk to 5,840.6 billion yen, due to the decline in the average sale per customer
The casual wear market in 2010 has scaled down to 5,840.6 billion yen (98.1 % of the previous year), following the course of the prior year, though the reduction range improved a little.
Ever since the market exceeded 6,000 billion yen in 2000, it had managed to maintain the slight growth year after year until around 2009, at which point the market has started to deteriorate. The slump is caused by sluggish consumption and seasonal discounts that has taken place too early and too often.
n
Jeans casual market in 2010 fell to 1,159.4 billion yen due to price competition among low-price jeans
Just like all other casual wear market, jeans casual market in 2010 also continued its declining trend from the previous year, and ended up as 1,159.4 billion yen (97.1 % of the previous year) in retail base. It stems from reduction in average sale per customer caused by earlier and more frequent seasonal discounts, and also, caused by price competition among those low-price jeans including "990-yen jeans" that emerged around 2009. The only channel that developed its share in the market from 2009 to 2010 was mail-order channel, which reached 4.9 % of the market, finally toppled the share of department store.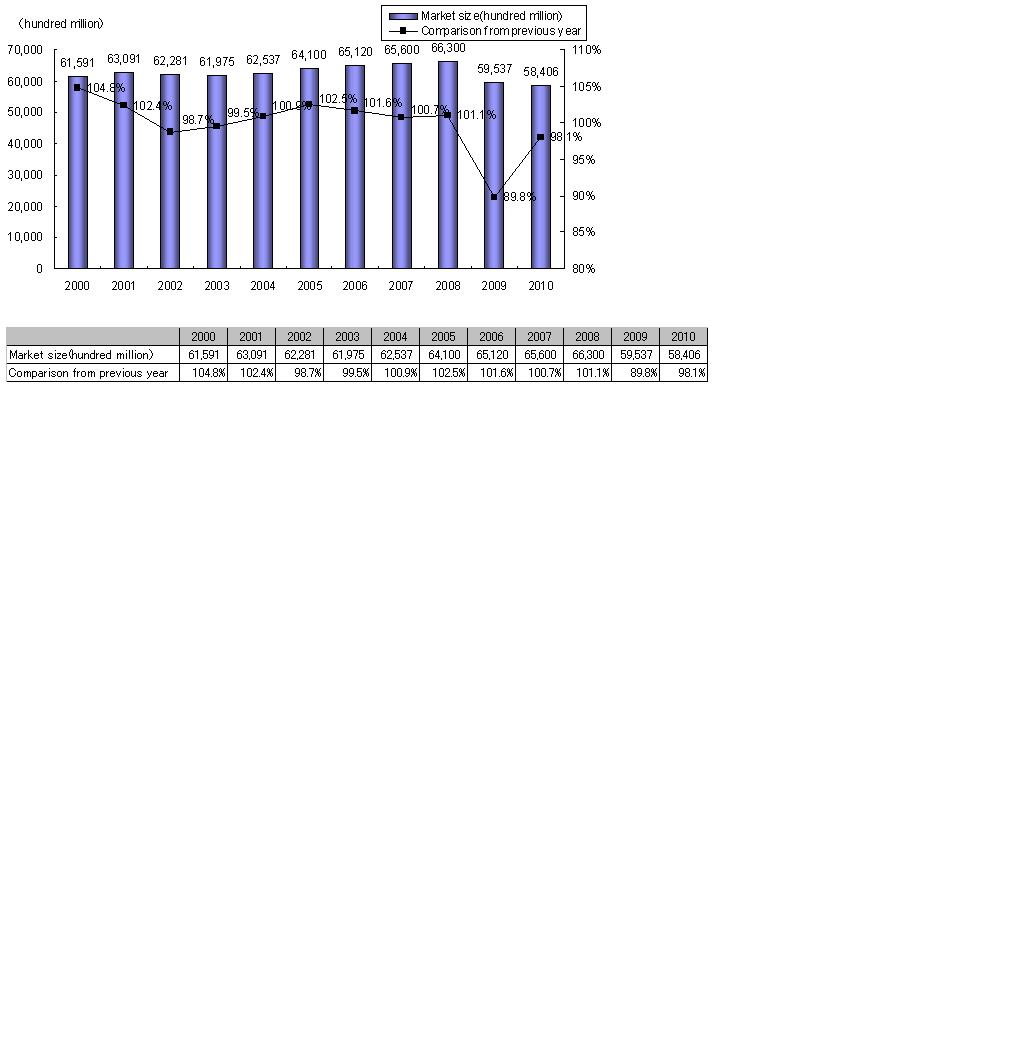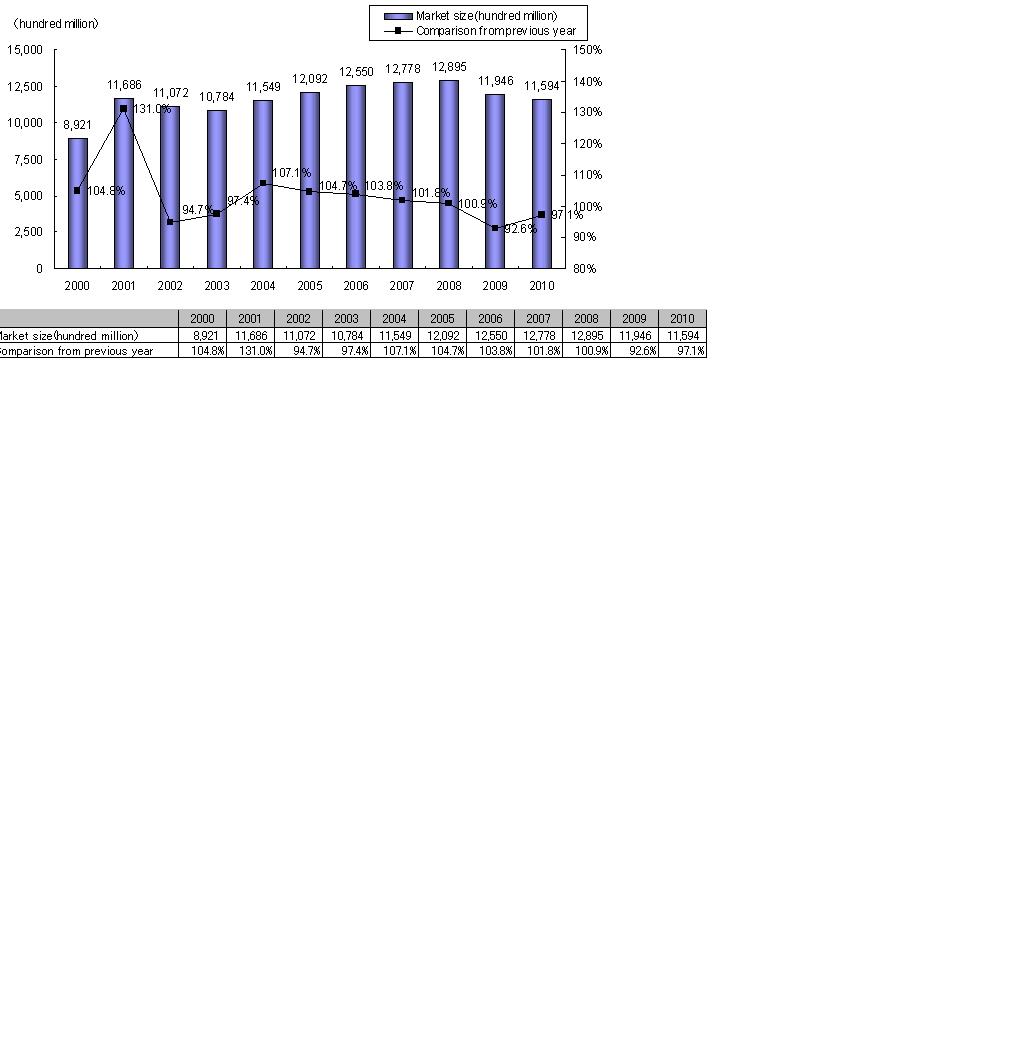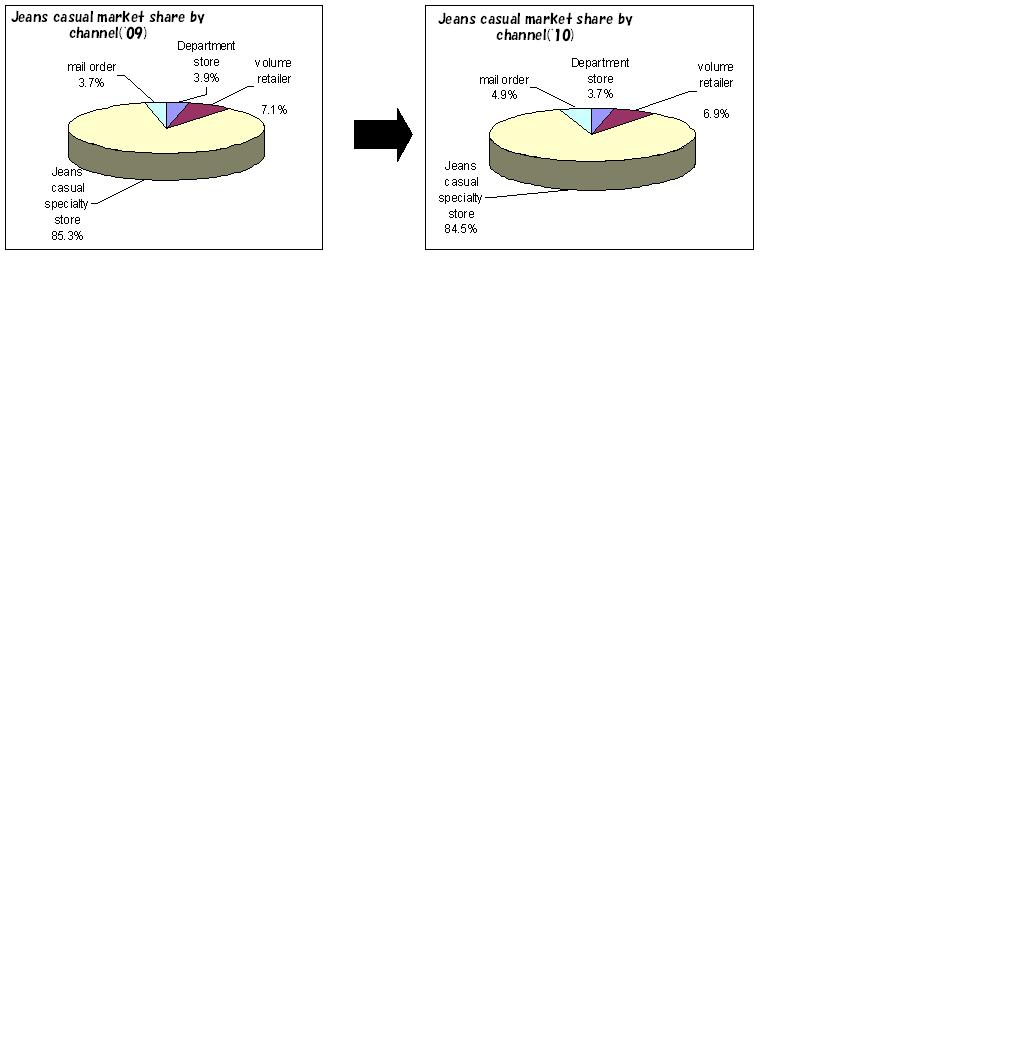 Published Report
*The information provided in the "Research Summary" is what is as of the date of announcement and could be altered or renewed without any prior notice.
Contact Us