Cosmetics OEM Market in Japan: Key Research Findings 2022 Cosmetics OEM Market for FY2021 Shrank to 309,400 Million Yen, 98.5% of Previous Fiscal Year
Yano Research Institute (the President, Takashi Mizukoshi) carried out a survey on the domestic cosmetics OEM market and found out the current status, trend of market players, and future outlook.
Transition and Forecast of Domestic Cosmetics OEM Market Size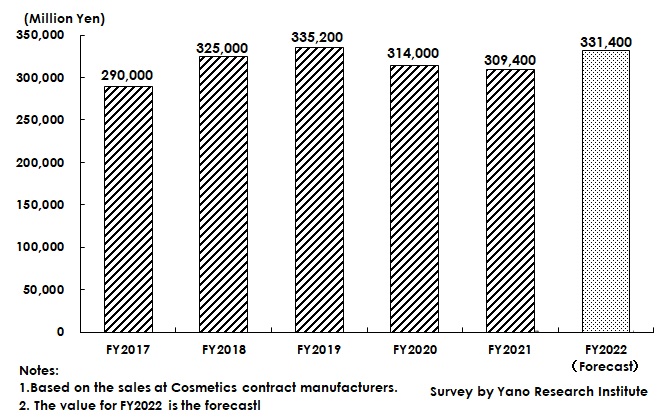 Market Overview
The domestic cosmetics OEM market in FY2021 declined to 98.5% of the size of the previous fiscal year to 308,400 million yen, based on the sales at the businesses, but the level of decrease was not as large as in FY2020, with the market status being the transition period to gradual improvement, as Japan has started living together with new coronaviruses.

The market expansion that had long lasted until FY2019 was caused by 1) the domestic OEM market being invigorated by enforcement of the revised Pharmaceutical Affairs Act, 2) increased consumption of Japanese cosmetics products by the overseas visitors, 3) and expanded demand for Japanese cosmetics distribution business overseas, i.e. outbound business, including cross-border ecommerce.

However, the COVID-19 pandemic that has continued from the beginning of 2020 to the presence of 2022 gave a significant impact on the FY2020 domestic cosmetics OEM market. The market in 2021 was expected to gradually improve, as the measures mainly by the government and municipalities toward the end of the pandemic have worked for a certain level and have encouraged people to go out and to consume.

Noteworthy Topics
Concerns over Consumption Affected by Price Rise of Products Stemming from Rising Raw-Materials, Energy, and Distribution Costs
Rising costs for raw materials as well as for various energies and distribution essential for containers, packages and manufacturing do not show any sign of decline, which induces further price rise to be expected, as the soaring costs achieving to the level that a company alone can hardly absorb by its own effort.

The negotiations by OEMs to raise the expenses including passing them on to product prices have been underway with cosmetics brands (the clients). As the retail prices for some cosmetics products are projected to be revised by the end of 2022, the influence to consumption has become the concerns. Some market players are anxious of the price revisions to be the growth inhibitors for the cosmetics market.


Future Outlook
The domestic cosmetics OEM market in FY2022 is projected to expand to 107.1% on a YoY basis to reach 331,400 million yen, based on sales at businesses. As the restrictions to go out will be eased gradually and recovery in consumption can be expected due to invigoration in traveling and holding and attending to events increases with thorough infection prevention measures, the demand from inbound tourism can also be expected after gradual accepting of foreign visitors.


Research Outline
1.Research Period: April to June 2022
2.Research Object: OEMs of Cosmetics, manufacturers of cosmetic containers, and raw materials, cosmetic products manufacturers, and other related enterprises and organizations
3.Research Methogology: Face-to-face interviews (including online), survey via telephone, mail-in-questionnaire, and literature research
About Cosmetics OEM Market
The cosmetics OEM market in this research indicates a market where OEMs produce items such as skincare, makeup, hair-care, and other cosmetic products based on requests from the clients that are cosmetics brands and market-entered enterprises from other industries. The market mainly consists of contract manufacturing, cosmetics containers market (manufacturers and dealers of containers), and cosmetics raw materials market (raw material manufacturers and traders).


<Products and Services in the Market>
Cosmetics products (skin care, make up, hair care, others), cosmetics containers, cosmetic raw materials,
Contact Us
©2021 Yano Research Institute Ltd. All Rights Reserved.
The copyright and all other rights pertaining to this report belong to Yano Research Institute.
Please contact our PR team when quoting the report contents for the purpose other than media coverage.
Depending on the purpose of using our report, we may ask you to present your sentences for confirmation beforehand.