Sustainability Initiatives of Hotels/Ryokans in Japan: Key Findings from Corporate Questionnaire and Market Research 2021 SDGs is Trending in Hotels/Ryokan Industry: 90 % Feel Obliged to Address SDGs
Yano Research Institute (the President, Takashi Mizukoshi) has carried out a corporate questionnaire and market research on the trends of sustainability actions (SDGs) at hotels and ryokans (Japanese-style inns) and found out the sustainability practices of domestic and international hotels, as well as future perspectives.
Necessity of Sustainability Actions/ Current Status of Sustainability Practices at Hotels and Ryokans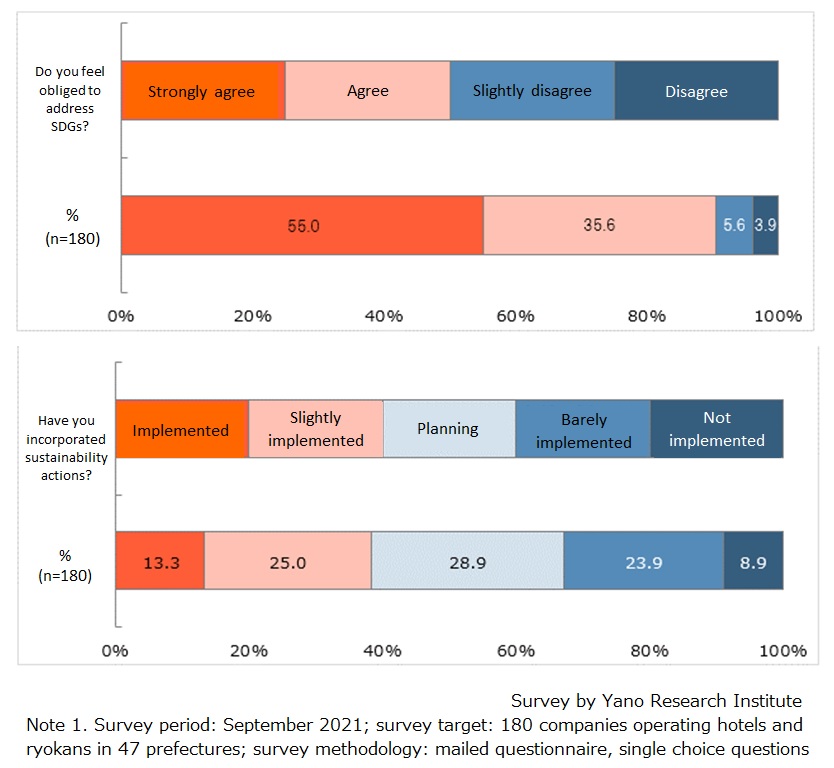 Which of the 17 Sustainable Development Goals are Selected by Hotels and Ryokans as their Goals?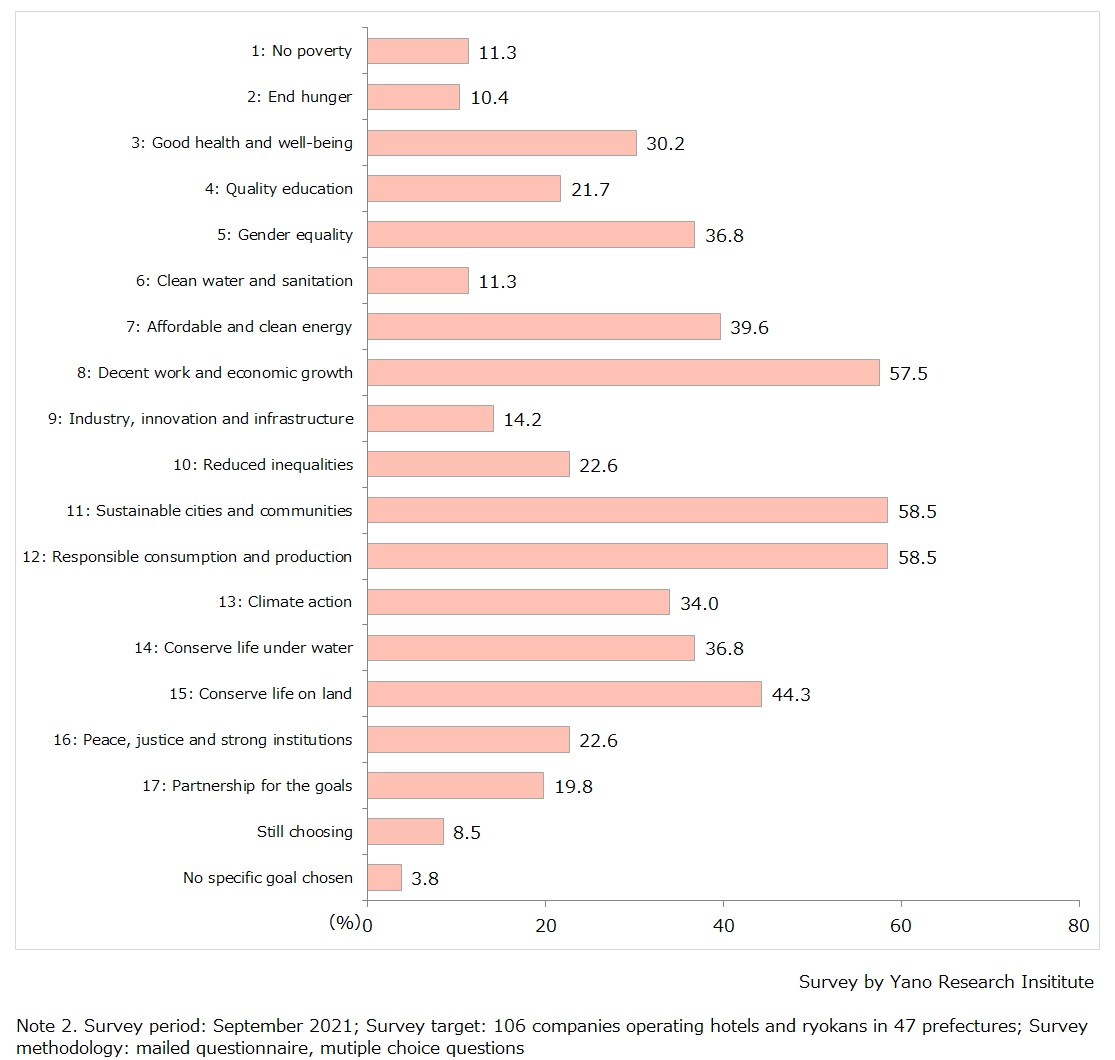 Summary of Research Findings
In September 2021, corporate questionnaires were mailed by post to enterprises operating hotels and ryokans in Japan, and 184 responded. In-depth face-to-face interviews were also conducted with those enterprises.

The result shows that 9-in-10 feel obliged to address SDGs (55.0 % say 'strongly agree' and 35.6 % say 'agree'). The overwhelming majority of companies have shown strong awareness toward current environmental issues and considers it is their "social responsibility" to take actions for SDGs.

It also revealed that 38.3 % reports that they have already incorporated sustainability actions in their everyday operations ("implemented (13.3%)" and "slightly implemented (25.0%)"), while a total of 32.8 % have either "barely implemented" or "not implemented".

In the face-to-face interviews, it also revealed that many business operators have increased their awareness of climate crisis and sense the societal demand to address SDGs, and therefore have been enhancing/reinforcing their sustainable practices. A fairly large number of hospitality operators believe that "only businesses that contributes to SDGs will survive".

Based on these results, the reason why less than 40 % of the hospitality operators have incorporated SDGs in business despite the strong feeling of obligation to align with SDGs lies in the lack of knowledge to translate SDGs into strategy and operations. The hotels and ryokans are in the dilemma about how they should promote SDGs while they grapple with the negative impact of COVID-19 on their business situation and the increasing need for thorough sanitization.

Considering that nearly 30% of the enterprises plan to take sustainability actions, and in light of enforcement of the Act on Promotion of Resource Circulation for Plastics in April 2022 to combat climate change nationally, the number of companies taking sustainability actions may expand hereafter.

Noteworthy Topics
Hotels and Ryokans Align the Most with "Goal 11: Sustainable Cities and Communities" and "Goal 12: Responsible Consumption and Production"
Regarding the 17 Sustainable Development Goals, roughly 60% of the hotels and ryokans align themselves the most with "Goal 11: Sustainable cities and communities" (58.5%) and "Goal 12: Responsible consumption and production" (58.5%). In addition, 57.7% have chosen the "Goal 8: Decent work and economic growth", which is one of the most often-committed goal across industries.

Hospitality operators in inland region tend to prefer "Goal 15: Conserve life on land" (44.3%), while those on seaside incline to pick out "Goal 14: Conserve life under water" (36.8%). On the other hand, "Goal 2: End hunger", "Goal 1: No poverty", and "Goal 6: Clean water and sanitation for all" are rarely chosen (10.4%, 11.3%, and 11.3%, respectively), even among the hotels and ryokans that are actively involved in SDGs. With only 1-in-5 enterprises having chosen, "Goal 17: Partnership for the goals" is not currently a top-of-mind issue among hospitality operators. Bearing a great responsibility for promoting sustainable tourism in the local community, they are expected to accelerate collaboration with local tourism industry and local government.

Some of the 17 Sustainable Development Goals may not be as easy as others for hotels and ryokans to set as their goals. The survey result shows that they are inclined to choose the goal that relates to their "local community", basically because the hotels and ryokans aim to achieve SDGs through business growth, which is significantly reliant on the quality of surrounding communities.

Research Outline
1.Research Period: July to November 2021
2.Research Object: Domestic enterprises operating hotels and Japanese-style inns (ryokan), and global hotel chains
3.Research Methogology: Face-to-face interviews by the expert researchers (including online interviews), interviews via telephone/email, mailed questionnaire, and literature research
Amid widening recognition of the Sustainability Development Goals (SDGs) across the globe, hotels and ryokans (Japanese-style inns) are also driven to take actions toward attainment of sustainable society.


In September 2021, Yano Research Institute sent corporate questionnaires by post to businesses that operate domestic hotels and ryokans, and 184 facilities responded. Interviews in person were also conducted to those enterprises.


The questionnaires asked about their views toward SDGs, objectives/backgrounds, current status, when they started, what they specifically do, goals/KPIs, and their compliance with Plastic Resource Circulation Act.


<Products and Services in the Market>
Hotel's/ryokan's sustainability actions (introduce renewable energy, promote recycling, implement eco-friendly housekeeping, reduce plastic waste, cut down food waste, opt for local produce, participate/cooperate in local events, train employees, embrace diversity, etc.)
Published Report
Contact Us
©2021 Yano Research Institute Ltd. All Rights Reserved.
The copyright and all other rights pertaining to this report belong to Yano Research Institute.
Please contact our PR team when quoting the report contents for the purpose other than media coverage.
Depending on the purpose of using our report, we may ask you to present your sentences for confirmation beforehand.