Data Platform Strategy Overseas: Key Research Findings 2021  Number of GAIA-X New Member Companies Having Reached 195 (during Dec. 2020 to Mar. 2021)
​Yano Research Institute (the President, Takashi Mizukoshi) carried out a survey on the overseas data platform strategies and found out the number of new member companies, the trends, perspectives, and challenges of GAIA-X, an attention-attracting data infrastructure initiated by Europe.
Number of GAIA-X New Member Companies (December 2020 to March 2021)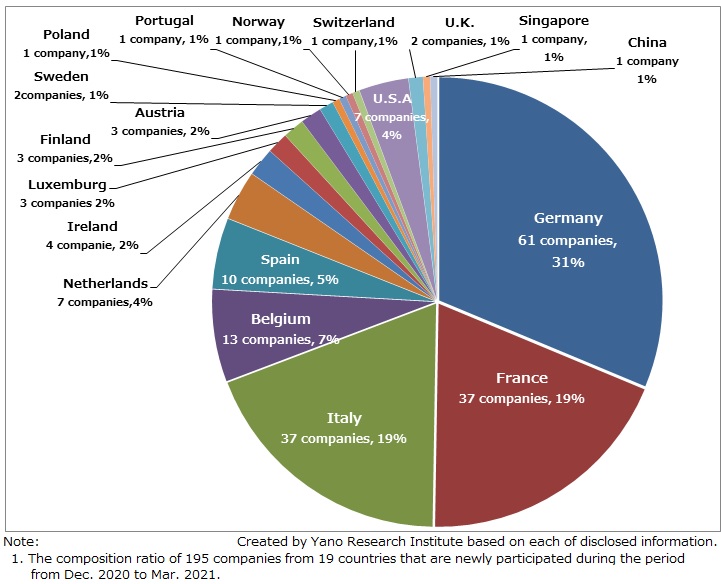 Perspectives of GAIA-X Community Acceptance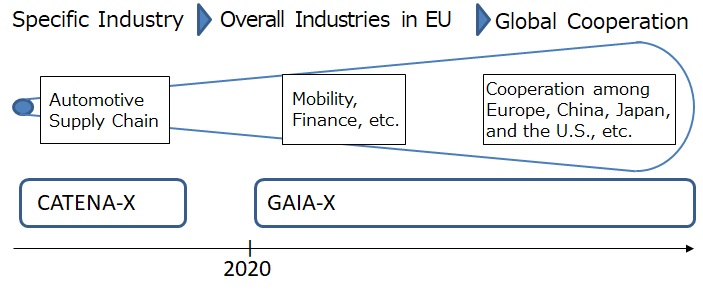 Summary of Research Findings
Attempts to build a data platform have been observed in some major global countries and regions. Europe precedes in constructing a data infrastructure called GAIA-X.

GAIA-X is a decentralized data infrastructure attained through a cloud federation which is a uniquely networked system that interlinks and interoperates offerings by various cloud services providers within and outside Europe, sharing the European value of meeting the highest standards of security. It is an advanced case of having achieved data security and sovereignty at the same time on a data infrastructure.

GAIA-X has been vigorously promoted through IDSA (International Data Spaces Association) which brought about approximately 350 companies participating in the project as of November 2020, including hyperscale cloud providers including Amazon, Microsoft, and Google from the U.S. and Alibaba from China.

By adding 195 companies newly participated during the period between December 2020 and March 2021, the total membership has expanded to approximately 550 companies. Of the new member companies, 61 companies are from Germany accounting for 31 percent, followed by 37 enterprises respectively from France and Italy, 13 from Belgium, and 10 from Spain. There also are companies from outside the European Union, i.e. 7 companies from the United States, 2 from the United Kingdom, and one each from China and Singapore. In order not to be behind these companies, Japan and Japanese countries are required to take steps toward standardization and implementation of data distribution platform through joint efforts of public and private sectors.

Noteworthy Topics
Current Trends, Perspectives, and Challenges of GAIA-X
■Trend: European Data Strategies Observed from GAIA-X
The basic concept of GAIA-X is to achieve a decentralized data infrastructure that can be attained by a cloud federation which is a uniquely networked system that interlinks and interoperates existing different cloud services. Therefore, GAIA-X is presumed to position itself to be complementary to or used by major existing cloud vendors, rather than to compete with them. This seems to be substantially related with Europe's aspiration for security and privacy protection.

■Perspectives and Challenges
A pilot project has been started by letting Cantana-X, an automotive supply chain network that can be said as the evolved version of Industry 4.0 in Germany, to use GAIA-X architecture. While it has already obtained German industrial standard, in order for GAIA-X to be accepted worldwide, it needs to meet not only European standard but also international standard and needs to achieve horizontal expansion, i.e. implementation at different industries such as mobility and finance.

On the other hand, not a few private companies still hesitate to participate in the GAIA-X project. Its first challenge is to obtain consent from major European enterprises through expansion of members of GAIA-X Hub, the central contact points for companies, stakeholders, initiatives, associations and public sector bodies in each country participating in the Gaia-X project.

There still are technological issues in implementation, but such issues are expected to be solved before long. However, for global development, the project is needed to overcome the difference between CLOUD (Clarifying Lawful Overseas Use of Data) Act in the U.S. and GDPR (General Data Protection Regulation) in EU. As building of data infrastructure has already been an important issue that can lead to national strategy, it may take more time to reconcile the opinions at the level of legal systems.

Research Outline
1.Research Period: April to June 2021
2.Research Object: Data platform companies, organizations, institutions, mainly in Europe, and countries in other areas i.e. the U.S., China India and Japan.
3.Research Methogology: Face-to-face and online interviews by the expert researchers, and literature research
About GAIA-X
GAIA-X in this research refers to the initiative of a new data infrastructure developing in Europe. The initiative has the characteristics of both securing data sovereignty and open data distribution which are regarded to generally contradict each other. In short, it is a data platform that aims to strengthen data security while not degrading the openness of data distribution.


<Products and Services in the Market>
Data platform strategy
Contact Us
©2021 Yano Research Institute Ltd. All Rights Reserved.
The copyright and all other rights pertaining to this report belong to Yano Research Institute.
Please contact our PR team when quoting the report contents for the purpose other than media coverage.
Depending on the purpose of using our report, we may ask you to present your sentences for confirmation beforehand.