Sharing Economy Services Market in Japan: Key Research Findings 2020
Yano Research Institute (the President, Takashi Mizukoshi) has conducted a survey on the sharing economy services market in Japan, and found out the trends by field, the trends at market players, and the future perspectives.
Market Size Transition and Forecast of Sharing Economy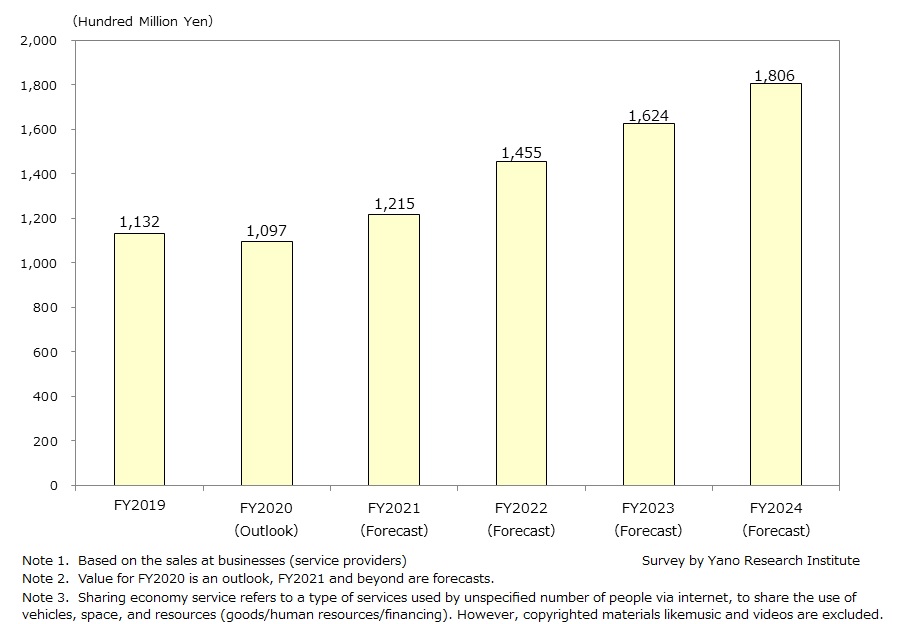 Market Size Transition and Forecast of Sharing Economy (Peer-to-Peer & Crowd-based Financing)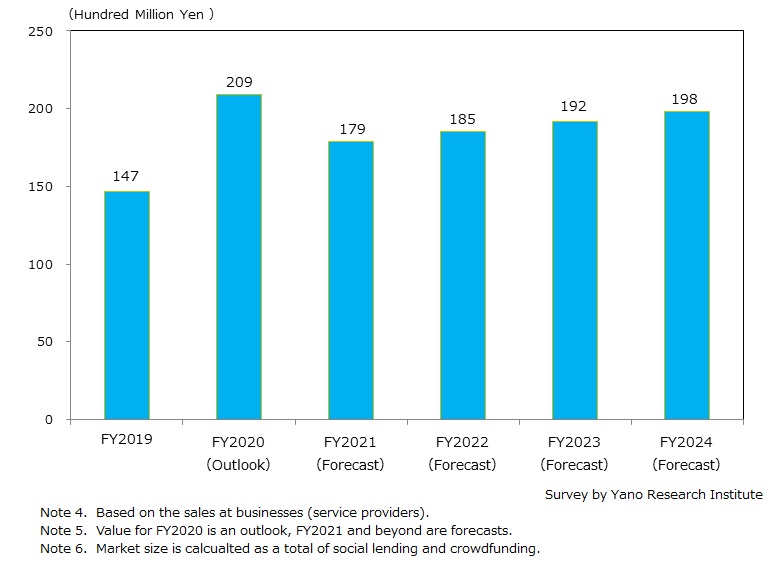 Market Overview
The domestic sharing economy services market in FY2019 attained 113,200 million yen, 128.2% of the preceding fiscal year (based on the sales at service providers). By the fields of services such as vehicles, space, and resources (goods/human resources/funds), vehicle sharing services has the largest market size. Of the vehicle sharing service market, car share accounts for most of sales.

Noteworthy Topics
FY2019 Trends in Money Sharing Economy Market (Peer-to-Peer & Crowd-based Financing) and Forecast for FY2020
Size of the sharing economy market regarding money (peer-to-peer and crowd-based financing) is expected to grow at CAGR of 6.2% between FY2019-FY2024, reaching 19,800 million yen by FY2024 based on the sales at businesses. Here, the sharing economy market regarding money indicates social lending and crowdfunding.
While social lending is assumed to have accounted for nearly 65% of the market in FY2019, due to rise of special demand for crowdfunding, it is projected to drop to 50% for FY2020.
As the state emergency was declared in April for spread of the novel coronavirus, it stopped people from going out, and forced restaurants and entertainment businesses to shut down. People in these businesses sought for online crowdfunding service instead of real financing services. Against the backdrop of increase of users supporting businesses via crowdfunding, special demand rose in the entire market. Therefore, the market is expected to grow significantly.


Future Outlook
Since the beginning of service launch, sharing economy services have been garnering attention for its convenience. With introduction of new services, the market seems increasingly active: However, it is also true that there are not only challenges for earning recognition, but also high hurdles for transitioning people's mind from ownership to usership. Because it was so natural for people to "purchase" to "own" things, it is assumed that sharing services that focuse on "use" is not attracting their interest much yet.
Amidst the current COVID-19 calamity, people's life, including consumption behavior, is changing drastically. Considering the change as a chance instead of crisis, providers may be able to concentrate on promotion of their sharing services. If the sharing services can adapt to new normal and improve people's living environment, it can be assumed that the market of sharing services will grow explosively.


Research Outline
1.Research Period: August to September 2020
2.Research Object: Sharing economy service providers
3.Research Methogology: Face-to-face interviews by the specialized researchers, literature research, and other collected data
Sharing Economy Services Market
In this survey, the sharing economy services refer to a type of services used by unspecified number of people via internet, to share the use of vehicles, space, and resources (goods/human resources/financing). However, copyrighted materials such as music and videos are excluded.
Market size of the sharing economy services market in this survey is calculated based on the sales at service providers, including matching charges, sales commissions, monthly membership fees, and other service revenues.


<Products and Services in the Market>
Car share, ride share, bike share, private lodging services ("minpaku"), parking lot share, fashion-sharing, crowdsourcing, skill share, crowdfunding, social lending
Contact Us
©2019 Yano Research Institute Ltd. All Rights Reserved.
The copyright and all other rights pertaining to this report belong to Yano Research Institute.
Please contact our PR team when quoting the report contents for the purpose other than media coverage.
Depending on the purpose of using our report, we may ask you to present your sentences for confirmation beforehand.