Smart Textile Market in Japan: Key Research Findings 2020 Domestic Smart Textile Market to Reach 487 Million Yen in 2020, Projected to Exceed 5 Billion Yen by 2025
Yano Research Institute (the President, Takashi Mizukoshi) has conducted a research on the smart textile market in Japan, and found out the trends by application, the trends by market players, and the future perspectives.
Transition and Forecast on Smart Textile Market in Japan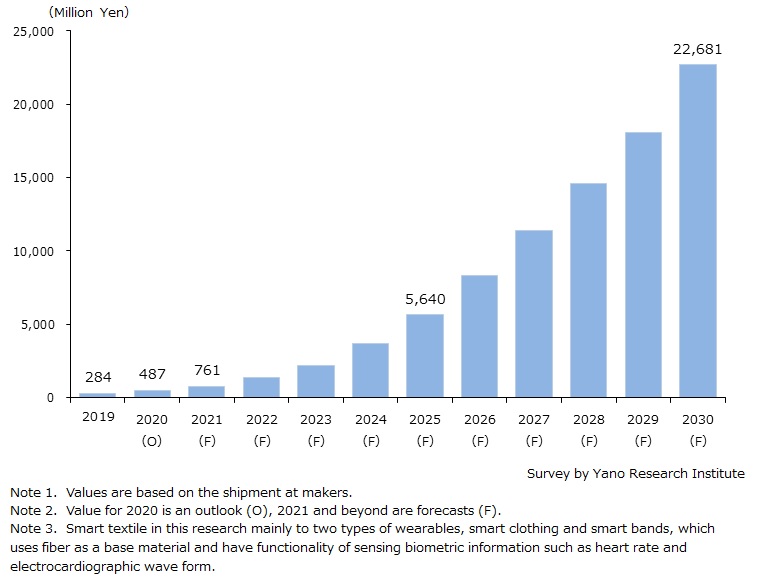 Market Overview
Wearable smart textile - the wearable device based on textile - began to sell in the market as smart clothing around 2015-2016, mainly to capture biometric information. Although penetration in various fields was anticipated, the progress turned out to be slower than initially expected.
Domestic smart textile market is projected to attain 487 million yen for 2020, 171.5% of the previous year. As high accuracy of capturing biometric information such as heart rate and electrocardiographic waveform earns more credibility hereafter, demands in construction, manufacturing, and transportation field are expected to drive the market. With development of demand at full-scale in segments like medical and healthcare, the smart textile market is expected to reach 5,640 million yen by 2025, expanding to 22,681 million yen by 2030.

Noteworthy Topics
Introduction of Safety Management System including Risk Management for Heat Stress Expands
In the demand field of construction, manufacturing and transportation, application of smart devices with sensing function is classified roughly into two systems; safety management system for workers, which includes risk management system for workers under heat stress, and driver drowsiness detection system.
Introduction of safety management system like risk management for workers under heat stress rose in construction industry. As heat strokes increased in recent years even for indoor workers, deployment of such systems expanded among manufacturers, distributors, and security companies. It can be said that utilization of IoT (Internet of Things) has become acknowledged as effective means to provide intensive security/healthcare management for each worker.
Differentiation of products is assumed to proceed in accordance with work content and environment: For example, workers of high-risk industry types or highly dangerous place wear smart clothing, and workers at less dangerous environment wear smart bands.
Meanwhile, much of driver drowsiness-detection systems are still in testing phase. While driver shortage is expected to continue hereafter due to aging population and each driver's workload is likely to increase with rise of distribution volume, the sleepiness detection system is expected to pervade steadily.
While there are opinions that smart clothing is better in terms of accuracy in capturing biometric information, development of algorithm to detect drowsiness from individual's heart rate is considered highly difficult. Due to the difficulty, instead of developing smart textile to be worn for long hours and cause stress, camera systems which is easier to make multifunctional is expected to become mainstream for drowsiness detection.


Future Outlook
At the time of initial launch of smart textile as smart clothing for sensing biometric information, various applications and use scenes were expected. However, in the last couple of years, course of direction is being found regarding smart clothing and smart bands (in the form of wristwatches or wristbands) as non-competing products.
Having an advantage of being a "vital sensor capable of sensing electrocardiographic waveform at high accuracy", smart clothing is expected to be used as safety management system including risk management for workers working in the heat, for high-risk industry types and places, and at workplaces where nothing can be attached on wrists. In addition, since smart clothing can provide electrocardiographic waveform with low noise, it may be useful in medical fields. As a system to measure electromyogram based on electric signal from muscle activity, different usage may be proposed as well.
For further penetration of smart textile in the future, it is critical to define use scenes that match perfectly to smart textiles, develop products meeting specific needs of the demand fields, and continue algorithm development.


Research Outline
1.Research Period: June to July 2020
2.Research Object: Conductive paste makers, conductive textile makers, circuit board makers, functional material/functional wear makers
3.Research Methogology: Face-to-face interviews by the expert researchers and literature research
Smart Textile Market
In the framework of the European Committee of Standardization (CEN/TC 248 WG 31), smart textile is defined as the "functional textile material which interacts with its environment, i.e. it responds or adapts to changes in the environment". Textile is explained as "material used by itself or with other fabric or non-woven materials for the purpose of making textile products", and functional textile is defined as "textile with specific function added by material, composition, structure and additives".


By function, smart textiles can be classified roughly into 5 categories: (1) sensing, (2) energy and data transmission/conversion, (3) power generation, (4) heat control, and (5) illumination. In this research, smart textile refers mainly to two types of wearables, smart clothing and smart bands, which use textile as a base material and has functionality of sensing biometric information such as heart rate and electrocardiographic waveform.


<Products and Services in the Market>
Smart textile (for demand field in construction/manufacturing/transportation, medical, healthcare, entertainment, nursing and sports)
Contact Us
©2021 Yano Research Institute Ltd. All Rights Reserved.
The copyright and all other rights pertaining to this report belong to Yano Research Institute.
Please contact our PR team when quoting the report contents for the purpose other than media coverage.
Depending on the purpose of using our report, we may ask you to present your sentences for confirmation beforehand.