Global Surveillance Camera Market: Key Research Findings 2020
Global Shipment Volume of Surveillance Cameras in 2019 Rose by 20.0% from Previous Year to Reach 64.8 Million
Yano Research Institute (the President, Takashi Mizukoshi) carried out a survey on the global markets of surveillance/monitoring cameras and found out the trends of leading market players, market share by company, and future market perspectives.
Transition and Forecast of Global Surveillance Camera Market Size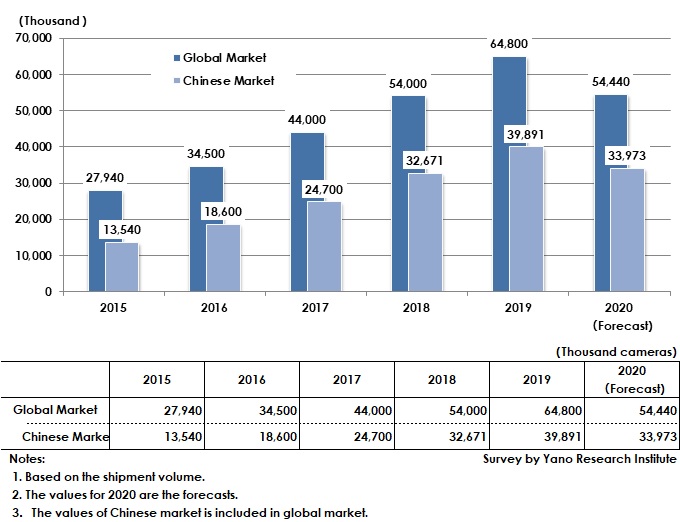 Market Overview
The global market size of surveillance cameras in 2019, based on the shipment volume at manufacturers was 64,800 thousand cameras, 120.0% of that of the previous year. In particular, expansion of the market in China, occupying 60% of the entire market size, generating 122.1% of the previous year boosted the entire global market. In addition, increased sales volume of surveillance cameras in "Other Areas," which are Middle East, Latin America, Africa, and Russia, also raised the Global market.

While public institutions and government showed strong demand for surveillance cameras in China and other Asian counties, the demand at private sectors including shops and offices expanded in North America, Europe, and Japan. In addition to conventional applications such as surveillance and monitoring, surveillance cameras were utilized in far wider areas, such as for marketing, in image analysis and AI technologies.

Rather than selling surveillance cameras solely, which is difficult to earn profit, the surveillance camera business has shifted to solution business that provides value-added security solutions with VCA (video content analysis) available by combining image analysis and AI technologies with surveillance camera functions.

Noteworthy Topics
Domestic Cloud Cams Market Showing Rapid Growth
After 2017, the market of domestic cloud cams (excluding those live cameras with no recording functions) has shown rapid growth. Currently, B2B demand is expanding, such as apartments/condominiums, parking lots, construction sites, rivers, etc.

Because of lower initial cost, the demand for cloud cams has expanded to the locations where no surveillance cameras have ever installed before such as: Small-scale stores, restaurants, dentists, clinics, temporary vacant places, real estates, apartment/condominiums, barbers/beauty parlors, small-size offices, and public utilities including river management. For the future, provision of cloud cams is likely to develop and accelerate furthermore for marketing applications as well as for the services and solutions utilizing image analysis and AI technologies.

On the other hand, cloud cams have some concerns in terms of security, circuit load, potential delay in analysis, and stability in connection, which the distributors should overcome and improve awareness.


Future Outlook
The global surveillance camera market size based on the shipment volume at manufacturers for 2020 is projected to decrease to 84.0% of that of the previous year at 54,440 thousand cameras, due to the influence of COVID-19 pandemics. This decline does not mean disappearance of demand for surveillance/monitoring cameras, but delay in new installation or in replacement.

While there are concerns over rapid growth of Chinese market waning and COVID-19 pandemics causing economic recession, the mid-to-long-term perspectives for the market is somewhat favorable, with replacement demand for surveillance cameras in China, USA, Europe, and Japan, and new installation demand in other Asian nations and other areas (Middle east, Latin America, Africa, and Russia) expected to expand. Also, the new demand can be expected at various projects such as Smart City, IR (Integraed Resort), and MICE (Meeting, Incentive Travel, Convention, and Exhibition/Event).

In addition to the business being shifted to solution-oriented, expansion in applications and potential investment in the post-corona era are projected to encourage growth of the global surveillance camera market.


Research Outline
1.Research Period: April to June 2020
2.Research Object: Manufacturers of surveillance cameras, distributors, SIers, manufacturers of lens, monitoring DVR, and other peripheral devices
3.Research Methogology: ace-to-face interviews by the specialized researchers, surveys via telephone/email, and literature search
Surveillance Camera
Surveillance cameras in this research are categorized into two types: IP cameras and analog cameras. IP cameras, a.k.a. network cameras, have IP address to connect solely to the internet, making them utilized for business. Analog cameras, on the other hand, must be physically connected to monitors and recording devices using coaxial cables. Generally speaking, analog cameras are more reasonable in price than IP cameras.


<Products and Services in the Market>
Surveillance camera, surveillance camera system, cloud cam service
Published Report
Contact Us
©2019 Yano Research Institute Ltd. All Rights Reserved.
The copyright and all other rights pertaining to this report belong to Yano Research Institute.
Please contact our PR team when quoting the report contents for the purpose other than media coverage.
Depending on the purpose of using our report, we may ask you to present your sentences for confirmation beforehand.