Emergency Foods Market in Japan: Key Research Findings 2020
Yano Research Institute (the President, Takashi Mizukoshi) has conducted a survey on the emergency foods market in Japan, and found out the trends by product segment, the trends by market players, and the future perspectives.
Size Transition of Emergency Foods Market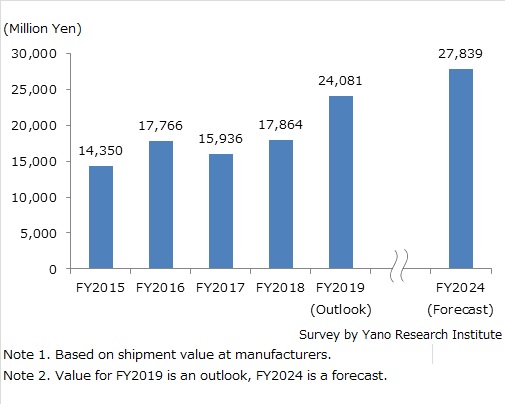 Market Overview
Size of the domestic emergency foods market is estimated to reach 17,864 million yen for FY2018, up 12.1% from the previous fiscal year. Since general consumers stockpiled food and commodities due to the spread of COVID-19, for FY2019 the market expects to increase by 34.8% from the previous fiscal year, generating 24,081 million yen.

Viewing from the composition ratio by users, institutional use is assumed to account for 80% of the total demand for FY2019; in descending order, administrative organizations account for 40.2%, private companies 22.1%, general consumers 20.1%, hospitals/nursing facilities 8.0%, schools 6.4%, and others 3.2%.

Notwithstanding the fact that expiration date of emergency foods are mostly 3 to 5 years, for convenience of accounting, i.e. to average out the procurement cost, institutional users make once-a-year purchase over years to replace stocks of expiring emergency foods. Because of this practice, although large orders are expected in every 3 to 5 years, demand continues throughout the period; therefore, while the market repeatedly makes rise and fall, all in all it is moderately expanding.

Noteworthy Topics
Growth of Emergency Foods
Since the Great East Japan Earthquake in 2011, the Japanese archipelago has been experiencing series of earthquakes, typhoons, and torrential rains, such as Kumamoto Earthquake in 2016, Torrential Rain in Western Japan and Hokkaido Eastern Iburi Earthquake in 2018, Typhoon Hagibis in 2019, and spread of Coronavirus in 2020. Under such circumstances, market growth rate by product category tends to be higher: Comparing the market size of FY2015 to FY2019 (outlook), stored water grew to 251.3%, cooked rice 187.5%, and bread and rolls 184.0%.


In relation to this research, there was another questionnaire survey conducted between January to February 2020 on corporate demand for emergency foods and supplies, which was responded by 126 corporations, including municipalities across the country (30 organizations), major private firms (30 companies), and medical facilities (66 facilities). Asked if they have specific measures to prepare for disaster based on BCP (Business Continuity Plan), whereas 93.3% of the municipalities answered that they have measures in place, the percentage remained at 80% for major private companies and only 54.5% for medical facilities. While municipalities precede in emergency preparation, since many private companies and medical facilities are still in need to start considering measure, large demand for emergency foods is anticipated.


Moreover, answers to a question regarding criteria for choosing emergency foods (could be multiple answers) revealed that expiration period, reasonable price, great taste, and ease of storage are the top priorities. For questions on requests for improvements on products and on points of dissatisfaction (could be multiple answers), top answers were longer consumption period (freshness date) and lower prices, followed by greater taste; it indicates that the users place importance not just on expiration period and reasonable price but also on taste and ease of storage.


Future Outlook
In accordance with an approach known as rolling stock (a way of stocking up foods to prepare for time of emergency) advocated by the Cabinet Office, local governments passed ordinance on the measures for stranded persons and insisted private companies to stock emergency supplies. In the urban areas, preparation of food stocks has been pervading not only among major enterprises and government offices, but also among SMEs. Meanwhile, in local areas quite a few local governments prioritize safe return to home more than preparing food stocks, that some don't even stock at all. Nationwide, it cannot be said that the country is well-prepared.


Awareness for stocking up emergency foods have aroused among big firms in the urban areas after the enactment of ordinance on measures for stranded persons, and there is a possibility that it may spread to local companies and general consumers. While raising awareness on importance of food stocks has primary importance to penetrate emergency foods, a key to expand may be great tasting and ease of storage.


Because of the situation, with heightened awareness on emergency preparedness and growing popularity of the emergency foods, the domestic market of emergency foods is projected to expand to 27,839 million yen by FY2024.


Research Outline
1.Research Period: June 2019 to March 2020
2.Research Object: Emergency food related companies (food manufacturers, vendors of emergency supplies), large clients (administrative organization, medical institutions, private companies) etc.
3.Research Methogology: Face-to-face interviews by the specialized researchers, surveys by telephone, and questionnaire sent via mail.
Emergency Foods Market in Japan
Emergency food in this research refers to the foods for stock in case of emergencies, with longer best-before dates than foods alike. They are processed foods with expiration date of 36 months or longer in room temperature. Specifically, items include cooked rice, bread and rolls, noodles, biscuits, delis, sweets, soups, stored water, and beverages.


<Products and Services in the Market>
Cooked rice, bread and rolls, noodles, biscuits, delis, sweets, soups, stored water, and beverages
Published Report
Contact Us
©2019 Yano Research Institute Ltd. All Rights Reserved.
The copyright and all other rights pertaining to this report belong to Yano Research Institute.
Please contact our PR team when quoting the report contents for the purpose other than media coverage.
Depending on the purpose of using our report, we may ask you to present your sentences for confirmation beforehand.