Digital Signage Market in Japan: Key Research Findings 2020
Yano Research Institute (the President, Takashi Mizukoshi) has conducted a survey on the digital signage market in Japan, and found out the market trends, the trends at market players, and the future perspectives.
Transition and Forecast on Digital Signage Market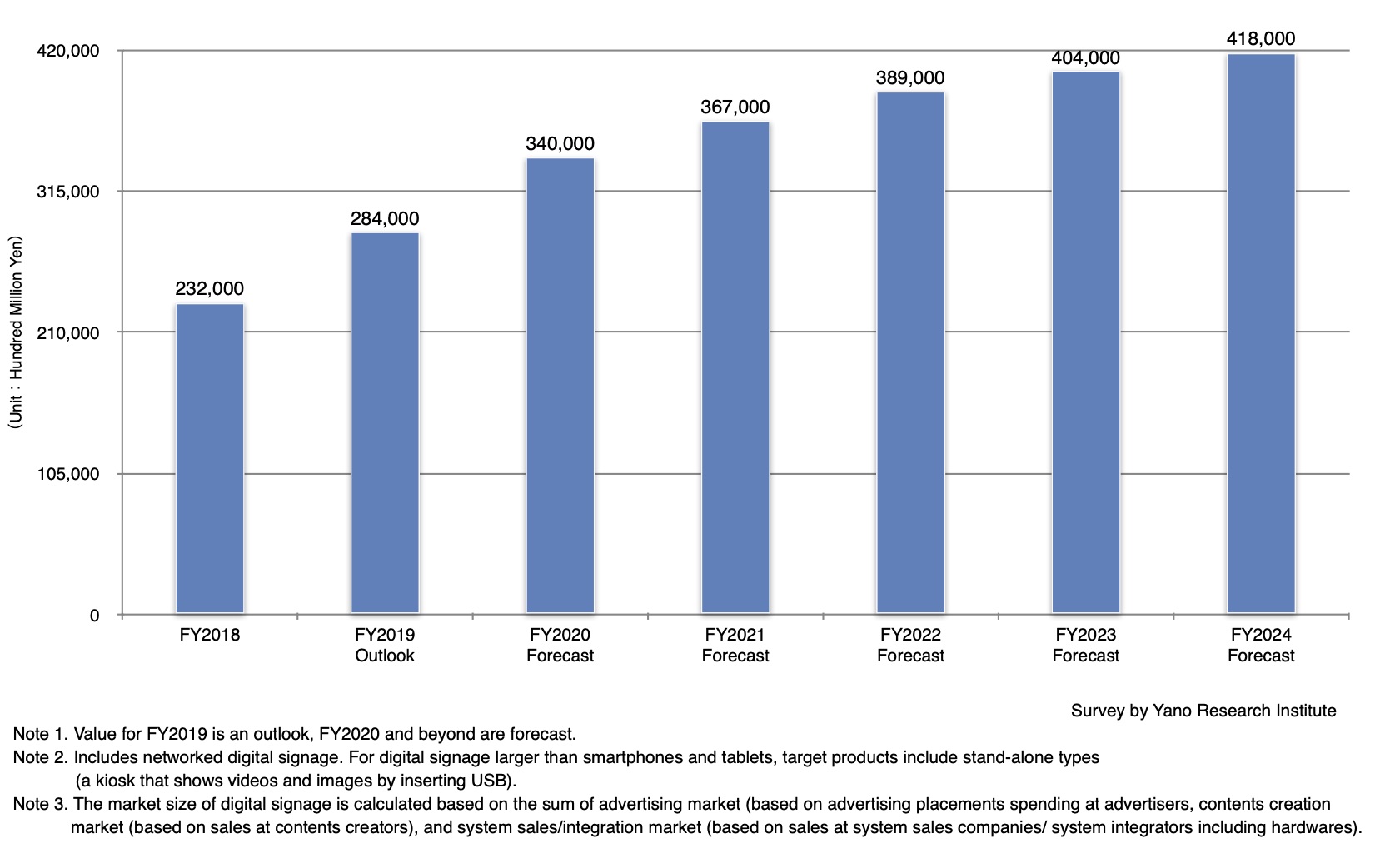 Market Overview
Digital signage market in FY2019 is estimated as 284 billion yen, 122.4% of the previous fiscal year. The market growth is likely to continue hereafter.
In the suburbs of Tokyo, installation of digital signage proceeded at newly constructed commercial facilities, office buildings, and hotels as redevelopment of cities/town gained momentum. In provincial cities, upsurge of regional revitalization enabled introduction of digital signage mainly at roadside stations ('michi-no-eki') and tourist destinations.
With respect to usage of digital signage, as a means to distribute information for emergency actions against disaster/disaster prevention is expanding as well as for navigation purposes at commercial facilities and tourist destinations. While the number of inbound tourists (foreign tourists visiting Japan) grows, availability of information in multiple languages is particularly required for the distribution of emergency actions against disaster/disaster prevention. Supporting languages must include Japanese, English, Chinese and Korean; in recent years, systems corresponding to Thai and Indonesian are also increasing.

Noteworthy Topics
Value of Digital Signage Re-evaluated from OMO (Online Merges with Offline) Perspective
For the purpose of improving customer experience, number of retailers are merging online with offline seamlessly using technologies for communication with customers. For example, at a supermarket, digital signage device placed at vegetable aisle can be connected to recipe video sites to project recommended vegetable recipes; a retail store can display product QR codes on in-store digital signage that can be scanned by customers on their smartphones to complete a purchase online instead of offline.
While the trend of seamless utilization of online contents to physical stores pervades, value of digital signage is re-evaluated as a tool to communicate with customers.


*"QR code" is a registered trademark of DENSO WAVE INCORPORATED.


Future Outlook
As demands for redevelopment of cities settle down in 2020, the market growth may slowdown for a moment; nevertheless, in addition to penetration of 5G (5th generation technology standard for cellular network systems) and EXPO 2025 to be held in Osaka, because of city development projects still pending, the market is likely to maintain marginal growth. Moreover, if 5G is deployed widely, it enables distribution of richer contents on exact realtime. Transfer of 4K/8K resolution images can be done in split-seconds, and the range of contents to be distributed by digital signage will be enhanced.
With continuous expansion, the digital signage market is expected to reach 418 billion yen by FY2024.


Research Outline
1.Research Period: July 2019 to February 2020
2.Research Object: Businesses related to digital signage systems, advertising agencies, in-house agencies, media agencies, etc.
3.Research Methogology: Face-to-face interviews by the expert researchers, survey via telephone, and literature research.
Digital Signage Market in Japan
Definition of a digital signage in general applies to the information distributing system using electronic displays at various locations such as outdoors, storefronts, public spaces and public transportation. However, in this research, digital signage refers to network-types only (including large-sized standalone devices); it does not include compact digital standalone signage (which displays certain videos or still images by inserting USB etc.,).
As a side note, a 'large-sized' here refers to displays larger than a smartphone or a tablet.
Size of the digital signage market is calculated based on the sum of advertising market (based on advertising placements spending at advertisers), contents creation market (based on sales at contents creators), and system sales/integration market (based on sales at system sales companies/system integrators including hardwares).


<Products and Services in the Market>
Network digital signage (including large-sized standalone digital signage that are larger than a smartphone or a tablet)
Contact Us
©2019 Yano Research Institute Ltd. All Rights Reserved.
The copyright and all other rights pertaining to this report belong to Yano Research Institute.
Please contact our PR team when quoting the report contents for the purpose other than media coverage.
Depending on the purpose of using our report, we may ask you to present your sentences for confirmation beforehand.