Global Market of Mobile Phones: Key Research Findings 2019
Yano Research Institute (the President, Takashi Mizukoshi) has conducted a survey on the number of mobile phone contracts and the market of smartphones and feature phones in 33 major global markets including Japan (32 countries and 1 region), and found out the number of contracts by carrier, the forecast on shipment by product type, the share by makers, and the shipment of 5G smartphones. This press release announces forecasts on the domestic shipment of mobile phones including tablets and data communication devices, and on the global shipment of handsets (smartphones and feature phones).
Actuals and Forecasts on Shipment of Mobile Phones in Japan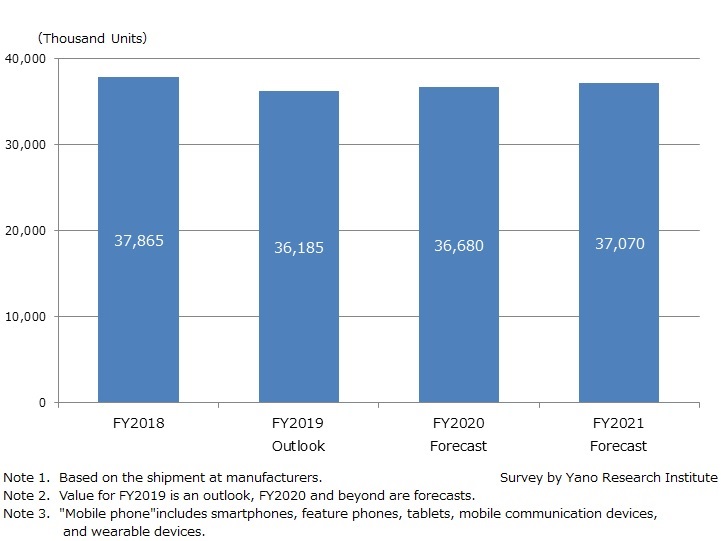 Actuals and Forecasts on Global Shipment of Handsets (Smartphones & Feature Phones)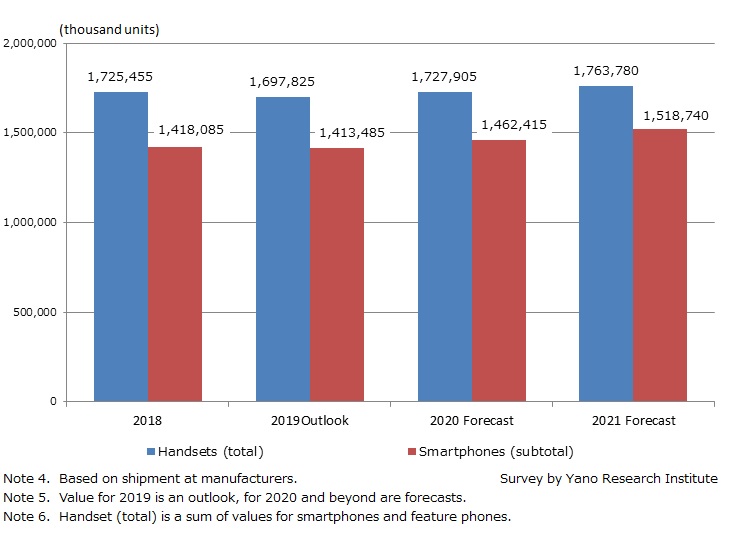 Market Overview
While the total number of contracts slows down in domestic market, switching over to affordable smartphones from feature phones is proceeding, driven by the penetration of "budget smartphones". Still, as the sales of high-end smartphones leveled off due to cut down in the incentives, overall smartphone market is showing decline. Domestic shipment of mobile phones (based on the shipment at manufacturers) in FY2018 reached 37,865 thousand units. In FY2019, the shipment is anticipated to drop by 1,680 thousand units, to attain 36,185 thousand units. Due to the shift to the reasonable models, the shipments of high-end smartphones by MNOs are sluggish. On the other hand, device makers overseas keep on entering the market, targeting at the demand for "budget smartphones".
In global market, adoption of the smartphones in ASEAN countries, India, and Africa are growing rapidly, while China, the world's largest market, reached saturation. Slowdown in Chinese economy had significant impact on the shipments; the decrease in China outnumbers the increase in newly developing countries. Moreover, as the market growth in the advanced countries is stagnated, the growth of global market today is driven centrally by the newly developing counties.
Global shipments of handsets (smartphones and feature phones) in 2018 totaled 1,725,455 thousand units, out of which the shipment of smartphones accounts for 1,418,085 thousand units. The market for smartphones is expanding in newly developing countries, while the market reached its peak in the advanced countries.
In China, demand is dropping rapidly, resulting in the growth to level off. Global shipment of handsets in 2019 is projected to attain 1,697,825 thousand units (98.4% of the previous year), with the smartphones accounting for 1,413,485 thousand units (99.7% of the previous year). In spite of the robust demands in ASEAN, India and Africa with the low-price smartphones, it is not enough to compensate for the decline in China.

Noteworthy Topics
Influence of Telecommunications Business Act 2019 Amendment
In October 2019, the Telecommunications Business Act was partly amended. As decoupling of handset prices from monthly calling/data plans was enforced, the sales model in mobile phone business changed drastically; the mobile carriers are contriving by focusing on to the sales of affordable smartphones and by implementing new sales strategies.


Future Outlook
Domestic Market: Domestic shipment of the mobile devices (based on shipment at manufacturers) in FY2020 is forecasted to reach 36,680 thousand units, slightly increasing from FY2019. Sales of smartphones are likely to recover through introduction of 5G compatible models and increasing product line of affordable models, while feature phones and tablets continue to decrease.
Global Market: Global shipment of handsets (smartphones and feature phones) in 2020 (based on the shipments at manufacturers) is projected to reach 1,727,905 thousand units (up 1.8% YoY), of which the shipment of smartphones accounts for 1,462,415 thousand units (up 3.5% YoY). Feature phones still has solid demand in certain areas like India, yet for overall it is in declining trend. For smartphones, demand for the low-priced models is expected to stay sound in the newly developing countries, yet the high-end models will be sluggish.


Research Outline
1.Research Period: September to December 2019
2.Research Object: Domestic/International Mobile Network Operators (MNOs; mobile carriers), mobile phone device makers, mobile phone parts makers, EMS & ODM companies, etc.
3.Research Methogology: Face-to-face interview by the expert researchers (Japan/China/Taiwan), interviews at seminars, and literature research.
Smartphones and Mobile Communications
Mobile communication service is the generic term for services provided by the Mobile Network Operators, including (1) voice calls and (2) data communication service. For billing, both pre-paid and post-paid methods are available. Today, majority of the services give 4G coverage (the fourth generation of mobile phone technology).
The domestic shipment in this research refers to the number of smartphones, feature phones, tablets, mobile communication devices and wearable devices. The estimate is based on the shipment at manufacturers.
Global shipment of handsets is also based on the shipment at manufacturers, which includes smartphones (including 5G coverage) and feature phones adopted in 33 major markets including Japan (32 countries and 1 region). However, the data neither includes the number of tablets with cellular chip nor the Wi-Fi routers.


<Products and Services in the Market>
Mobile Communication Services, Handsets (Smartphones [including 5G], Feature Phones), Tablets, Wearable Devices (Smartwatches, Smart bands, HMD)
Published Report
Contact Us
©2019 Yano Research Institute Ltd. All Rights Reserved.
The copyright and all other rights pertaining to this report belong to Yano Research Institute.
Please contact our PR team when quoting the report contents for the purpose other than media coverage.
Depending on the purpose of using our report, we may ask you to present your sentences for confirmation beforehand.